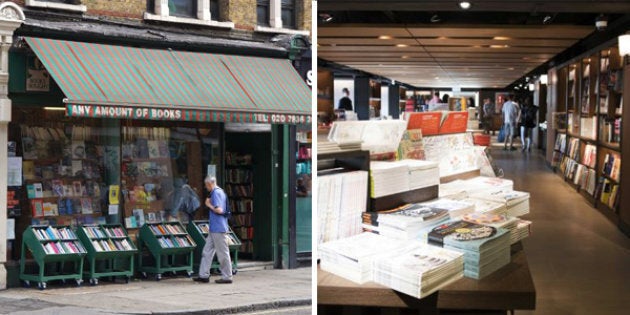 It seemed like the worst of times. A huge, bright, multinational bookshop had opened up directly across the road from my favourite independent bookseller. I was not the only book lover who was miffed. How dare a foreigner throw down the gauntlet to such a beloved Lygon Street institution? And more importantly, would the independent survive the competition?
I was living around the corner at the time and had been there long enough to have lost my heart to the local bookshop, with all of its local character, cramped bookshelves and hushed tones.
I sized up the new Goliath suspiciously, keenly aware of the threat it represented. And I entered to see what we were up against. Yep, there were the noisy tills. The impersonal, widely-spaced shelves. Pristine books.
But then I spotted something else. It was a great deal: three books for the price of two. Tempting. And there were so many books to choose from, and all of those spaces to sit. It was open early and late, and there was a coffee shop. I felt a tug at my fickle heart before settling in to choose my three favourites.
To everyone's surprise, it was the big multinational that eventually failed, but I did not feel the triumph I had originally hoped for.
And so it became a habit of mine to stroll between both shops, sometimes buying at one, sometimes at the other. It was some kind of literary utopia, with a bookshop to serve my every whim; for fossicking around in search of a forgotten treasure, talking to the friendly and knowledgeable staff, or for effortlessly finding the latest paperback laid out on a spacious shelf.
To everyone's surprise, it was the big multinational that eventually failed, but I did not feel the triumph that I had originally hoped for. Instead, I felt a sense of loss.
This week, when the James Daunt, managing director of UK book chain Waterstones, criticised the 'crushing consistency' of chain bookshops, I was reminded of that Borders store in Carlton. The criticism came as Waterstones moved introduce unbranded shops in small towns in the UK, in an attempt to remind booksellers (and presumably, buyers), of their autonomy. Perhaps it is hoped they can recreate the charm of the independents.
But I wonder whether they might be mixing up their purposes, for as much as I love an independent bookshop, with its cosy reading nooks and dusty, bookish smell, I like to think there is also room for the chains, for the bright lights, the high turnover, the anonymous browsing and the cheap new releases. Call me a heathen, but I don't even mind an occasional visit to Big W's books aisle.
Of course, these corporate giants are a world apart from the quaint bookshops that are so fetishised by book lovers. Two novels I have read recently highlight the attraction and romance of the independent bookshop: The Storied Life of Mr Fikry and The Little Paris Bookshop.
The Little Paris Bookshop is housed on a dusty vessel anchored on the banks of the Seine, on which the protagonist eventually floats away to make peace with his past. It is a reader's dream -- floating through the villages of France, surrounded by books.
Similarly, Mr Fikry's bookshop is the hub of a small, coastal community. It is in the pokey bookshop that parties are held, children fossick for their favourite books and passions are ignited.
I also remember reading 84, Charing Cross Road, a book so imbued with nostalgia that the dust practically puffs up from the pages as they are turned.
Although I adore a unique, characterful bookshop, spending time in any place where I can be surrounded by books is a joy.
In these novels, the bookshop represents something entirely different to a chain -- if they are related, they are estranged. But do we have to go without either? For me, although I adore a unique, characterful bookshop, spending time in any place where I can be surrounded by books is a joy.
When John Updike said: "Bookstores are lonely forts, spilling light onto the sidewalk. They civilize their neighborhoods," rather than imagining the cosy, faded light of an independent, I like to think of the fluorescent glare of a book superstore, welcoming lonely wanderers late into the night.
Of course, one of the biggest challenges to bookshops comes not from their bricks-and-mortar competition, but from the spectre of online retailers. However, as much as I appreciate the convenience and cost of online bookshops, it would be a terrible shame to lose the opportunity to visit physical bookstores, whatever form they might take.
So, good luck, Waterstones. Do whatever it takes to stay on the high streets of the UK. Just know that I would visit you, even if you stayed just the way you are. And I will continue to mourn the best of times, when two bookshops lit up the footpaths on opposite sides of Lygon Street.
ALSO ON HUFFPOST AUSTRALIA