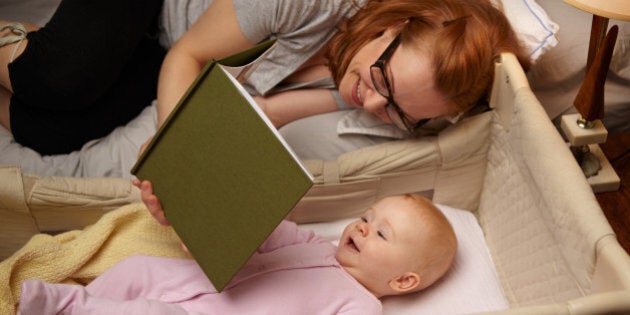 I won't lie -- sometimes my heart sinks when my kids are ready for bed, teeth brushed and pyjamas on, and they choose a book for me to read to them. Just when I am counting down the minutes until I'm lying prostrate on the couch in heavenly peace, they select Hullabaloo! (no offence, Gordon Volke, I know it's an extremely well-loved book, but I don't have the patience for the repetition).
Sure, most nights it's a pleasure to sit on the couch and read any book that your children might choose -- just smelling their freshly washed hair and feeling their warm bodies snuggled up next to you can be bliss. But some nights, after some days, it's just another chore.
On these nights, a well-written, adult-friendly children's book can be a godsend. If I have to wait another 10 minutes until a tough day with three fractious children is over, at least I'll get to read a good book in the meantime. And so I muster the last of my strength to campaign for one of my favourites.
The quality of a children's book is, in many ways, more important than an adult book because a children's book will get read over and over and over again. And it is a special kind of hell to read the same irritating, repetitive kid's book every single night.
When I first read Oh, The Places You'll Go to my young son, I found my eyes welling up and my voice getting croaky. When I had finished, I immediately wanted to go back to the start and read it again. So full of truths. So insightful. So beautiful.
I only wish I had read it as a teenager, when the ups seemed so high and the downs seemed so low. The long view of life the book takes is a wonderful lesson for kids, teenagers and parents. My son might not have comprehended all the messages in the story, but he loved the pictures and the rhythm of the words. And what a perfect book for children who are starting school, or those embarking on or graduating from university.
Dr Seuss is responsible for another one of my favourites,The Lorax. While laboured or obvious morals in children's books can get tired quickly, the underlying message ofThe Loraxis so well cushioned in a terrific story, with compelling language and humour, that it is a joy to read.
And then there was the humour and rhythm of Stick Man that is hard to resist. The illustrations by Axel Scheffler add to the appeal of this gorgeous, funny story, in which Stick Man is mistaken for a common, everyday stick.
At Christmas and Easter time, poorly written books flourish, as publishers main requirement seems to be a festive theme rather than any real storyline. But, thank God for The Naughtiest Reindeer, a cheeky alternative to the story of Rudolph. This is one that I'll be happy to come back to every year.
And as Go the F**k to Sleep can hardly be classified as a children's book, Peace at Last -- in a more child-friendly way -- recognises the lot of parents, and the desperate, often unsuccessful quest for sleep. While it doesn't bring on hoots of laughter, it does trigger a wry smile of recognition. Its length, or lack thereof, is also appealing at that time of the evening.
So thank you, children's authors who write such wonderful books for us to share with our children... and save our sanity when reading to the kids is the only obstacle before peace at last.
My favourite children's books
1. Oh, the Places You'll Go, Dr Seuss
2. Stick Man, Julia Donaldson
4. The Naughtiest Reindeer, Nickie Greenberg
5. Peace at Last, Jill Murphy
6. Edward the Emu, Sheena Knowles, Rod Clement
My favourite books for younger children
1. Where is the Green Sheep?, Mem Fox
2. I Went Walking, Sue Machin and Julie Vivas
3. Dear Zoo, Rod Campbell
4. Baby Days, Alison Lester
5. The Spot books, Eric Hill
6. Goodnight Moon, Margaret Wise Brown
For more on books, visit Fleur Morrison's Readability blog