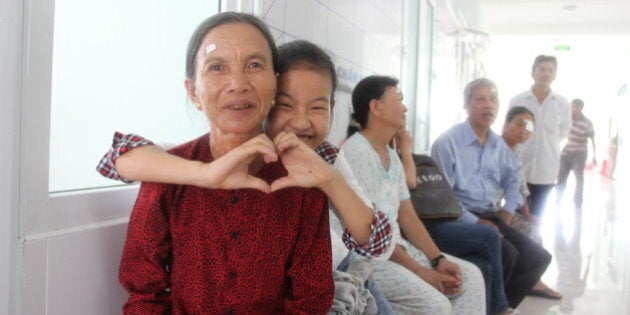 There is a gender gap present in almost every aspect of women's lives. Access to education, political representation, employment opportunities, wage disparity and even physical safety are areas where women across the world are frequently at a disadvantage.
What is less commonly known is the gender gap that exists when it comes to sight.
An estimated 32.4 million people around the world are blind and almost two-thirds of them are women and girls. Women are more likely to be blind simply because they are female. They are not biologically or chromosomally more disposed to vision impairment, but they do live longer, making them more susceptible to cataract.
There are various reasons why more women are blind, including access to treatment. Even when health services are accessible, in many communities men control the family finances and their medical needs are prioritised. The question arises -- is it worth it for a family to invest in a woman's eye health? In many cases the answer is no. When services are further away, it can also be harder for women to travel for treatment because of family responsibilities.
In some communities there is a sense of shame surrounding any type of disability, including vision impairment. In Pakistan, for example, women are often afraid to be seen as a burden on the family and ashamed about being blind, so may not seek services. As a way of addressing this, The Fred Hollows Foundation is training female counsellors in remote districts to ensure female patients access the available services.
The counsellors create relationships of trust and encourage women to seek services and return to the eye unit for post operation follow-up. This has led to lasting change for these women.
Depending on where you are in the world, being a mum can also be a contributing factor to blindness. Trachoma is the leading cause of infectious blindness in the world and it's mostly young children who carry the bug. Because women are more likely to stay at home to care for the children, they are more likely than men to be repeatedly infected. Of the hundreds of thousands of people with advanced trachoma, 75 percent are women.
Even women and girls who do not have eye problems themselves can be disproportionally affected by blindness as they are the ones who most often have to care for blind relatives -- forcing them to either take time off school or to give up their education altogether.
In this cycle, poverty passes across generations because girls who are unable to attend school end up less educated, less skilled and poorer as adults. As these women have children of their own there is a heightened risk that their children will be born into poverty and struggle to access education and the economic benefits that education brings.
Just last month at a hospital built by The Foundation in Vietnam, our staff met a 12-year-old girl with her 70-year-old grandmother who needed cataract surgery. This smiling young girl had taken the day off school and driven her grandmother to the hospital on a motorbike. Putting the worrying image of a 12-year-old riding a motorbike aside, girls missing school to care for visually impaired relatives is commonplace in many parts of the world. Thankfully, in this case, the little girl will return to school following her grandmother's operation, but girls often have to leave school completely to care for their adult relatives who have gone blind.
When The Fred Hollows Foundation restores the sight of women, we not only improve their lives, we deliver immediate economic benefits, allowing them to re-enter school or the workforce. In India, for example, 58 percent of women return to the workforce after cataract surgery.
Goldman Sachs, Forbes, Credit Suisse, the IMF, the World Economic Forum and the World Bank all agree that countries with higher levels of gender equality have higher economic growth. And we know that United Nations and World Bank studies show that focusing on women in development assistance and poverty reduction strategies leads to faster economic growth than 'gender neutral' approaches. In fact, the Investing in Vision Report, prepared by PwC, found that for every $1 spent on ending avoidable blindness there is a $4 economic return.
Some of the strategies we can use to address the barriers women face include training female health workers to hold clinics for women and girls, targeting health education to women and engaging men about the value of ending avoidable blindness for everyone.
The Fred Hollows Foundation is committed to ensuring women and girls get appropriate care and to closing the gender gap when it comes to avoidable blindness, unlocking the potential of millions of women and girls across the world.
Gabi Hollows is co-founder of The Fred Hollows Foundation and one of Australia's 100 Living Treasures. Visit www.hollows.org.au