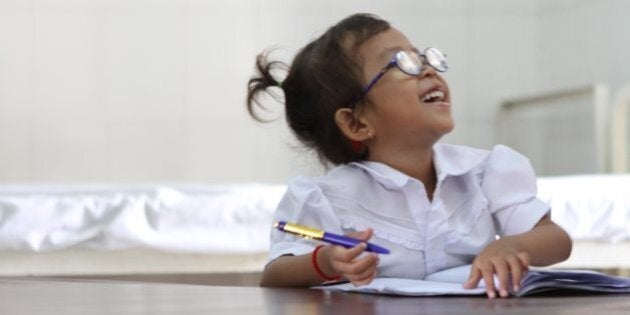 Throughout my life I have always been passionate about education and the important role it plays especially for young girls and women experiencing poverty and disadvantage. I have seen the doors that education has opened for me and my daughters; and also, sadly, the desperate situation millions of young girls and women find themselves in when this opportunity is taken away from them.
The Convention on the Rights of the Child and the UN Sustainable Development Plan outlines that all children have a right to a good-quality education. We know that it improves employment opportunities and the livelihood of women as well as the economic prosperity of individuals and countries.
While the reasons for young girls and women being locked out of education are varied and complex, many of us don't consider the obvious links between health and education.
One significant health barrier to accessing education in developing and poorer nations is vision loss. Children with vision loss are among the least likely to attend school. Even when they do attend school, their experience is a significantly diminished one.
The impacts of vision loss on a child's early learning can be devastating. The solution is to prevent vision loss by ensuring that a child receives early and effective treatment to restore sight. What is most frustrating is that half of childhood blindness in poorer nations is preventable or treatable with low-cost surgery or the provision of a pair of glasses.
We need to prioritise significant investment in education and health. Importantly, building sustainable partnerships between health and education organisations is imperative.
For example, investing in school vision programs that target the higher number of girls suffering from avoidable blindness can lead to overall economic and social developments. In many poorer and developing countries, each additional year of schooling means people earn 10-20 percent higher wages. These earnings, in turn, contribute to national economic growth.
In Cambodia, The Fred Hollows Foundation has worked in partnership with the Cambodian Government across both government health and education sectors. The project aims to include eye health in the school curriculum to ensure that more than two million children will learn about eye care. This project has ultimately led to the inclusion of eye health in the National School Health Program and to broader National School Health Government program partnerships with the World Bank and Global Partnership for Education.
The project is addressing childhood blindness and visual impairment and supporting improvement in education outcomes -- working to realise the transformative potential of girls' education.
Early school vision testing can identify those children who are at risk of vision loss before their eye disease worsens and impacts on their education or forces them to drop out of school. School eye health programs keep vulnerable children in the classroom.
The benefits of investing in girls' education in particular are substantial. An educated girl is likely to increase her personal earning potential, as well as reduce poverty in her community. According to the World Bank, the return on one year of secondary education for a girl correlates with as high as a 25 percent increase in wages later in life.
It is no surprise that these impacts also carry from one generation to the next, with educated girls having fewer, healthier and better educated children. Investing in girls' education also helps delay early marriage and parenthood. In fact, if all girls had secondary education in sub-Saharan Africa and South and West Asia, child marriage would fall by 64 percent, from almost 2.9 million to just over 1 million.
In Bangladesh, lifetime wages could be increased by as much as USD$235.5 million if all the children who are currently out of primary and lower secondary school due to vision loss were able to return to, and be retained in primary school, because schools provide eye health services.
We are also supporting research in rural China to document the remarkable improvements in students' academic results when they are given access to eye screening and glasses. This model is a cost-effective and sustainable intervention which contributes to improving education outcomes and reducing inequities in the classroom.
Giving young girls and women access to education is not only about equity, it makes economic sense.