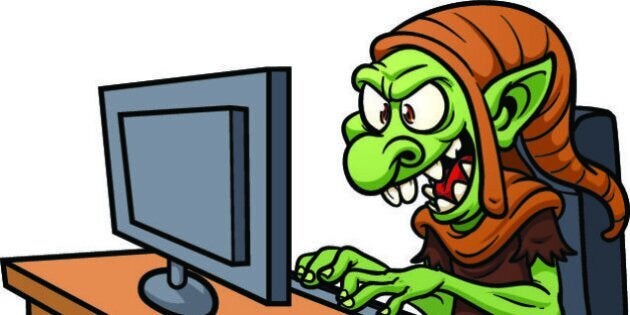 A TV producer called me about Facebook's intention to introduce a thumbs-down or "dislike" symbol.
"Won't it encourage more trolling?" he asked.
"No, it won't," I replied. "Social media doesn't create human behaviour. It only mirrors aspects of society that already exist."
After being badly trolled a few years ago, I unexpectedly had cause to spend great swathes of time thinking about the way people behave online. I interviewed people who described themselves as trolls, read articles and academic papers. I wrote about social media self-defense, spoke on the radio and gave talks to journalism students at the University of Canberra.
I found myself on a Yellow Brick Road trying to skip towards some sort of definitive understanding, which became more and more elusive. The trolls were nastier and more dangerous than I imagined. Their reasons for trolling were varied and complex.
They didn't fit into neat ideas of misogyny, racism or any other kind of hate, although a couple of them were happy to claim the label of 'sadism'. They used the Internet to systematically hurt others and get a response.
One of the trolls I interviewed still keeps in regular contact with me. He likes to remind me that if I misquoted him, he would have "f***** up my life." He also tweets me to say "f*** Jews" and wants me to know that the Holocaust never occurred.
I reply that members of my family were gassed in the Holocaust.
"We are never going to agree," I tell him.
"Gassed in what? The non-existent gas chambers?" he replies.
One of the things that continues to bug me is the prevalent notion that trolling is just people being mean online and it's devoid of real-world consequences. Cyberbullying might hurt kids, but adults should just tough it out somehow. Even the death of Charlotte Dawson after incessant online bullying caused momentary headlines and then faded away.
Heather Reid is CEO of Capital Football in the ACT. For four years, Ms Reid has been relentlessly sledged online. On Twitter and Facebook she has been called a c***, a dyke and a lezzo. Ms Reid has been accused of mismanaging Capital Football and misspending the organisation's money.
It didn't start online. It started offline, on grand final day in 2011 when spectators were drunk, abusive and started setting off flares.
"I was the person that was front and centre in the media, saying what we were going to do about disciplining these people who behaved badly and inappropriately," Ms Reid explains.

Not long after that, she says, one particular person started using social media to attack her and malign her "professional character."

As the insults flooded in, Ms Reid says she "felt sick in the stomach."

"I felt really upset, I probably could've gone off on stress leave," she says.
In person, Ms Reid is a switched-on, pleasant and driven high-achiever who has an Order of Australia medal because her contribution to sport has been so significant. Far from deterring bullies, these achievements seem to make it worse.
Ms Reid says there are "about 15 to 20 of these guys" who are so abusive she no longer goes to a particular venue in Canberra when there are men's football games on at that location.
"This is my workplace and nobody should have to put up with abuse or harassment at work," she says.
As U.S. academic Whitney Phillips points out, it's a mistake to think that there's some kind of invisible divide between the online and offline world.
After publishing a book investigating the overlap between mainstream culture and trolling titled This Is Why We Can't Have Nice Things, she recently told the Los Angeles Times: "Trolls aren't inventing anything. Every single trope they engage with exists in real life offline."
This argument applies to other types of online content, too. We tend to think of something going viral as a modern phenomenon. Indeed the term "go viral" was only added to The Macquarie Dictionary in 2010.
But just like the "listicle," viral ideas or viral emotions have existed for centuries.
Dr Peta Mitchell, Senior Research Fellow at QUT's Digital Media Research Centre, says the notion of a social or emotional "contagion" spreading though a network of humans goes back more than 500 years.
"In the early 1500s Renaissance scholar Erasmus wrote a book called The Adages, which collected Classical Greek and Latin proverbs," Dr Mitchell explains.

In the text "he had collected seven sayings under the heading 'contagio morum', which is Latin for 'moral contagion', suggesting that this was already a commonplace idea," she says.

She points to famous historical examples of social contagions like the dancing mania that occurred in Europe from the 14th to 17th centuries and spate of suicides among young women in the ancient Greek city of Miletus.

"These are age old questions about: Why do people copy? Why do people imitate other people and why is a certain thing more morally or socially contagious?" Dr Mitchell says.
Dr Mitchell is currently working with a PhD student to examine the viral Twitter hashtag #illridewithyou, that sprang up in response to last year's tragic Sydney siege.
"What the Internet and social media offer, what's different about it...[is] this emphasis on the network and the possibility of seeing and tracking how ideas spread through it.

"You don't need to be physically or geographically proximate for this contagion to spread," Dr Mitchell says.