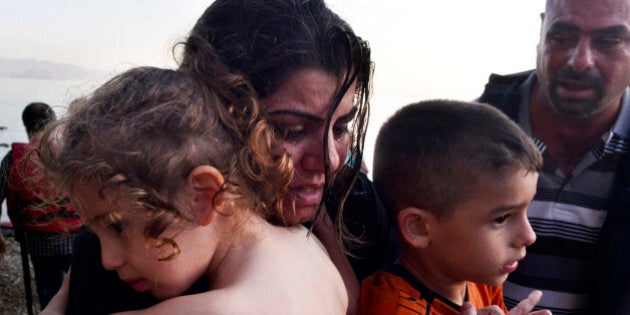 There she was lying on the sand. She was wearing pink trousers and a red top with spotted trim sewn around the bottom. Her hands were flung over her head, eyes closed. She looked about the same age as my eldest daughter, possibly a few years older. It was hard to tell.
I had the overwhelming urge to put my arm around her, to comfort her somehow, even though she was shining wet. And dead.
Dubai-based journalist Ahmad Alrihawi posted her picture, among others, on Facebook five days ago with text, translated from Arabic, that read:
"More than 200 people, mostly Syrians drowned at Thursday evening in Mediterranean sea after leaving Zuwarah city in Libya heading to Europe [sic]."
The next day my former ABC colleague, Phillip Williams, wrote a heartfelt and thought provoking piece questioning why we cared so much about the (albeit tragic) deaths of two American journalists yet seemingly far less about those who perished in the Mediterranean.
"If we are led to feel more about two American reporters than 50 Somali or Syrian or Afghan asylum seekers, surely we have lost something of our basic humanity," Phillip wrote.
I read Phillip's article late on Sunday night, just before falling asleep. My two-and-a-half year old woke me a few hours later, screaming after a bad dream. I picked her up and put her warm little body into our bed, holding her tight. She fell back asleep immediately.
In those wee hours, I could only think about the little girl with the pink trousers. She will never again have the chance be held tight like this.
Quoting a Somali poet, the United Nations' Special Rapporteur on the Human Rights of Migrants, Francois Crepeau recently said: "nobody puts their kids on a boat, unless the water is safer than the land."
In the main, this compassionate view is not one peddled by the politicians of rich nations the world over.
Australia is a case-in-point. Politicians talk about turning around boats as if the narrative were about inanimate objects made of wood, not desperate people who are fleeing persecution, death and torture in their homelands.
Asylum seekers are described with willfully incorrect, emotive and inflammatory words like "illegal" and "queue jumpers."
The unflagging demonisation of those who are already vulnerable prompted me to write the story of how the Nazis murdered members of my own family in World War II. And of how the world turned a blind eye to desperate Jews on board a boat called the MS St Louis back in 1939.
I wanted to know: Could our collective memory really be so short?
While researching the aforementioned article, I started conversing over email with David P. Forsythe, emeritus professor of political science at the University of Nebraska-Lincoln. David is a widely published expert on human rights and international relations.
"I find it so hard to understand why a wealthy country like Australia, whose population is essentially made up of refugees, is only willing to take 13,750 people each year under its humanitarian program," I wrote in one email.
"Australia is not very exceptional," he replied.

"In every democracy, probably in every nation, there are those who do not like foreigners and demonise them.

"Politicians take self-serving advantage. Donald Trump is now doing this in the US. Hungary is building a wall to keep asylum seekers out. Germany still has a xenophobic faction.

"The National Front in France dislikes Algerians, north Africans [and] Muslims.

"In the past, the U.S. even made it difficult for Cubans to enter, even though they were fleeing Castro's communism," Professor Forsythe wrote.
The international nature of the current burgeoning refugee crisis is indisputable. Two months ago the United Nations' Refugee Agency, UNHCR, stated the world now had 60 million displaced people.
This is "more people than at any other time since records began," the UNHCR statement reads.
A figure like that, which is nearly three times the population of Australia, can seem dwarfing. Desperate and hopeless.
Increasingly, commentators and lawmakers are questioning the usefulness of the 1951 UN Refugee Convention.
Professor Forsythe explains the convention "was designed to help individuals in small numbers fleeing persecution.

"It was not designed to obligate states to accept large numbers of people fleeing war, instability, and economic hardship.

"Hence you see the problems in adapting refugee protection to contemporary problems of mass migration."
At first glance, developing new international laws to address the burgeoning refugee crisis seem like a great idea.
"The problem with a diplomatic conference for a new treaty on refugees is that states might take the occasion to reduce, not increase, their obligation," Professor Forsythe warns.
There are no easy answers but as academic Zeynep Tufekci says in a powerful recent editorial in the New York Times: "It's clear that our leaders aren't stepping up to the gravity of the moment."
It's important that we don't turn away. As long as children are washing up dead on beaches, allegedly being abused in off shore detention centres or languishing in refugee camps, we must demand action.
Ginger Gorman is a multi-award winning social justice journalist and commentator. Her articles feature regularly on news.com.au. Check out her more of her work here.