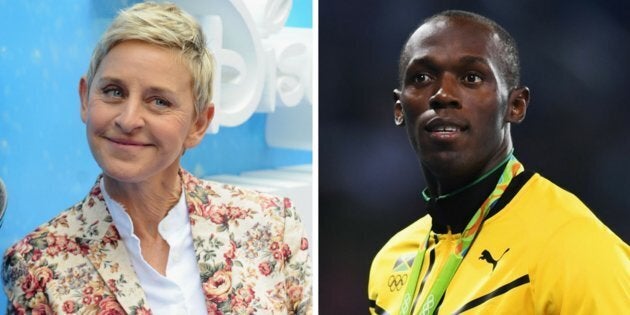 Talk show host Ellen DeGeneres has caused a storm when she posted an edited photo of Usain Bolt carrying her on his back with the tweet saying, "this is how I'm running errands from now on." But critics have taken the post amiss and blitzed the comedienne on social media demanding her to take off the post. Political correctness is once again the culprit that's killed our joy to make witty jokes, and the parameters of what actually constitutes racism.
PC started in the 1970s which was the era that spawned a generation of activists crusading against institutionalised thoughts that discriminate ethnic minorities, and people from different sexual orientations, religion and physical abilities. Credit should be given to the movement since it has corrected derogatory words like the N-word, and replacing it with 'Afro-American'. PC has also encouraged us to use gender indeterminate descriptions for jobs i.e. chairperson and businessperson so we don't subconsciously think that only males dominate particular roles.
As we live in a more pluralistic world, we should try to eliminate prejudice for the sake of social harmony. But PC has inadvertently bred a "I'm so easily offended" culture where we blow things out of proportion. This year Red Cross' pool safety poster for children came under fire because there were more 'coloured children' portrayed as the naughty kids. If we must be PC about this, could this poster be racist when there are 'white children' also illustrated as disobedient and there is a 'coloured' safety instructor?
Like DeGeneres' post, humour, wit or good intentions are mistaken for spite and racism. In Australia we're encouraged to be more culturally aware in our day-to-day interactions. This also extends to avoiding the greeting 'Merry Christmas' because it could potentially offend non-Christians and give out the idea that only Christmas is celebrated across the country. Instead, we should use religiously-neutral salutes like 'Seasons Greetings'.
I don't have a religion myself, but I don't mind when friends and associates say Merry Christmas to me because I know they wish me well. I also remember when I was studying in the UK, one of my flatmates kindly put a small Christmas tree in the kitchen so those who were alone wouldn't feel desolate and bleak.
In the immortal words of George W Bush: "The notion of political correctness has ignited controversy across the land. And although the movement arises from the laudable desire to sweep away the debris of racism and sexism and hatred, it replaces old prejudice with new ones. It declares certain topics off-limits, certain expression off-limits, even certain gestures off-limits".
PC has barred us from openly discussing race, religion, sexuality, etc. If freedom of expression is limited, we lose opportunities to explore more about ourselves, society and the world. Examples include criticism over Hollywood's decision to cast Scarlett Johansson as Major Motoko in 'Ghost in the Shell'. According to political correctness, Major Motoko is exclusively Asian even though the character sports a set of blue eyes. I'm also denied the freedom to have open discussions about mixed marriages.
We're also obsessed with finding the perfect description to identify non-white Australians. The word 'ethnic' is considered racist because it implies non-white Australians are 'backwards' and separate from the 'default' Australian race – the white Australians. There are multiple interpretations of the word ethnic, but essentially it describes groups of people who share a common religion, race, cultural heritage and language. To replace it, we used NESB (non-English speaking background) to define non-white Australians.
Unfortunately, NESB didn't fit the shoe because the term hints that second generation migrant Australians could be included. And now, we've got CALD (culturally and linguistically diverse background) – a seemingly immaculate description for non-whites. But with PC's high alert on race and ethnicity – it's hard to address the implications this phrase brings.
I remember I had a debate with a member of the PC brigade who didn't accept that 'CALD' also suggests that Irish-Australians or even Anglo-Australians could be included. And if non-whites have exclusive membership to the CALD club, then we've contradicted ourselves because we're maintaining that there is a divide between whites and non-whites. Since the word ethnic and CALD serves the same purpose, 'ethnic' should be a foul word. As humans we tend to categorise people, who are dissimilar to us, according to their different traits. Through this, this is how we can openly learn about others who are different from us.
Unfortunately, black slavery is part of our world history and it's understandable we're more vigilant when it comes to race relations between black and white people. But now we don't have a proper sense of what bigotry really means, and we've become so preoccupied with taking the self-righteous moral high ground we're carelessly labelling people someone as racist without understanding the full consequences.