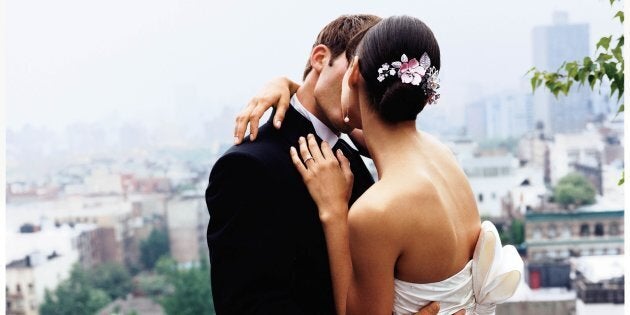 For BRIDES, by Elizabeth Mitchell.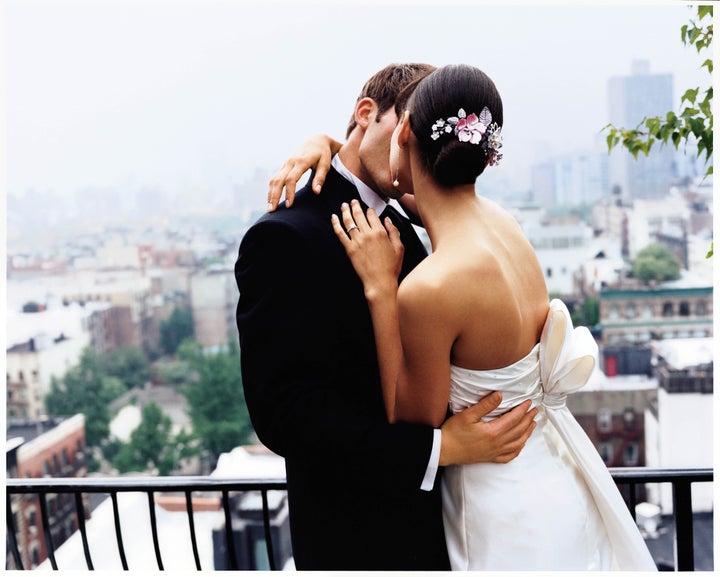 First comes love, then comes marriage, then comes those long awaited for wedding photos from the big day! To make sure you have no regrets, especially when it comes to those treasured bride and groom pics, we recommend adding these must-have couple portraits to your wedding photo shot list.
1. A "second look" during the reception Or third if you count seeing him at the altar, but you get the point! Steal a private moment away during your reception, and bring your photographers along to capture the magic of the new marriage, suggests wedding planner Marilisa Schachinger of Martel Event. "For example, if your reception is outdoors under the twinkle of cafe lights, what better spot to steal a dance and kiss away from it all that only you two (and your photographers) will remember."
See More: 131 Most Beautiful Celebrity Brides of All Time
2. A picture of you and your pets We know, we know...it's a hassle! But this is one genuine family photo you'll want to frame and cherish forever. As Brett Galley from Hollywood Pop Gallery points out, it's a great keepsake to remember what pet you had at the time of one of the most important days of your life. "Plus, they're family too, right?" To make things as smooth and stress-free as possible, we recommend hiring a pet nanny who can bring your well-groomed pooch to the venue and babysit him or her until it's time for pics then take the pup home.
3. A thank you card photoChancey Charm Boston wedding planner Jyl Deering once had a bride and groom who really wanted a great photo for their thank you cards with a thank you sign. "It was just forgotten, as there were so many others on the list," she explains. "Make sure you get a shot that you want for those thank you notes if you plan on including a picture with them."
4. Pictures of you and your boo during speeches There's nothing Houston wedding planner Chelsea Roy of Everything But The Ring loves seeing more than photos of the bride and groom's faces while they're listening to the speeches. "There's laughter, tears and just so much love in those photos. It's very raw emotion that will always tug at your heartstrings when you look back and remember their words."
See More: The 25 Best Movie Wedding Dresses EVER
5. Bride and groom in front of the reception venue You'll surely get tons of candid and direct-to-camera shots of you and your husband right after the first look, during the cake cutting, during the first dance, etc., etc. But Rachel Jo Silver, Founder of Love Stories TV, really wishes she had beautiful shot of her and her husband in in-front of their venue (a stunning old barn in Northern Michigan) right before they walked into the reception. "There's so much happening at that moment! However, if you plan it beforehand the photographer will make sure you get it."
6. Sunset photos Even if your wedding isn't outside, Betsy Erickson of Essence Photography promises it's worth leaving the party for 20 minutes to capture shots of you and your love at sunset. "This is the most incredible time of day. Not only is the light perfect and wrapped in golden deliciousness, but the images will also be romantic and intimate. Not to mention, it's an incredible excuse to spend some quality time as newlyweds and enjoy each other before you get back to celebrating with all your loved ones."
More FromBRIDES:
The 10 Best Wedding Dress Looks From Bridal Fashion Week
The 50 Best Places to GetMarried in America
The 61 Best Celebrity Engagement Rings