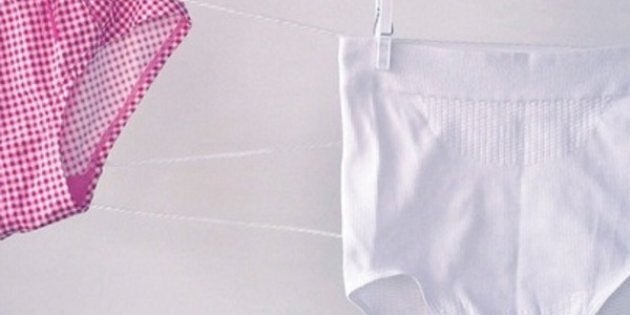 We all put on our knickers one leg at a time, right? Well, we sat down with lingerie designer and owner of White Rabbit Mariana Hernandez and learned that we may be doing a few things wrong with our undergarments. Here, eight underwear sins you may not even know you're committing.
1. Wearing a size too small: According to Hernandez, most women tend to buy a size smaller than they should down below. Don't be afraid to go a size up to prevent the fabric from digging in, chaffing and creating an unflattering silhouette underneath clothing.
2. Wearing the wrong underwear with your outfit: Wearing a tight dress? You'd go for a thong beneath, right? Well, that may not always be the best choice. Consider texture, fabric and color when choosing which style would work best. Sometimes a full-coverage brief is actually a more slenderizing option.
3. Buying underwear with heavy seams: Look for seams that lay completely flat and don't protrude, which decreases the chance of leaving an impression against your skin and sticking out from your clothing.
4. Wearing mesh underwear in the summer: Mesh may seem super-breathable (it's made up of tiny holes, dammit!), but it's still created from synthetic materials like polyester that can trap heat, sweat and moisture. Instead, wear natural fibers like cotton or bamboo that wick moisture away.
5. Wearing white underwear with white clothing: White will create a contrast against your skin, which in turn creates contrast beneath your outfit. You should aim for lingerie that closely mirrors your actual skin tone―from taupe to darker browns.
6. Wearing light underwear with dark-colored clothing: Wearing a nude bra with a black dress sounds like it make sense, but light colors can still show through darker fabric―especially around flash photography. Go for dark colors under darker clothing, and light colors under lighter clothing.
7. Putting your underwear in the washing machine: Hot water, the spin cycle and detergent can take a toll on the elasticity and fabric of your lingerie. Instead, you should hand wash with a sensitive soap, or use a mesh lingerie bag on the cold cycle in your machine. We also recommend air-drying all of it.
8. Not spending enough on your skivvies: Skimping on lingerie is a shortcut that could cost you in the long run, since cheaper underwear usually equals poor fabric that won't last long. Instead, opt for quality, comfort and durability, even if it means shelling out a pretty penny up front.
Related:
7 Non-Traditional Engagement Ring Stones That Are Trending Big Time
11 Pieces of Clothing That Will Never Go Out of Style