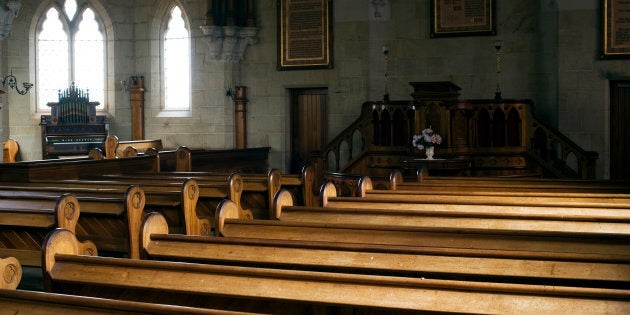 Take note, Australia: More Australians recorded "No religion" in the 2016 Census than any other individual religion or denomination. Surging from 22.3 percent in 2011 to 30.1 percent, non-belief has overtaken Catholicism, which fell from 25.3 percent to 22.6 percent.
Take note, politicians: Observe the irreligious voting block comprising nearly one third of all Australians -- a figure comparable to the the 34.9 percent that the ALP polled in the 2016 Federal election. Thus, nonbelievers represent a powerful, new force in politics.
Take note, media: The large non-believing demographic demands a voice. Secular groups and activists are rarely seen on television or radio, even on issues featuring the intersection of religious belief and politics.
Recall the ABC's 'Q&A' special episode on Church and State in April 2016? The topic was secularism, but the panel featured not one secularist. The panel were exclusively Christian, featuring Christian pastors, academics and, of course, the Australian Christian Lobby.
It's about time the voices of the godless were heard in the corridors of Canberra, and their faces became more recognisable in the mainstream media.
Our public broadcaster features numerous religious programs, but none specifically dedicated to discussing non-belief. These programs include 'Compass', 'For the God Who Sings', 'Religion & Ethics Report', 'Songs of Praise', the 'Spirit of Things', and 'God Forbid'.
Despite a veritable baptism of religious programmes, the scrapping of the 15-year-old Sunday Nights necessitated crisis talks with Catholic priest, Father Frank Brennan, Baptist minister Tim Costello, and Reverend Elenie Poulos, of the Uniting Church. All this, even though a new half-hour program, 'Religion and Ethics', was added to Radio National.
Jesus wept. I don't have a problem with religious shows, but surely the secular viewpoint deserves a run also. Further, overlooking one third of taxpayers, altogether runs against the ABC's policy of presenting a diversity of views.
ABC's online Religion and Ethics, makes a pretence of catering for the secular voice, but only rarely is a rationalist or secular view represented. By and large, the site features religious commentary by local and international academics and apologists. Tellingly, the public comments facility has been disabled and old comments deleted. One suspects, perhaps uncharitably, that it is due to their overwhelmingly negative character.
The diversity of secular views has been, until now, nearly invisible in the Australian media. But, it contains particular value. Focussing on rational thought and empirical evidence would be a breath of fresh air, in a climate of fake news, zingers, and Left versus Right ideological warfare.
In the UK, secular voices such as Richard Dawkins, Stephen Fry, and AC Grayling appear regularly on panel shows. In the US, Bill Maher fosters are irreverent take on politics, and a variety of nonreligious authors and thinkers including Sam Harris, Stephen Pinker, Daniel Dennett, Lawrence Krauss and Stephen Hawking contribute to debate. Additionally, many of the well-known Australians with secular views such as Peter Singer, Geoffrey Robertson, Clive James, and Tim Minchin, are based overseas.
The lack of secular voices in the media perpetuates Christian privilege. Declining religiosity hasn't lessened the influence of the increasingly unrepresentative lobby groups claiming to speak for mainstream Australians. One key issue is the decline in observance and belief among the religious. A 2012 McCrindle survey showed a third of those identifying as Christian were "more spiritual than Christian".
It's high time politicians abandoned the fallacy that religious outrage is a vote changer.
Empty churches sit idle on street corners, while in Canberra, Christian lobbyists perpetuate the transfer of religious observance from churches into secular state schools. Schools teaching religion as a comparative subject are the norm in most similarly irreligious countries, such as Finland, UK, New Zealand -- some of which have zoomed past us in the international PISA rankings.
While fewer people believe all the tenets of scripture, the religious hierarchy successfully pressures politicians to maintain a biblical view of marriage, to oppose assisted dying, and to continue to over-subsidize Catholic schools.
For many, marking 'Christian' represents little more than a cultural affiliation. Emphasizing the nominal nature of their belief, is the fact that a majority of Christians support for same sex marriage, and that 70 percent of Catholics and Anglicans support assisted dying. Of those who support the latter, 84 percent are non-observant. But of those Christians opposing euthanasia, 92 percent are "true believers": that is, prayerful, church goers. These represent a vanishing minority of Australians, given a mere 8 percent still attend church regularly.
It's high time politicians abandoned the fallacy that religious outrage is a vote changer. For the vanishing few true believers who swap their vote, there exists an order-of-magnitude-larger group of nonbelievers to cancel them out.
The increase in non-belief marks a seismic shift in our belief landscape. So, it's about time the voices of the godless were heard in the corridors of Canberra, and their faces became more recognisable in the mainstream media.
ALSO ON HUFFPOST AUSTRALIA