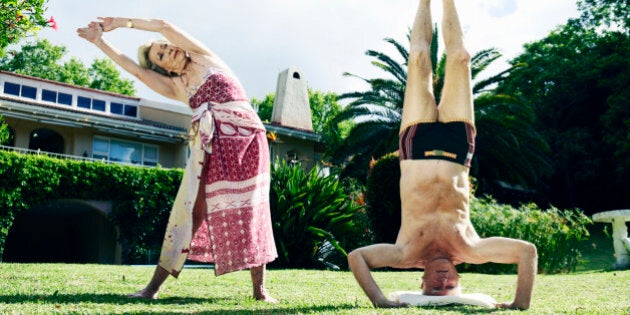 Let's be realistic, there are going to be days when you need some motivation. Having someone to hold you accountable will help you show up to those early morning workouts when you'd rather be in bed. It could mean that you make it to three workout sessions a week rather than two. Over time, it makes a big difference.
According to Mark Capelin, founder of Tribe Social Fitness, "the biggest challenge most people face with their health and fitness is consistency in eating and exercise".
"Having a gym buddy is key to a sustainable and successful journey," he said.
But should you train with your partner?
Do couples who train together, stay together?
While training in pairs can do wonders for your fitness, it may not always lead to happily ever after. "Every couple is different. Some love training together, others enjoy exercise away from their partner as 'me time'," Capelin said.
If you and your partner are at different levels of fitness, it can be tricky to find a workout where both parties feel challenged. To find a happy medium, stick to workouts tailored to all levels or opt to have just one day where you workout together.
How to choose your workout buddy
Choose your gym buddies wisely, as it's a long-term relationship and it can get incredibly awkward if it doesn't work out, especially if you share a gym. Find someone who has similar fitness and weight-loss goals, then set a schedule and nutrition plan you can both stick to.
The best exercises to do in pairs
When it comes to workouts, sometimes two is better than one. "I love training intervals in pairs, particularly on exercises such as the rower, assault bike or treadmill," Capelin said.
"A simple and effective workout is 30 seconds hard, 30 seconds easy, where you and your partner alternate. They do the first set while you are going easy, then you switch places."
Suggested 30-minute workout:
Head to the treadmill: Run at full speed for 30 seconds, then take it easy for 30 seconds. Do 10 sets.
Row away: Go hard for one minute on the rower and take it easy for one minute. Do five sets.
Hop on an assault bike: Go 30 seconds hard, 30 seconds easy. Do 10 sets.
Accountability is key to long-term weight loss. Drum up some healthy competition with a fitness-tracking device, where you can share how many steps you've taken, calories you've consumed and stairs you've climbed. Seeing your progress mapped out in numbers is a great reminder of how much you've achieved.