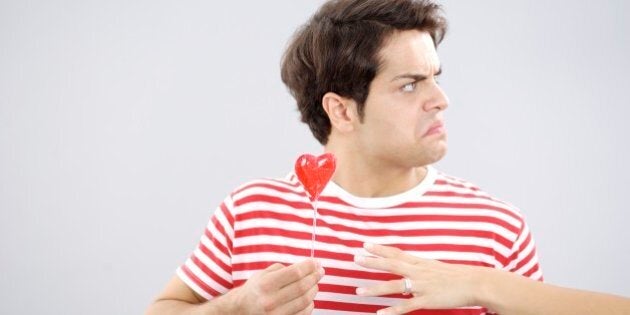 Whoever invented Valentine's Day was smart enough to recognise the commercial realities the day would soon bring. People buy things based on emotion, and so it's no surprise that many splurge on a day that celebrates love.
Personally, I believe that if you love someone, you should show them every day, not just because a calendar tells you to. But, having once loved Valentine's Day, I also understand what it's like to have a partner who doesn't 'believe' in Valentine's Day.
If you couldn't give a hoot about St.Valentine but still want to make it into the good books, here's a survival guide that might come in handy.
The worst thing you can do is ignore February 14th as a day to be celebrated. You don't necessarily have to ask your better half out to a Valentine's Day dinner, but make sure you do something special -- take-away Thai food and a movie at home does not count. Avoid all restaurants. Aside from the premium prices you'll pay, you will end up packed like sardines with all the other couples celebrating. And if you don't book in advance, you'll end up spending your night standing in a long queue. Opt for a picnic in the park for a low-key, casual date that just happens to fall on Feb 14th -- same level of romance without the cliché.
If you've just started dating someone, Valentine's Day can put a lot of pressure on the relationship. A present too big or too small could land you in trouble, so it's best to tread lightly and go for the safe options. If you don't know how much to spend, use this guide:
Dating 1-3 months: A small bouquet of flowers or box of chocolates -- spend no more than $50.
Dating 4-6 months: Give something you can do together. I'd cap the budget at $100.
Dating 7 + months: By this time, you probably know your partner pretty well. Spend whatever you feel is appropriate.
The Long Distance Valentine
Think you can get away without celebrating the day because you aren't together? Think again. The unspoken rule is, if one person celebrates Valentine's Day, both in the relationship should celebrate it...regardless of distance. Organising a present or flowers can be tricky and, as an expat, I can understand the pain of having to find a local supplier for every occasion. If your significant other is overseas, opt for a delivery service that caters to multiple countries.
There is nothing worse than having a delivery arrive a day late, so make sure you put in your order a few days before. If you are after a more personalised touch, you can hire someone to buy the gift and deliver it in person via a service like Airtasker. I recently helped a guy deliver a tub of ice-cream to his girlfriend with a personal note, just because. It's the small gestures that count.
Some parting tips to get you through the day:
You will probably get lots of chocolate love-hearts... who can resist chocolate?
If you honour the day, you will probably get some brownie points from your significant other.
It's just a day. In 24 hours, it will be over.
Think of it as date night but on steroids.
Better to embrace it than to resist it.