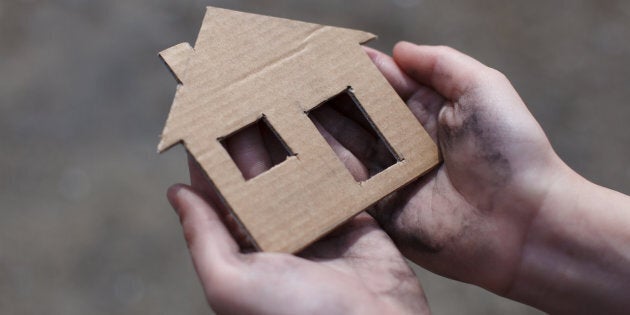 The spring property auction season is in full swing. Sydney house prices keep rising and the FOMO on a property seems to fuel the news reports.
But FOMO is only one side of the coin. The existence of poverty in this country is very real and unfortunately it is getting worse, with the gap between rich and poor growing all the time. Each night, over 105,000 Australians are sleeping on floors, couches and street corners because they don't have the security of their own homes.
This week, Anti-Poverty Week, Vinnies and ACOSS launched the Poverty in Australia Report. It identified that nearly 3 million people were living in poverty in Australia in 2014, or 13.3 percent of the general population.
Of the people who are seeking help from homelessness services, 59 percent are women and girls. Not only are more women now seeking help to escape poverty, women over 55 make up the fastest growing group of people experiencing homelessness.
We have been trying to combat this growing concern of homelessness in older women for many years. We want the lack of affordable housing to become a government priority and shift the conversation from words into action.
Most of these older women have lived through years of gender pay gaps, or only had part-time or no income while they raised their children. As a result, they have very little superannuation to draw on, which becomes an even bigger issue after the breakdown of marriage, bereavement or illness. They are often traumatised from years of domestic abuse or overwhelmed by becoming the sole person responsible for limited finances.
We're seeing more and more cases of people being pushed out of the housing market as prices soar. As of 2016, there are more homes in Sydney that are investment properties than there are owner occupied.
This housing stock remains unattainable for one third of single women on the age pension who are living on or below the poverty line. For them, buying a place has simply been out of the question. At the same time, they watch their rentals escalate and eat into their pensions. All it takes is a couple of compounding issues such as a health problem or the loss of a partner and suddenly the risk of homelessness becomes very real.
It is no coincidence that Anti-Poverty Week falls in Mental Health Month, because the experiences of homelessness and poor mental health are so often intertwined. Our services are able to help both the physical experience of homelessness and the mental repercussions such as a loss of pride and self-worth that are very common in older women. Most of these women have never received Centrelink benefits before, so this process is very difficult and undermines their dignity. When they finally reach out for help, there are fewer targeted services available to them, leaving them to fall through the cracks.
Gaining access to social housing is also difficult for older women because they are rarely given priority status, and very little is being done for these women outside of charities.
This week we are launching The Right to Home campaign, which includes a petition and a call to action for the government to set a 15 percent affordable housing target for all new developments. If we can gather 10,000 signatures, we can have the issue raised in the NSW Parliament.
We are calling on all levels of government to act faster, particularly with affordable housing, to end this emerging catastrophe and keep our mothers and grandmothers safe in their later years.
If you need help in a crisis, call Lifeline on 131114. For further information about depression, contact beyond blue on 1300224636 or talk to your GP, local health professional or someone you trust.