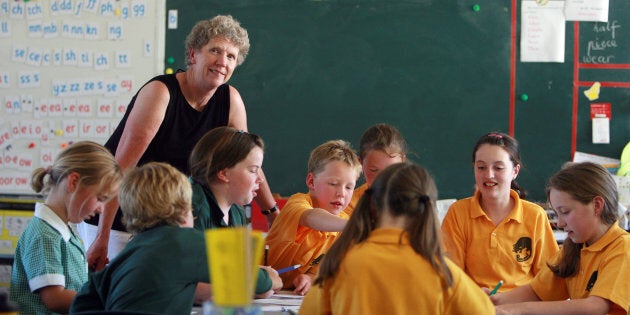 I often get asked this question. Except it sounds more like: "Why are you a teacher?" Can you hear that tone? I hate this question. It implies that teaching is somehow a second-rate or unworthy profession.
I will admit, the jump that I made into teaching could have been considered unexpected. But the extent to which I'm asked this question makes me wonder whether many people truly understand the work and moral purpose of teaching. The low status of teaching as a career in Australia, relative to other professions and to teaching in many other countries, is certainly telling.
It is perfectly clear to me not only why I became a teacher, but also why others should see teaching as a valued career. So, here is my answer to that often disdainfully asked question.
I grew up as the eldest of two boys in the Dandenong Ranges on the outer east of Melbourne. We were raised from a very early age almost entirely by my mum, and had to deal with many of the challenges that go along with being a single-parent family. Growing up, it was always clear that we did not have a lot, but looking back, I never really appreciated just how difficult things were.
In short, I never realised how close we came to the brink. I never realised that we had baked beans on toast for dinner because we didn't have anything else to eat. I never realised that those exciting bags of day-old bread were delivered by volunteers from charities. I never realised that not everyone's mum visited St Vinnies to have an appointment with the ladies there, never understanding that not everyone needed to have meetings to make sure they could keep a roof over their heads.
We were truly disadvantaged.
Despite this, our mum was determined to make sure that our situation would not be something that followed my brother and I throughout our lives and she saw our education as a key component of escaping the cycle of disadvantage.
On 11 July 2008, just after my Year 12 half-yearly exams, Mum suddenly passed away after an accident at home. The attitude that she had instilled in me and the resilience and skills that went alongside it immediately became more crucial than she ever could have imagined. We had to find a way to survive and I had to try and complete my Year 12 studies.
I know for a fact that the teachers at my school were deeply concerned about how I would cope for the remainder of the year, as many people were, myself included. It could have been all too easy for those teachers to lower their expectations of me. All too easy to preface every statement, grade or piece of feedback with: "He's doing so well, considering...". All too easy to say: "At least you tried". But those teachers, they didn't.
They gave me the extra support that I needed, but they never stopped pushing me, they never stopped expecting me to achieve like I had before. Their continued belief in my ability to overcome my challenges was crucial in making that achievement a reality.
High expectations from my teachers gave me the self-belief that I could do something great -- not just considering my situation, but in absolute terms. They inspired me and they set me on the path out of disadvantage, to university, to work in scientific research and into the classroom.
The work those teachers did to support me during that incredibly stressful and turbulent time has had a lasting impact on my philosophy of teaching and how I carry myself within my school. They were caring and giving. They went beyond what was required and they were inspiring.
I am a teacher because I have experienced first hand the role education can have in lifting young people out of a cycle of disadvantage. I am a teacher because my own teachers showed me the enormous impact that these professionals can have on the course of someone's life. I am a teacher because young people from all walks of life deserve the opportunities that I received through my education. I am a teacher because I can see myself in my students.
I am a teacher because I truly believe that it is the single most important thing that I can do with my working life.
This post first appeared on July 21, 2016.