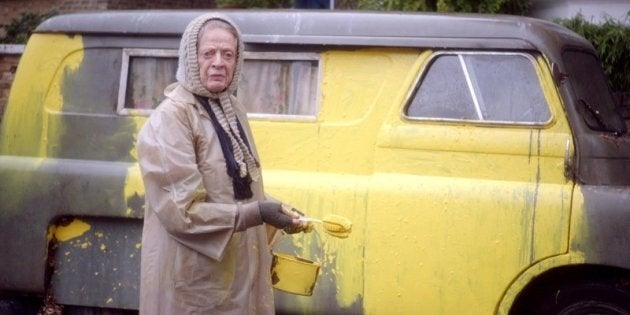 By the time a woman reaches middle age, you would think that life would be pretty good. After all, they've worked hard for years in whatever they've been doing, whether it be a job, raising a family, looking after a husband, paying off a mortgage, or all of the above.
However, there has recently been a disturbing increase in the number of middle-aged women finding themselves homeless.
For the past several months, a car has been parked out the front of my brother-in-law's workplace on an industrial estate. Nothing unusual about that, you might think. It probably belongs to one of the workers, or maybe it was stolen and dumped...
You see, there is a middle-aged woman living in that car. Day or night, you will find her inside; through summer's heat and winter's chill. She walks to a nearby service station to use the toilets. Of course, the local police, council, community agencies, social workers and the like have all tried to "help" and move her on. Yet still she remains.
I don't know what her story is, or how she came to be homeless. Whether it was as a result of mental health issues, marriage breakdown, addiction or job loss. But I do know that it could be any of us all too easily.
Often however, the typical middle-aged homeless woman does not show up in the stats because they are not "sleeping rough".
The following is a true story...
After many years of marriage, Mrs and Mr X's relationship broke down. Mr X refused to leave the house, so Mrs X did, only to find that she was suddenly homeless.
Mrs X hadn't been in the paid workforce for quite some years, as she'd been caring for home and family. All of a sudden she had no roof over her head, and no way of paying for one, either.
If the children had still been small, one of the domestic violence shelters would have taken her in. But as she no longer had any dependents, she slipped through the cracks.
Upon visiting Centrelink, she was told she had too much equity in the family home and therefore was not eligible for any form of financial support. Unbelievable. What was she supposed to do -- hit up her estranged husband for rent?
It would be all too easy for a woman in this vulnerable state to decide to end it all.
Mrs X was one of the lucky ones and had family to turn to in her time of need. But what if she hadn't?
In time, financial settlement was made and she did receive her share from the proceeds of the sale of the family home.
But yet again, Centrelink proved worse than useless. She had to buy herself somewhere to live immediately, or she would lose the pittance they were paying her each fortnight, because she had "money" to live off.
We might live in the "lucky country", but a lot of women are doing it tough. I'll bet if you put your mind to it, you too will have a true story to tell about a homeless woman.