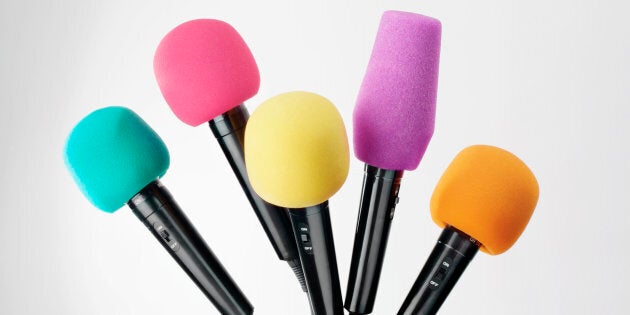 JOY 94.9 has a special place in my heart.
I love turning the radio dial to Australia's only LGBTIQ community radio station and being refreshed by content that speaks to me. I really enjoy being asked to be on air, and the presenters and other volunteers are always friendly and enthusiastic.
It is a unique environment where you can tell that people have finally found a welcoming environment, a place where they can be themselves.
But on Tuesday night, a coward sent a threat through to the station that was serious enough for the studios to be evacuated.
I cannot use the word 'coward' strongly enough. Because of their fear and a deep prejudice, the coward sent an email that was designed to intimidate others in order to make the coward feel better about themselves.
They were the bully, and they didn't even put their face to their bullying.
The threat was sent during a show called 'Beyond the Binary', a show that explores gender diversity, particularly among young people.
Sadly, the threat was not a one-off for the LGBTIQ community. From the high-profile shootings at a gay nightclub in Orlando to the comments we cope with just walking down the street, I can tell you from personal experience that it's not pleasant.
My partner Penny transitioned when I was on Maribyrnong Council. I let my fellow councillors know what was planned, and someone decided it was a juicy story to share. Before Penny was ready to be public we had tabloid photographers sitting outside our home, waiting for a glimpse they could put in the next day's papers.
Some would say this is the price of a public office, but no one needs this. Penny certainly didn't ask for it. She just wanted to be herself.
Put yourself in the situation of a young person questioning their sexuality or gender identity, who carries the burden of society's expectations coupled with the added weight of entrenched discrimination.
When an LGBTIQ institution like JOY is attacked, another weight is added to the barbell that people in the community carry every single day.
It's most likely that the coward who sent this week's threats has never got to know someone in our community. They might have said things like "I'm not homophobic but" or "some of my best friends are gay", but nobody who has heard about the true impact of these sort of actions would have sent that email.
The coward wanted to attack our values, but they clearly don't understand the impact on our people. That's why it's so important for LGBTIQ voices to be heard. And nothing will silence the voices of JOY.
It is with this context that JOY said in the wake of the threat that it "highlights the damage that can be done through a divisive public debate about our community's aspiration to be equal members of society".
Let's be clear -- opposition to the plebiscite is not an attempt to silence freedom of speech. The debate is already happening.
The plebiscite was dreamt up by those in the government who want to delay the inevitable at all costs. They are using people in the LGBTIQ community as their pawns.
I can see the smug look on the person whose brainwave a plebiscite was. I hope this wipes away their smile, but somehow I doubt it will. They need to realise that this is not a game.
Worse than the initial thought bubble of a plebiscite is that the government now wants to give the NO campaign $7.5 million to spread their message. In Question Time last week, we found out that this money would not be monitored by the advertising standards bureau, so would not have to be factually correct.
There is no doubt that many want to argue their position against marriage equality in good faith, but a plebiscite -- especially one with a $7.5 million campaign megaphone -- would give a licence for the cowards to target the LGBTIQ community.
All we need for marriage equality is a simple vote in the Parliament. We are having the discussion. The government's plan would just lead to the debate becoming more brutal than it already is.
As JOY said in the wake of the threats, the station "will continue to provide a voice, break down isolation, and celebrate the achievements of our diverse lesbian, gay, bisexual, transgender and intersex communities".
Love will win in the end. Our community will not be silenced.
Senator Janet Rice is the Australian Greens LGBTIQ spokesperson