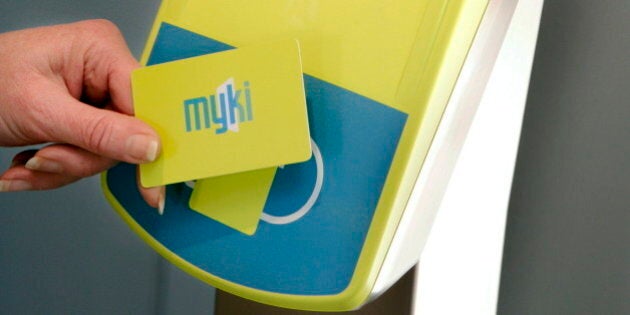 With his selfies on trains, his ownership of a Myki card and his tales of his second-favourite bus, Malcolm Turnbull has tried to create the impression that he is not just about ploughing cash into great big polluting toll roads and spaghetti junctions.
But his actions haven't backed up his words.
As the vast majority of city planners will tell you, building a toll road to solve congestion is like loosening your belt to cure obesity. A frequent train service can carry as many people as 12 freeway lanes of traffic, freeing up the roads for people who need them most.
But, as with many other issues, Turnbull is succumbing to pressure from his own party and failing to deliver the smarter way.
From his right, Turnbull is reluctant to upset the regressives on his backbench, led in spirit by Tony Abbott. As Prime Minister, Abbott pledged billions to roads despite appalling business cases -- East West Link was going to return just 45 cents for every dollar spent -- but completely refused to spend a cent on making it easier and safer for people to catch trains, trams and buses.
"There just aren't enough people wanting to go from a particular place to a particular destination at a particular time to justify any vehicle larger than a car, and cars need roads," he wrote in Battlelines.
From his other right, Turnbull is beholden to his own frontbench and a relationship at the heart of the Liberal and National Coalition.
Since the late 1960s, the transport ministers in Coalition governments have all come from the Country or National parties.
We can all agree that it's critical for regional and rural roads to receive proper funding. Neglect of these roads put people's safety at risk. This doesn't negate the need for greater focus on trains and buses in these areas. It's just a reality of life in the bush.
But this concentration of power outside the major cities means decisions have been made that are simply out of touch with the lives of people in our cities.
We know there are vast numbers of people who would readily swap their car for public transport for some or most of their trips, if trains, trams or buses worked for them.
But after decades of under-investment in public transport infrastructure, the sad reality is that it doesn't work for them.
When you are faced with a choice between a slow, infrequent bus with bad connections or an unreliable overcrowded train, or the car sitting in the driveway which will get you there in half the time, there is no contest.
This is one of the great failings of Australian governments.
The most cost-effective way of unclogging our cities is to shift people out of their cars.
We do this by having a greater proportion of people travelling by public transport, walking and cycling, creating jobs closer to homes, and reducing the overall need to travel, particularly during peak hours. A work-from-home revolution is happening, and we need to make the most of it.
But instead, our governments have transport plans that assume that an increase in population automatically means the same increase in car use. By assuming -- wrongly -- that the way we travel will hardly change over coming decades they conclude -- wrongly -- a need for more roads.
Big corporations come up with plans for new tollways and it's an easy sell for politicians to say they will fix traffic with another road.
We hear a lot of talk about depoliticising infrastructure funding from both the Liberal and Labor parties, but there is still an overwhelming, systemic bias towards roads. Major infrastructure decisions are being made for short-term, politically expedient reasons, rather than in the long-term public interest.
Victoria is a great example.
The federal government's recent infrastructure announcement of $1.5 billion for our state contained less than 1 percent for commuter public transport.
We welcome the Victorian Labor government commitment to Metro Rail, but Premier Andrews is still spending twice as much on road projects as public transport -- over $7 billion compared with $3.2 billion.
The road spend includes $1.4 billion to the proposed Western Distributor tollway -- a project that was dreamt up by Transurban -- the very corporation that is set to cash in on a 12-year extension on the tolls they can charge Melburnians.
Meanwhile, we are still waiting for other congestion-busting public transport projects such as Airport Rail and upgrading antiquated signaling that would allow twice as many trains to use existing rail-lines.
And history is repeating itself. Melbourne's transport plan in 1969 included Doncaster Rail as well as freeways. Almost 50 years later, we've got our freeways and tollways, but we are still waiting for Doncaster Rail.
Governments of the day will always play a central role in deciding which projects to fund. Making sound decisions in the public interest is a core part of the government's job.
But we need to break this cycle that makes public transport an after-thought, and only when 'balanced' by equivalent road projects.
We need a model that recognises the overwhelming benefits of public transport for congestion, for social equity, for our economy, and our health and the health of our cities and our planet.
Think of it as affirmative action for public transport.
It will make sure any political decisions are transparent and carried out with proper public consultation, but makes sure we make up for decades of lost investment.
The Prime Minister must act on their wishes.
Mr Turnbull must not simply fall in line with the party he's meant to lead. He needs to start investing in the world-class public transport we deserve. His first step is this Tuesday's budget.
On Wednesday, we could be reading about how we're all going to benefit from a 21st Century vision for trains, trams and buses. Or we could be reading about how Mr Turnbull has caved in, yet again.
The choice is now in the hands of the Prime Minister. Let's hope he has the courage to make the right one.
Janet Rice is a Victorian Senator and the Australian Greens spokesperson for transport and infrastructure.