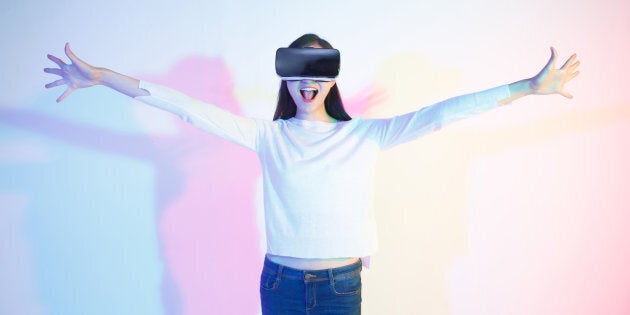 If you've ever been in a house that was built pre-World War II, you'll likely notice the ornate ceilings, leadlight doors and an awkwardly placed television.
While TV was technically available in the 1920s, it was not until 1956 here in Australia that Bruce Gyngell uttered the immortal line, "Good evening, and welcome to television".
So, while a dedicated wall upon which to mount or stand a TV eventually became de rigeur in homes, most houses you enter with beautiful art deco features likely also have their TVs crammed into a corner, with the couches on diagonal angles. Because what architect or builder in the 1920s and '30s knew a single box would become the dominant mechanism around which a family would come together of an evening?
Therefore, with the seemingly inevitable rise of virtual reality and augmented reality, you have to wonder just how important a media room is going to be in the coming years.
At the moment, dedicated space for VR seems like a ridiculous extravagance for millionaires. Just like a television set was in its early days.
We may have been given a sneak peek at the affordable future of VR this week, with Mark Zuckerberg revealing a wireless, standalone headset -- one that requires no PC or smartphone to function -- at the company's Oculus Connect developer conference.
While coy on details of battery life and visual fidelity, the Oculus Go does promise a "high-resolution fast-switch LCD screen" as well as lenses the company claim to be their "best ever".
The entry point? A measly $US199 (around $AU250).
That's less than half the cost of Oculus' top-line headset, which also requires a decked-out PC rig to be anything more than a ridiculous piece of headwear. And it's only about $100 more than the Samsung Gear VR (an Oculus product), which requires a smartphone worth at least $500 to function.
Presenting Oculus Go, Zuckerberg reinforced he and Facebook's commitment to VR, with the CEO making the bold statement, "We want to get a billion people in virtual reality".
You can't be content without content.
Of course, assuming the Go is the amazing piece of machinery Oculus promise, even the world's most comfortable, affordable VR headset isn't much good if there isn't a library of worthwhile content.
And that's the other aspect of this week's conference that the company have sought to highlight: the expanding universe of content possibilities.
Since Facebook acquired Oculus in 2014, Zuckerberg has been at pains to point out that he sees the platform as so much more than just an opportunity to take gaming to the next level. This week, he showed an aspect of what's possible, taking a VR tour of hurricane-struck Puerto Rico.
Now, it was an incredibly tone-deaf presentation -- 'Check out all this misery you can experience close-up with our amazing tech!' -- but if you take the sales-pitch aspect out of it, this could be the future of disaster relief.
Pictures may be worth 1000 words but even they can't do justice to the level of destruction that natural disasters inflict. Setting up a walking tour of a disaster-ravaged city or town could immediately impress upon world leaders the severity of a situation, whereas at the moment organising a tour can take days --at a time when every hour counts for desperate people.
Again, he did a poor job of communicating it, but these are the kind of possibilities Zuckerberg has envisioned for VR -- a way to change education, communication, and even humanitarian relief.
Time to start thinking about renovations.
We'll find out what's what when Go is released in early 2018, however Oculus appear to have thrown the gauntlet down to the other companies doing VR.
But if we assume these setups will become commonplace, what will be the point of setting it up in a room full of bulky furniture? You want to immerse yourself in a virtual universe in which you can walk around. And if you're going to enjoy a realistic and safe VR experience, you need to have a relatively large, open space in which to do it.
As stated on Oculus' Gear VR safety precautions, "Serious injuries can occur from tripping, running into or striking walls, furniture or other objects, so clear an area for safe use before using the Gear VR".
Granted, the Gear VR also recommends you stay seated throughout, but anyone who's donned a top-of-the-line piece of VR will tell you that the ability to walk around in the environment takes the whole thing to the next level.
And do you really want to pull the couches, coffee table and TV out of your media room every time you want to don the VR headset?
Look, it's not going to take effect tomorrow, so don't chuck out all your living room furniture just yet, but if VR is going to be an essential piece of homeware -- much like the TV -- then there will be broader repercussions.
Perhaps having to call in the renovators will be one of them.