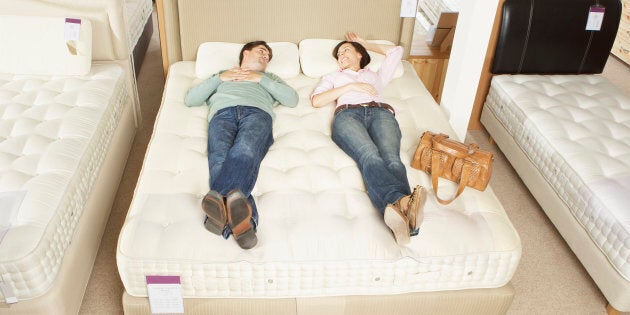 Last month my husband and I decided to buy a new bed. The one we'd had for nearly 15 years was saggy and uncomfortable and we'd both been waking up stiff and sore. Our old bed was tired, and so were we.
At the nearest department store my husband immediately lay down on one of the display beds. "Ahhh," he said, closing his eyes. "This one's good. Try it." I was about to hop on when a saleswoman approached.
When I told her that we were after a double bed she said, "Oh, getting something for the spare room?" "No," I replied, "just for us." She stroked a nearby bedhead and raised her eyebrows. "Most people go for something a little bigger these days," she said. "Have you considered upgrading to a queen? Or a king?"
Although this was a bit "want to upsize your fries?"-ish, she did have a point. "What do you think?" my husband said, stretching his legs and arms out like a starfish. "It might be nice to have more room." I looked at the expansive cloud-like mattress he was testing. "But we only have double sheets and doonas," I said. "We'd have to get all new manchester."
When I moved out of home, aged 22, there was no way I was taking my single bed with me -- like, how embarrassing. So, I left it behind and got something more practical and grown-up: a 1930s walnut-stained wooden slatted double. I bought some new bedding to match, a pure wool doona and two sets of white cotton sheets.
At the end of each weekend my bedclothes were marked with a mixture of farm dirt, gravy, tomato sauce, jam, sugar and greasy fingerprints.
Mum helped me make a doona cover from remnant fabric, baby blue on one side and dark brown on the other. My shearer boyfriend -- who drove 300km every Friday night to come and see me -- once wrote a Sunday-afternoon-goodbye limerick about it: You can put your doona on blue, cos this week it will only be you, but you'll soon turn it round and put it on brown, cos I'll be back and I'll be covered in poo.
This was no exaggeration; he was filthy. But the dirt wasn't just caused by his shearing clothes and dirty hands. I lived next door to a servo, and on Sunday mornings he'd pop out and get himself a meat pie and a jam donut for breakfast and eat them IN MY BED. At the end of each weekend my bedclothes were marked with a mixture of farm dirt, gravy, tomato sauce, jam, sugar and greasy fingerprints.
A few years later I moved in with said boyfriend and we decided to start a family. Our first baby came a bit early, at 36 weeks my waters broke. I was in bed at the time. Amniotic fluid on the sheets is quite a momentous stain. I didn't care about the mess -- I was busy breathing through contractions and thinking of a baby name -- and luckily made it to the hospital for the actual birth (sorry, orderlies).
For many months following this event our sheets and doona acquired a different bodily fluid: Breast milk. Despite having a not-quite-A-cup bust, I produced far too much milk for one baby and leaked excessively, day and night. If I forgot to wear a bra and breast pads to bed I'd wake up between feeds, bedclothes sodden with lactose.
Then, once a year, my bed became the venue for Mothers' Day breakfast. Small children love a syrupy, sprinkle-covered stack of pancakes -- more so if it can be consumed in a world of softness. I don't love sticky sheets, but it's hard to complain about a surprise treat presented by an excited toddler.
A less exciting child-related bed surprise is a bout of gastro. When my son was two he caught a bug that made him throw up every couple of hours for seven days straight. And, no matter how prepared you think you are (bowls, towels, wipes), there is very little time between 'My tummy hurts' and projectile vomit. Our sheets went through the wash a lot that week.
As I stood in the bed shop last month I thought about this bed linen history -- often unpleasant, occasionally amazing, but always meaningful -- and I felt a sudden urge to keep my double sheets and my double doona, stains and all. "I don't think we need to upgrade to a queen," I said to the saleswoman. "Double is just fine."
When we got the new bed home I covered it with freshly laundered bedclothes, and then it occurred to me that my stained sheet days might be over. I no longer have a boyfriend who eat pies for breakfast, or a breastfeeding baby, or a toddler who vomits with little to no warning. These days, my Mothers' Day breakfasts are civilised at-the-table events.
Ah, but there was one thing I didn't consider, the stain of a mid-life crisis. Last weekend my husband got a tattoo -- his first, at 36 -- and came home with his arm wrapped in cling film. "Is it kind of shaded?" I asked, examining the image. "No," he replied, "that's just extra ink seeping out." The next morning, as I went to make the bed, I noticed a smudge of black ink on the sheets. And this time it didn't wash out.
You can purchase Jean's book 'Lovesick' here.