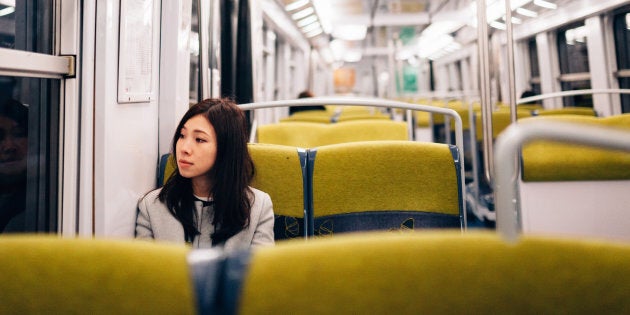 I struck up a conversation with the man who sat down beside me on the train last night. We were travelling from Melbourne to Ballarat -- a trip long enough to warrant speaking to strangers in order to pass the time. It turned out that he was from Hobart and had only been living in Ballarat for six months.
"I came for work," he told me. "But I didn't know anyone." "Have you met a few people?" I asked. "Do know someone now?" He paused for a moment, then his shoulders drooped slightly. "No, I haven't." "I know exactly how you feel," I said, with a sigh. "I was in your position 10 years ago."
I moved from inner-city Melbourne to regional Victoria when I was twenty-six. My partner of four years had been living on a farm near Kerang, and we were sick of the 280km commute and weekend-only romance.
I wasn't prepared to relocate to the farm (Mud! Stinky animals! Not enough lattes!) and my partner had no interest in city living (Traffic! People! Too many lattes!), so we looked at a map and chose somewhere in between.
We didn't know much about Ballarat, but with a population (then) of about 88,000 it seemed like a good mix of urban and rural, big and small. The express train to Melbourne meant that I could keep my job, and my partner thought he'd be able to get work shearing in the Western District.
At first I found my new situation quite exciting: goodbye share-housing, hello being de-facto. I loved having my own house, some nice furniture, a sense of privacy and extra freedom.
Then winter came, and my tree change quickly lost its novelty. For two long months the temperature stayed below 10 degrees. To make it to work on time I had to leave home before dawn, walk for twenty minutes to get to the station, and sit (or stand up) on the train for an hour and a half.
I loved being in my warm city office surrounded by chatty colleagues, but my mood would darken as soon as I left to head home. Because it didn't feel like home at all.
I missed my family, my inner-city lifestyle, the relatively warm weather and even my old flatmates. But what I craved most of all was friendship. Although I was finally able to spend more time with my boyfriend, I had no social life. I was lonely.
So I needed some local friends. The thing is, I didn't know where to start. I couldn't just go to a café, sidle up to a stranger and begin a conversation ("Do you like ... stuff?"). And there weren't any clubs that interested me -- I wasn't sporty, into gaming or keen on craft.
When you're a kid, making new friends is pretty straightforward: you sit next to someone, covet their rainbow shoelaces, tell them they can come to your birthday party, and that's it -- you're BFFs. When you're an adult the process of meeting people -- and forging close relationships with them -- can feel a whole lot more daunting. You need a catalyst to kick-start the process.
Luckily, my catalyst turned up in the nick of time. Just as I was about to admit defeat, pack my bags and give up on Ballarat for good, I found out that I was pregnant. And after I had the baby my social world finally opened up.
Mothers' group was my saving grace, and then came playgroups, kinder and school. I never forced a friendship, but I did keep an open mind. I had coffee with women I didn't think I had anything in common with (only to find that I did), I went out for drinks even when I felt like staying in, I spent less time visiting Melbourne.
Once, I knocked on the door of a stranger just because our mothers were friends. "My mum told me that you'd just moved to Ballarat," I said, standing awkwardly on the doorstep. "So I thought I'd pop round to see if you needed anything -- like a person to have a cup of tea with." It was an odd beginning, but we're still great mates five years later.
I am now happy and settled in Ballarat. (Yes, even in the winter.) With hindsight I can see that when I arrived a decade ago I wasn't really homesick, just lonely.
The empathy I felt for the man on the train was so great that I wanted to give him my number and arrange to meet up for a drink. I didn't do that -- um, inappropriate! -- but I did recommend a few good pubs and wish him well. As we went our separate ways at the end of the journey I silently hoped that he'd find his friend-making catalyst soon.
This post first appeared on August 3, 2016.