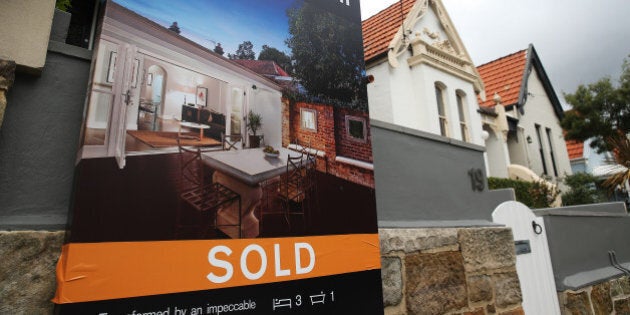 Around a year ago my wife and I were chatting to a lovely couple from England about the best cities in the world to live in. After we mentioned we were from Sydney but were thinking of leaving the inevitable question was asked: Why would you not want to live in one of the most beautiful cities on Earth?
The reason: thanks to the skyrocketing housing market, we can't afford to live here.
The cost of owning your own piece of Sydney is further and further away from the grasp of the average first-home buyer. Sadly for us this has meant many months of Saturdays wasted, trawling through the suburbs trying to find the right home to buy with the right amount of zeroes after the dollar sign.
Many of you have suffered the horror that is shopping for your own property. Online listings with glorious images that have been photoshopped beyond reality, false statements of 'Buyer Friendly Auctions', and laughably lowballed "offers from" prices. I did the maths once -- the average place I looked at sold for $75,000 over that initial number.
So thus, our Saturdays for the last 18 months have been as follows:
We shortlist 10 places and attempt to see six of them between the hours of 10 a.m. and 1 p.m. We drive up to 50 kilometres through traffic encumbered by Saturday sports and shopping, alternating between blaming my wife or the GPS for the fact that we are lost, only to be met by a small swarm of other potential buyers who actually believed the price they've seen on the listing. The same bespoke-suited agent takes my name and number for the ninth time that month (which he has misspelled every single time). He looks up from his clipboard in surprise when I mention we are actually looking to buy for ourselves and not for an investment property.
At this point I realise that the rest of the crowd are not people looking for their own slice of the city; they are merely adding to their portfolio and furthering the increasing boom in prices. The desire to jam the glossy brochure down the throat of the nearest competitor is nearly unstoppable.
We start to make compromises -- do we really need a second bathroom? Is a two-hour commute involving three types of public transport feasible? Are we okay with living between eight lanes of freeway and a train line, even though we're somehow miles from public transport?
Defeated once again, I book another appointment with a lender who convinces you that yes, spending two-thirds of your salary just to pay interest for 30 years is totally fine. You can calculate your payments at the current ridiculously low rate, but what if the interest rate rises to the 16 percent levels of the late 1990s? What if we are about to buy just before the all-too-mentioned property bubble bursts?
With no other choice but to push ahead, we upped the maximum price of the property we were looking for by 10 percent. Unfortunately by then the average cost of a home in our area had risen by 13 percent , putting us even further behind than when we started.
Oh, if only I could go back and tell my 20-year-old self to drop a 10-grand deposit on a small investment property. It would be worth over a million by now.
Sadly, we've taken a break from trying to find our own home. We've decided to rent a house and buy an investment property to at least get a foot in the door of this market of madness. With possible changes to the negative gearing laws pending, it is best that we buy soon.
Shopping for an investment property is a much more enjoyable process. Decisions become logical and financial instead of emotional. You can walk in, look around, and run the rental return numbers before saying yes or no.
Yes, I have become the investors that I despise during inspections. Still, it is better than telling our English friends that we've moved to Adelaide.
This blog first appeared in August.
Follow Jeff on Twitter here.