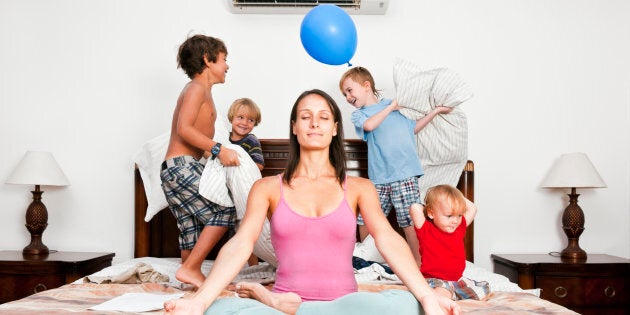 It seems I might have something in common with The Orange One and his team. It's pretty hard to admit but I love a good alternative fact. We all do.
Come on, when they're not about matters of global importance, there's a certain level of sanity preservation to be found in alternative facting, right? Maybe Kellyanne Conway did us all a favour bringing them out into the open for discussion.
To find out, I fact checked myself for a week. Here's what I found out:
Skype with Mum:
"We had such a lovely morning, snuggled in bed together, then got up and made pancakes."
Fact check: I was woken from a deliciously deep sleep by screaming from the five-year-old. She'd wet her bed. I left the drowsy warmth of my bed, and bumbled along to her room to comfort her and clean up. Moments later, she decided her gently dried bed (thanks Brolly Sheets) was now "cold and full of wee germs", so joined the fella and me in our bed. At 5am in the morning.
Due to some divine intervention, the baby was still asleep, so I told Miss Five she could stay and have lovely snuggles, as long as she was nice and quiet. A monumentally noisy tantrum ensued (mainly her, a bit me). The baby woke up. The fella stormed off, mumbling about his one bloody lie in being ruined. I abandoned hope of retrieving the quiet, and offered pancakes as a peace offering.
Instagram post: A healthy, colourful, sugar and gluten-free culinary delight; beautifully laid out and photographed.
Fact check: The food is real. The setting is real. But be glad it's not a video; as the demands to "HURRY UP AND LET ME EAT IT!" in the background would somewhat lessen the serenity.
Facebook status: Winning! The baby slept through the night. #goals #newborn #family
Fact check: He did sleep all the way through the night. Once. In 12 weeks. And it involved the day prior being spent almost entirely feeding him, so he had a full tummy. That meant making dinner for the family with one hand while feeding him with the other, then more than an hour of us both shushing, cuddling and calming before we both fell exhausted into bed.
Monday watercooler chat: "Yeah, we had a great weekend thanks. Just a quiet one -- didn't get up to much."
Fact check: It was quiet. In between the shouting. And tantrums. And crying. And bargaining. And threats. I really didn't get up to much. Other than sneaking burglar style out to yoga, pre-dawn, then running home straight out of the final Savasana, packing her bag and driving Miss Five to her swimming lesson, encouraging and applauding, then driving home, finding a park in the tiny, tiny, tiny local car park, getting the ferry home, dragging her up the hill because she was "TOO TIRED TO WALK, MUMMY" (but not to shout at the top of her voice). Then I made six meals and snacks, batch cooking for the week, helped with reading and preparing news for Monday; sorted, washed, dried and ironed the week's clothes, cleaned the house, squeezed in coffee with friends, tried to remember what sexy felt like so the fella didn't join the increasing number of sex doll purchasers in Australia... and that's just Saturday.
That doesn't include the fella's gardening, car fixing, compost making, gym going, food prepping or frequent small-person wrangling.
Okay, so maybe for us everyday folks, alternative facts can sometimes help to focus on the positive; stop us from boring our colleagues, worrying our parents, and offending our mates.
Maybe if they're not total bull, and we don't get caught up in our own alternative factiverse, they're okay. But probably because we're not the leader of the free world.
ALSO ON HUFFPOST AUSTRALIA