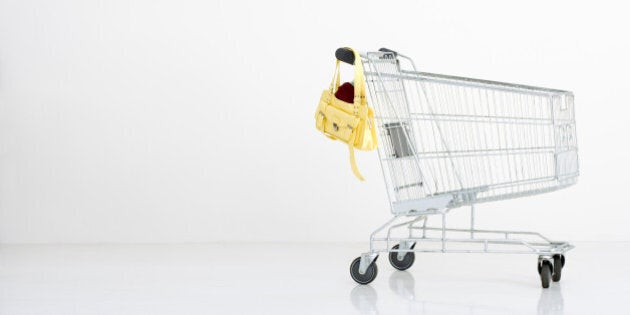 Over 55 we become more forgetful. Apparently ageing can slow reaction time and the retrieval of information from memory, requiring a few more seconds. Or longer in the summer heat and year-end.
I had just finished the shopping and was unpacking the groceries at home when I looked for my list of Things to Do before Christmas. Where was my bag? Back to the boot. Nothing. Could it be possible that I left it in the shopping trolley?
Yes. Distracted by things I hadn't yet done, I left it in full view of the entire parking lot.
My first thoughts were not about the cash or credit card. Not even my mobile. It was about the dread of posing for yet another driver's licence photo. (I look as if I'm about to burst out crying in my present one. I was told not to smile and to close my mouth. This is difficult as I have allergies and I'm a mouth breather.)
I parked near my trolley but it was empty. I rushed into the shopping centre. I didn't have to ask. There stood my large tan bag, slightly crumpled, on the customer care table.
"Oh, it's mine," I exclaimed. "I can't believe I left in in the trolley and that someone actually brought it here!"
"Don't worry," said the smiling shop assistant, dressed in a red Happy Christmas outfit, "my mum's not from here and she's always misplacing things and we keep telling here that it's a good thing she lives in Australia now."
With that she passed me my bag. "Check if everything's there." From credits cards to shopping lists and the borealis bracelet from the Salvos (to add sparkle on Christmas day), all was in place.
So although Sydney was on tornado alert yesterday and Adelaide is having a heatwave of over 40 degrees predicted this week, what is a given in Australia are the people. I have found the average Australian in the street to be totally honest. All of my friends have had forgotten items returned. Wallets and mobiles dutifully handed in to relevant authorities.
A friend had the police call and say they had his wallet. He would have to fetch it in person as they could identify him from his driver's licence (without a driver's licence it's almost as if you have no identity and I think it must be problematic for citizens who can't or won't drive). My friend was identified and allowed to check the contents. "Try to remember your wallet next time!" said the friendly cop.
I remember taking off my late mother's signet ring at work. Large medical facility, lots of people in and out. I had washed my hands, applied cream and forgotten the ring. Next day, there it was on the counter. Untouched.
Of this I am sure -- we can weather storms and heatwaves, but how would we cope without the integrity of our citizens? Australia's a great place to live. Especially for the over 55s. Now I must quickly read the instructions on how to set up my solar led Christmas lights. Has anyone seen my glasses?