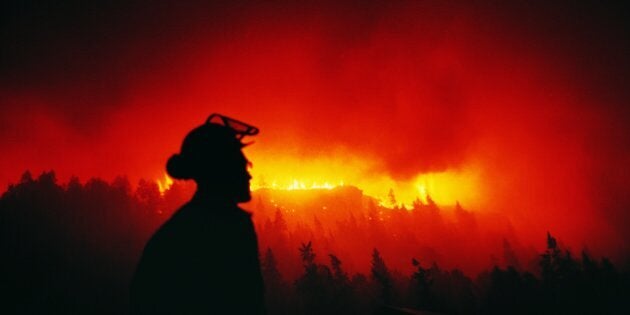 This past week all my friends have complained of feeling flat. "My husband's a firefighter and the recent fire disrupted our holiday. Apart from worrying about our own home, we felt dreadful for those who lost their lives and properties. And then all those poor animals, too."
We discussed what we had put in our emergency grab bags. "Oh, my jewellery in a snap lock and all the kids' birth certificates and all our policies and that stuff in another. And then of course as many photos as I could put in the boot."
What did I take last month? Two cats and the dog. Our family. Then about 50 photo albums. I threw in some jewellery and my grandmother's watch, which I haven't found to date. It seems that in trying to save granny, I lost her. After pushing in a few paintings from the past -- Scottish cows in the Highlands, belonging to my ancestors -- there was no more energy or space for more. Dog and cat food, a torch a radio. Ready to evacuate.
British friends say they are allowed to leave directions to their special pieces in case of a fire. If there's time, the firefighters will quickly source these items and take them outside. I don't think there' s this sort of policy in Australia. Our fires are in a different league.
To defend or leave is quite a debate at these times. There's a flurry of clearing leaves from gutters and placing hosepipes and sprinklers in place, testing the strength and range of the water. It's such a personal choice -- courage, equipment and know how.
But what I do know is the joy of having escaped the last fire. Savouring every tree and bird and bee on the property. And learning gratitude. Others were not as fortunate.
And I'm back to the radio bulletins and DFES alerts. Like someone said on a forum just now, she's still jittery from the last fire. Now this.
The last fire lasted about a week and many people had no sleep in that time, which added to the anxiety levels. The advice is to take turns at night watching the alerts, so at least every member gets adequate sleep. Although they send SMSs, I think everyone wants to be one step ahead by monitoring the situation on all media.
WA is the bush fire hotspot in Australia. I'm slowly getting to grips with this. Terrifying for those who have faced them and suffered through them. Beyond brave firefighters, amazing communities. The Aussie word "mateship" becomes real in these testing times.