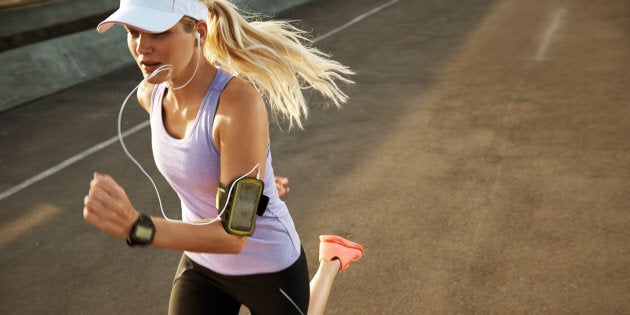 Like many of my life choices, I undertook the challenge of 42 kilometres without really assessing whether I was capable of the task ahead.
After a decade of running, and three half marathons, I just figured I should be doing something bigger, more challenging and more worthwhile. So I signed up for the Blackmores Marathon and set myself a challenge of raising $1000 for Lifeline.
In just over a week's time, I'll run further than I ever have in my life.
The journey of preparation has been exhausting, surprising and, at times, lonely. Here are five unexpected things I've learned.
All the gear is actually probably a good idea.
I've been running for more than 10 years and so far my trusty uniform of crap, cheap leggings, crap cheap sports bra and whichever sports singlet is on sale at the local sports store has served me just fine.
I've run half marathons in leggings I bought for two quid ($4) in the UK, and trained for a whole year in a Nike singlet I bought from a second-hand market.
Why would anyone change a formula, albeit a budget one, that already works?
I soon discovered that a marathon is why. After one too many runs spent yanking my leggings up, getting horrible chafe or discovering a great big hole in the arse area following a particularly lengthy route, I gave in and visited a high-end sports boutique.
I imagine my experience of getting kitted out for my 'big day' was akin to the experience others may have had getting kitted out for another type of 'big day'. A dozen different options to try once I'd specified my requirements, a personalised changing room, exhausting efforts to squeeze my legs into garments that would eventually make them look sleek and athletic, and a joyful moment of finding 'the right pair'.
Let me tell you, professional running tights are good. It's like running with nothing on, except your legs are the colour and texture of smooth lycra, and everything south of your stomach looks sleeker and feels like it works better. It's amazing.
Dating just disappeared from my life.
Unsurprisingly, given that I now get excited about sportswear to the point of writing about it effusively, my love life has taken a nosedive as I've ramped up my training. I'm sure some people manage to balance training for a huge run with having an active dating life. It turns out I'm not one of them.
A month out from the marathon I pretty much ditched booze altogether. Obviously you can date without alcohol, but it's nice to be able to enjoy a couple of beers. And I truly dislike coffee dates.
Also, because I organised my social plans around my runs and training, I realised the 'free time' I did have I wanted to spend with my friends or doing nothing (read: lying on the sofa inhaling macaroni and cheese in my underwear).
I simply lost interest in dating apps. I (admittedly rudely) ignored Tinder messages and didn't bother to catch anyone's eye in the pub.
Just over a week out and I feel the same. I'm hoping the bonus is that I'll be a lean, athletic running goddess when I next get naked in front of a man. But I ate three large, stuffed-crust pizzas in the past week, so the chances of that are rapidly diminishing.
Vaseline became a vital tool.
There is absolutely nothing sexy about this either.
Most people would agree that running is mainly about the legs, core strength and probably some decent-ish gear (see above). But there is one product that has become invaluable to me -- Vaseline.
Let me tell you, when you've run for two hours with synthetic fabric rubbing against your delicate underarm skin, you know what burning pain feels like. Vaseline has become my saviour, the precious balm I covet above all others. I cannot do it justice in words.
I recently completed a 26km training run, dutifully slathering Vaseline under my arms in advance. It was a brisk, windy day and 45 minutes in my lips became dry and sore. The subsequent brainwave involved efforts to be 'subtle' about scooping petroleum jelly from my armpits to rub on my face.
Running makes you classy, guys.
Mental fatigue is a real thing.
Like many runners I had prepared myself for sore muscles, stiff legs and the potential for physical injury. I fretted, and am still fretting, about injury before, or on the day.
What really hit me out of left field was the mental fatigue.
My longest training run was 34km. The actual three hours, 45 minutes itself was tiring and long, but physically just about bearable. I remember telling myself, again and again, "Come on! You've got this, Jenny. Mind over matter!".
When I arrived at the apartment where I was cat sitting for friends I felt exhausted but good. I had some food, water and a nap, but awoke later in a state of complete confusion.
I could no longer remember writing Facebook posts from an hour earlier, my head was throbbing, I couldn't recall the names of the cats I was looking after. I had trouble distinguishing between what I thought I had just dreamt and what had actually just happened. Then, apropos of nothing, I burst into tears.
As bizarre and unpleasant as this experience was, it made me realise that I have to respect my brain as much as every other muscle in training for this race.
And truthfully, it made me wonder whether I'm cut out for marathon running. As the race approaches I feel certain that I am, but I also now know that post-race care isn't just about getting a massage and eating a pizza. Monitoring my mental wellbeing will be at the top of my list.
And lastly, people get bored of you.
This one was probably definitely self-inflicted. Training for a marathon takes months. There are dozens of milestones you pass and as you reach each PB distance, it feels (to me) like something to shout about, with a post work-out selfie.
It's bloody hard work the first time you run 23km. And it's even harder when you run 26km, 30km etc, etc. The euphoria-tinged exhaustion genuinely makes you feel like others might be excited by your 'heroic' efforts.
However it's become clear that my constant updates aren't quite the social media hit I may believe they deserve to be, and that my colleagues' gentle ribbing about their regularity might mean I've been oversharing.
Don't get me wrong, my friends, colleagues and family have backed me in a serious and invaluable way, which is exactly why I've realised I don't mind a little teasing, or if no one likes a post about my training.
I'm just proud of what I'm achieving and I like putting it out there because I love running. I love that I'm raising money for Lifeline, a charity that I believe in, and I love that I'm doing something I never thought I'd be capable of.
So if I miss out on a few dates, suffer a little, have to scrape Vaseline from my armpit onto my face, or even lose a few Facebook likes, I reckon I can run with that.
________________________________
You can support Jenny here.