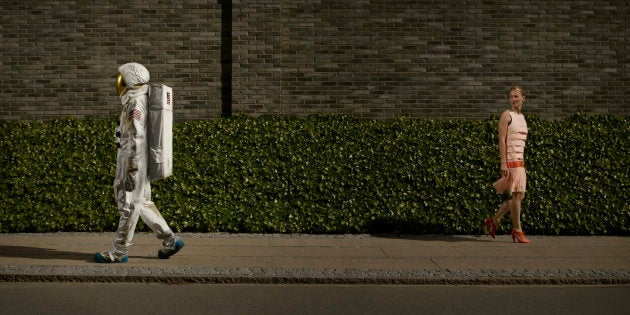 Why should we talk to strangers? It's so easy not to.
We have our friends, phones and books to entertain us if we are alone, say, on public transport. Or taking a walk. Or sitting in the park. And strangers are dangerous, right? That's what our parents said, so it must be true. Strangers represent our dormant fears, that there are people who would harm us, swindle us, frighten us unless we safeguard ourselves with silence.
Be I believe that we should talk to them.
Four and a half years ago I emigrated to Australia at the age of 28. I knew one person. The first six months were exhilarating and lonely. I fell in love with a city that I knew I wanted to make my home for life, but I only had one friend.
I took chances on meeting up with people that a distant friend in Europe or the Middle East had put me in touch with. I had dinners with parents of friends, went for walks with ex-colleagues of people who had been kind enough to pass on their Sydney contacts. I said yes to every freelance opportunity, taking a shift the morning after I landed. I emailed editors to meet for a coffee and gratefully accepted any invitations to drinks or dinner.
It was hard, and sad, because I missed the easy friendships from my life in London and Dubai. But, through bloody minded determination, I did it. And four and half years later I have friends whom I love. Who are my family away from my 'real' family. The people my parents trust to take care of me when I live 17,000km away from them.
My aunt once gave me a great piece of advice -- whenever you move somewhere new, you need to find your community. You must find your local shop, cafe, market, or whatever it may be, and make those points the cornerstones of your new life. So everywhere I've lived since then, that's exactly what I've done.
When I moved into my current apartment I started chatting to the staff at my local deli. A year later, Wendy and I talk every Saturday about swimming at the local pool, she gives me advice on where to go for muscle ailments, and she knows -- without me asking -- exactly what I will order every time I'm there. If I arrive later than normal, she'll greet me with a whoop and say "I was wondering where you were!". It's one of my favourite parts of the day.
When I worked in Manly, I talked to the ferry staff every morning and evening. Just chit chat. I'd always arrive just in the nick of time each morning, after sprinting down the hill to Sydney's Circular Quay ferry wharf. Once, when I arrived just as the ferry had started to depart, I remember slumping, hands on knees, knowing I would miss my morning meeting. But then the kind man who worked at the wharf hailed the captain, and the captain reversed the ferry.
There is very little in life that is better than kindness. The ability to give and receive kindness. I recently stopped on the way to the supermarket to talk to a man with a beautiful golden retriever. He told me the story of how he used to be the managing director of a company, but he'd had a stroke and now just lived with his guide dog. He told me about his life, how it has changed, and how much he loved that beautiful golden retriever. I left feeling grateful for that 10-minute chat with a total stranger.
A few months ago, on a long-haul flight, I sat next to a stranger and she offered me a mint. We got talking, and suddenly she was crying because she was emigrating from Jordan, after fleeing Syria, and her husband had been detained in Jordan because of his Syrian passport. Though I didn't speak Arabic, and she barely spoke English, I hugged her and she told me about her life in Syria and all the beautiful places she once knew that have been destroyed. She shared all the food she had brought with her, cucumbers and biscuits, and I made sure she knew how to fill out the immigration form and got through customs safely. It wasn't magical, it was just two people talking, and helping each other out.
My friends coined a phrase for it. They call it 'Jen Power' -- these tales, these moments that seem lucky, like the ferry, or the friendships in the cafes and on planes. And while that's a lovely thought, it's not accurate, because connecting with strangers is not a power but a choice.
It's a choice to take the time to talk. To not feel afraid. And when you feel like your safety is at risk then of course it's right to be cautious of a conversation.
It's a choice to take part in your community and to be kind. Strangers can be the gateway to knowledge and warmth and friendship. You just need the courage to take the first steps.