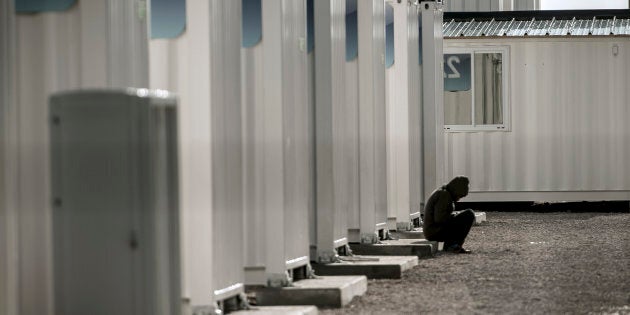 The increased visibility of homelessness has prompted many concerned citizens and organisations to come up with ideas for fixing the problem. These creative ideas are born of good intentions, but many miss the mark.
Suggestions include converting disused office spaces and factories into temporary accommodation, modifying shipping containers or old railway carriages, or letting people sleep in car parks or tent cities.
These options assume that people's lack of housing is a temporary glitch, and that shelter from the weather is enough to help them.
The reality is that many people experiencing homelessness are stuck in a long-term financial bind, where the cost of housing exceeds their low income. This problem can only be resolved by increasing their income, or by providing housing that is affordable.
Without a long-term, permanent housing solution, the temporary accommodation offered up is likely to be lived in for extended periods.
This is why many of the 'tiny house' type solutions proposed, such as shipping containers and railway carriages, are unsuitable. Where people are going to be living somewhere for an extended period, the living space provided needs to be respectful of their right to dignity and to space for social interaction. A shipping container creates a room so small the ceiling sits only a school rulers height above many people's heads, and has walls so close together a tall person could almost touch both sides. It provides almost no room to have friends over, and little or very limited storage space.
The standard of accommodation provided needs to meet the minimum community standard of housing, and not simply be measured by whether or not it is a step better than life on the street.
These options also present practical problems and costs. Appropriate land is needed to situate them, they need to be refurbished, and great care is needed to verify the shipping container has not carried contaminated materials.
As domestic violence is the single largest driver of homelessness, and others who are homeless have survived violence in institutions, or in shared accommodation such as rooming houses, the issue of safety in accommodation is also a pressing concern.
People with histories of trauma are often very fearful of staying in accommodation with lots of other residents.
Options such as repurposed office space, tent cities, and dossing down in car parks create living spaces that are not safe or suitable for children and vulnerable young people, who represent almost half of those experiencing homelessness. They also fail to create a living space where adults who've experienced violence can feel safe and secure.
People with histories of trauma are often very fearful of staying in accommodation with lots of other residents.
For these reasons, creating accommodation for people experiencing homelessness requires careful consideration of many factors.
On a practical level, they need essential amenities such as safe sleeping areas, toilets, showers and kitchen/food preparation areas. These facilities need to be adequate and safe for the number of people who could be using the accommodation, as well as provide security and privacy.
Even if an office building has toilets, it is rare that there will be enough of them for the number of people likely to be living there, and that people could use them safely. It is even less likely that the kitchen, showering and laundry facilities would be sufficient for dozens of people to use.
Where people are sharing facilities, 24-hour staffing is necessary to protect people's safety, dramatically increasing the cost of shared options.
Organisations and philanthropists have to weigh up whether the best use of funds is to spend money to equip buildings that will soon to be demolished or repurposed, and to pay staffing costs, to achieve a temporary and ultimately unsuitable solution. Like you and me, people experiencing homelessness really want and need an ordinary home in an ordinary community.
In a recent survey, CBD rough sleepers said where they hoped to be in six months:
"I hopefully will get somewhere to live permanently. I have been on housing lists for 16 years."
"I would like to be in my own place, housing commission or private rental"
"Hopefully a house. Feels hopeless not having a house. The future feels hopeless."
Beyond the practical considerations of type of housing offered, is the intensive support some people experiencing homelessness need to manage health and wellbeing issues. The best practice model of housing people experiencing homelessness long term, called Housing First, gets someone into a home, and then provides intensive support to help them keep it. Not all people experiencing homelessness need this, but for some it is critical.
What we really need to solve this problem is for all levels of government to contribute to increasing the number of properties that are affordable to people on low incomes.
The fact that so many of us are looking for solutions shows that people agree that homelessness should not exist in a country as wealthy as Australia. What we really need to solve this problem is for all levels of government to contribute to increasing the number of properties that are affordable to people on low incomes.
The public can directly support strategies that help people access housing. Recently, philanthropists Geoff and Brad Harris partnered with Launch Housing and the Victorian Government to fund 57 new one-bedroom homes on vacant VicRoads land.
And while we might not all have a spare $4 million, we have the power to decide where our charity dollars go. Many worthy organisations use Housing First approaches to end people's homelessness.
We also have the power to tell State and Federal Governments to use the levers in their control to solve the housing affordability crisis that underpins the homelessness epidemic.
State Governments can release vacant land that is currently sitting unused and introduce Inclusionary Zoning that requires social housing to be part of all new developments. Federal Government can expand social housing and wind back negative gearing, so that property investors don't hold all the cards. At the Federal level they can also create incentives for private institutions to invest in social housing.
So next time someone says shipping containers, think Housing First. Ultimately, the way to end someone's homelessness is by giving them a proper place to call home.