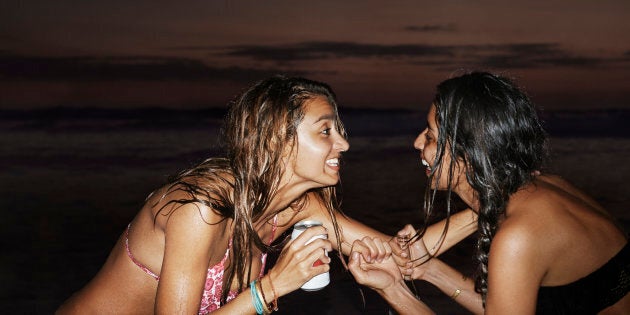 I remember my mum telling me that there would come a day when you realise you're not a spring chicken anymore and that adulthood would descend upon me like rainfall in monsoon season. I laughed at her at the time, I was too young for this chat. There would never come a time when I'd prefer a night in over a night out, where coffee was more appealing than cocktails and that heels are actually the worst shoes in the world.
However, the time has come and I have to bite my tongue.
This realisation happened during my travels through South East Asia, a place where I once ran wild in my youth.
My first trip overseas without supervision from my parents was a two-month backpacking trip through SE Asia with my older sister. I was fresh out of high school, newly legal to drink and ready to explore (read: get wasted) on foreign lands.
I vaguely remember buckets and buckets of locally made liquor, wearing hideous elephant-print parachute pants because that was 'backpacker fashion' and writing statuses on Facebook such as, 'Jess is HUNGOVER! LAST NIGHT WAS AMMMMAAZZZZIIINGG!' -- it was 2010, guys.
Days started at noon and tourist attractions were seen through glazed, hungover eyes. 'Culture' was a foreign word to the 18-year-old me, however, I was quite fluent in 'two-for-one buckets'. I was a stereotypical Aussie tourist -- loud, obnoxious and always in thongs. While I was having the time of my life then, when I think about that trip now I cringe with the embarrassment of my behaviour.
My return to SE Asia was sort of brought on by accident. I had started in Nepal but circumstances led me south. As I hit the mainland of Thailand, remnants of my past surfaced and I was suddenly taking a stroll down memory lane.
Instead of waking up at noon hungover to the high heavens, I woke early and fresh; ready to explore the place I was in.
Seven years on I discovered that elephant-print parachute pants were still the preferred clothing choice of backpackers (ugh), Khao San Road was still the mecca for vodka buckets and Americans were still like, "Dude, this is totally awesome!".
I stayed in hostels, sharing my space with seven other people and locking my belongings away in a crappy metal box. I had the same conversations with my roommates, the 'Backpacker Who, What, Where's' and the competition of who'd done the most epic thing was still being strongly contested.
I mentally punched the d**khead who came in at 3am smashed off his head and the people who turned the lights on at midnight to get something out of their bag.
I listened as first-time travellers bragged about how their six-week trip around SE Asia had 'totally changed them' and how enlightened they'd become. I discovered that it's now important to make your travels sound incredible online, like you've discovered something completely new -- even if you're just doing a tour of Angkor Wat.
Common rooms had become glorified Internet cafes and the art of conversation had been taken over by the art of the social media. I realised as I lay on a rock-hard mattress that my time in hostels might be coming to an end. That a good nights sleep and personal space were suddenly paramount and for this not-so-spring chicken, it was a hard realisation to swallow.
Instead of waking up at noon hungover to the high heavens, I woke early and fresh; ready to explore the place I was in. Sightseeing didn't involve bar-hopping my way through a city and I actually wanted to explore temples, learn about the culture and try local food other than Pad Thai.
I cherished my alone time, wandering the streets with no real destination in mind. I browsed through shops and people-watched from cafes. I learnt that my own company could be more fulfilling than forcing a one-day friendship with someone who slept in the bunk above me. The slower I travelled, the more I realised how crazy it was to rush through five countries where you barely experience the local way of life.
Don't get me wrong, part of me still desperately wanted to be that energetic, party girl that I was during my first trip to SE Asia. I tried to like elephant-print parachute pants and dance on top of a bar until the early hours of the morning like my roommates, but my 25-year-old self wouldn't play. She wanted eight hours sleep, a good coffee and somewhere to get some good photos.
Was my Mum right? Had my time as a youthful party animal come to an end? Had I officially taken that step over the hill? It seemed I had jumped in the next age bracket and wasn't ready for what came with it.
I think everyone discovers this realisation at different times. I met people much older than me still doing the bar-hopping, hostel thing. They had livers of steel and stamina of an Ironman. For me, I didn't see the point in wasting money and calories on nights I wouldn't remember. Instead, I wanted memories to take home with me and stories to tell that didn't involve a Full Moon Party.
As hard as it was to swallow, I discovered that letting go of the 18-year-old mentality, I became a better traveller.
It's not to say that I'm suddenly the 'fun police' or that I don't know how to have a good time anymore. I guess travelling through SE Asia as a 25 year old means I have a different definition of fun to my younger self.
My first trip was a blur of late nights, bright lights and bad decisions. This time around it's about the food, the landscapes and travelling slowly to soak up every moment. While I wouldn't change any of my experiences for they led me to where I am today, there is one thing I would definitely change...
Destroy all elephant-print parachute pants.
__________________________________