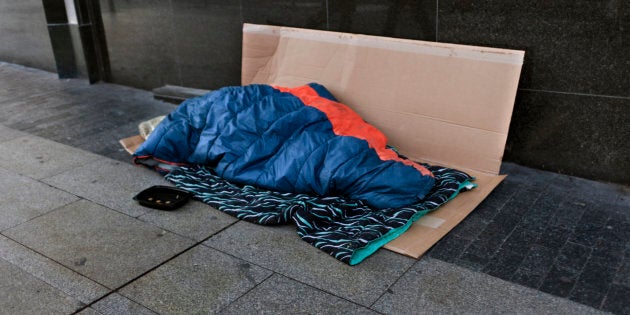 Last month Doug Cameron, Shadow Minister for Housing and Homelessness, and I met with some locals experiencing homelessness in Melbourne's outer west. It was yet another experience in public life that made me question the message I so readily passed onto students as a principal and teacher: "All you have to do is put your head down, work hard, and good things will happen -- you'll be fine". As I am unfortunately reminded repeatedly in this job -- this isn't always the case.
I sat down with Doug Cameron and some local 'leaners' last week to hear about their lives and how they had found themselves sleeping rough in Melbourne's outer west where housing is supposed to be affordable. In the lead up to Christmas, the conversations from that day are on constant replay in my mind.
We engaged in the small talk that you do when you meet someone for the first time. It was clear from the conversation we were having about local sporting teams and schools that these people were as engaged in the community as anyone else. Their kids went to school and they watched football on the weekend.
They each made a concerted effort to shield their children from the petty humiliations of experiencing homelessness and did their best to remain engaged with the community -- despite finding themselves being brutally pushed to its fringes.
It was a life changing few hours.
The story of one person we met in particular was a personal wake up call. I'll refer to him here as Brian. A man in his fifties, Brian worked his whole life as an interstate truck driver -- not unlike some of my relatives.
Brian's life changed dramatically, when, after a family breakdown he began suffering mental health issues. Subsequently, he lost his licence, his job soon followed and before long he found himself in remand.
His ex-wife and kids live locally. All of his energy is directed at surviving so he can be there for his daughters -- he wants them to think his life is perfectly normal. On that front, he's doing very well. The most striking thing about Brian is that you would pass him in the street and never pick his circumstances.
Brian's story gave me pause because I can't help but think of the countless others in our community, men and women, who find themselves silently and unassumingly falling over the cliff into homelessness when things beyond their control changes their lives.
My electorate has two of the top eight postcodes for mortgage delinquency in Victoria. Wyndham also has the highest number of forced rental evictions in the state, according to VCAT. When you consider the fact that Wyndham also has one of the highest rates of domestic violence, a significant driver of homelessness, it's no surprise that demand for support services in Lalor is far outpacing supply and the Turnbull government has simply made things worse.
They've appointed no Federal Minister for Housing and Homelessness and shut down the National Rental Affordability Scheme that provided over 20,000 new affordable housing units and was on track to achieve its target of 50,000. They've also cut funding to Homelessness Australia, National Shelter and the Community Housing Federation of Australia.
I have no doubt that many of my colleagues in the Government's ranks would crawl up into a ball and weep if they had to deal with an iota of what people like Amanda and Brian have fought through.
This Government's funding of homelessness services has been half-hearted. Over the weekend they announced that they would fund the National Partnership Agreement on Homelessness (NPAH) until June of 2018, extending funding for a year. The announcement comes in the wake of a concerted community campaign that saw 200 organisations and 40,000 people lobbying the Government to do the right thing.
The $117 million NPAH funds 180 services and supports 80,000 people like Brian. It is welcome news but for service providers on the ground it's a lifeline, rather than the base they need to give staff certainty and plan long-term -- that's what the dedicated team of lifters at Werribee Support and Housing tell me.
Another person we spoke to, Amanda, has just completed year 12. She is on track to realise her dream of becoming a nurse. She is also homeless. Amanda lives with a close network of friends, constantly worried about overstaying her welcome or placing an undue burden on the families she's staying with. She perpetually moves from couch to couch. Amanda is homeless because she is too old to continue in foster care, where she has been since she was 13. Driven from home by domestic violence, Amanda's grit and determination to realise her potential is an inspiration.
Spending my entire pre-parliamentary professional career in public schools, I have worked with countless numbers of kids who've done it tough but I've seen very few that have overcome what Amanda has. Amanda is pulling herself up by her bootstraps as hard as a person possibly can, yet this Government in its rhetoric and action has vilified her, labelling her a skiver, a leaner, someone that takes from others without contributing herself.
I have no doubt that many of my colleagues in the Government's ranks would crawl up into a ball and weep if they had to deal with an iota of what people like Amanda and Brian have fought through. Their policy positions aren't necessarily a reflection of malice. The Coalition's lacklustre plan for homelessness betrays a limited awareness of how tough it is for so many working poor in this country.
If you want to see what legislators who understand and care about addressing homelessness do, look at the Victorian Andrews Labor Government. They've announced a five-year $109 million plan to tackle homelessness across the state -- giving people on the front line long-term assurances that their efforts will be supported. In my own electorate, State Treasurer Tim Pallas announced a $15 million investment in the H3 Housing alliance which will help 1700 people sleeping rough in Wyndham. They're taking serious action to get people back on their feet and support them as they move on to a more stable part of their lives.
I wish the Turnbull Government understood that good, honest, hardworking people can fall on hard times.
John, a man in the prime of his working life lost his job when his company closed its doors. He is a fitter by trade and spent time serving our country in the ADF. John made it clear that even while he was working he was struggling to make ends meet. Knowing that the loss of his job would mean homelessness he promptly returned his daughter to the care of her mother and they give him the strength he needs as he wills himself to address the mental health issues he's developed and get back into the workforce.
Meeting, John, Amanda and Brian forced me to reflect on the message, which I now feel like was a lie, I fed my students over the better part of three decades. The line being: "in Australia, if you finish school, if you're respectful and if you work hard -- life will look after you". Work will be forthcoming. You may not be able to buy a yacht but you'll be able to raise a healthy, happy family.
That axiom can still be true, but only if our government commits to mending the social safety net and properly funds housing and support programs around the country. It's only possible if the Government realises that things such as domestic violence leave gives women a chance to get their affairs in order so they can, in a more orderly way, remove themselves from dangerous situations as opposed to escaping a life threatening situation for the back of a car or the street. They need to realise that Labor's commitment to buy Australian, build Australian and employ Australian for Government projects is about ensuring that people like Amanda, John and Brian have access to good jobs.
I'd invite any member of the Government to come to my electorate and talk to John, Amanda and Brian. I'm sure they'd change their tune if they spoke to the people they continue to neglect. They might also realise that the homeless are not 'leaners' but are in fact the 'battlers' they claim to represent.