Rey and Ralph have been digging this grave for two days. Their job is made harder by the monsoonal downpour overnight -- mud and rubbish has washed back into the grave. But they can't stop work. Someone is being buried in just a couple of hours.
The grave they're digging isn't a new plot. They're evicting the body of a young girl, whose family can't afford to pay for the grave any more. With bare hands, they lift up her skull and place it carefully in a bag. Rey grabs the neck of her shirt, revealing the bones of her torso.
Graves like this typically have a five year lease. When that time is up, the bones are removed, placed in a sack and the families are called to collect them. Many don't. Dozens of old bags are strewn across the cemeteries. Skulls and bones are left out in the baking sun.
Grave digging is a common job for men at Pasay City Cemetery -- a crowded public cemetery in the heart of the Filipino capital, Manila. Women nearby are hanging washing from trees, while young children play games and laugh beside the grave. For workers like Rey and Ralph, this isn't just a workplace, it's also a home. Around 300 families call this cemetery home, making a living among cement crypts and mausoleums.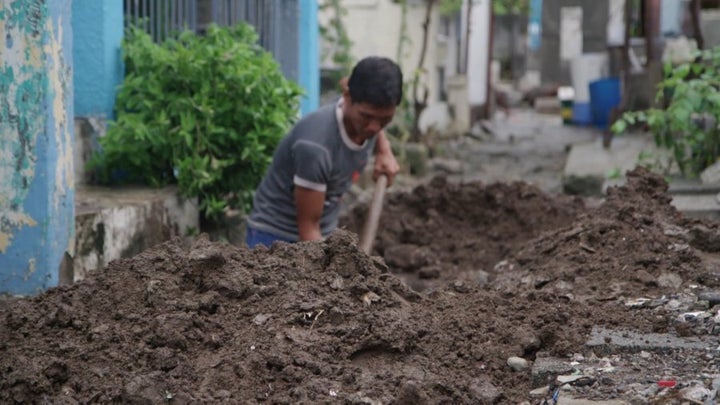 I'm here with 'Dateline' to get an insight into the lives of these people and ask why are they living in cemeteries? Across the Philippines, thousands of people live with the dead. For many of the poor, it's a choice between life in the overcrowded slums and life in the cemetery.
When I arrive at Pasay Cemetery, dozens of young kids come running out. They guide me inside a place that for them is more like a playground than a place for the dead. Narrow dirt alleyways are full of life: a middle-aged man is carefully chiseling a marble headstone; two women have set up a stall selling grilled meat; young boys are playing basketball while a young woman is having a lunch-time nap on top of a mausoleum.
The young boys nick-name me 'Spiderman' -- a name they shout from the rooftops of tombs. They test out their English with me and imitate my Australian accent.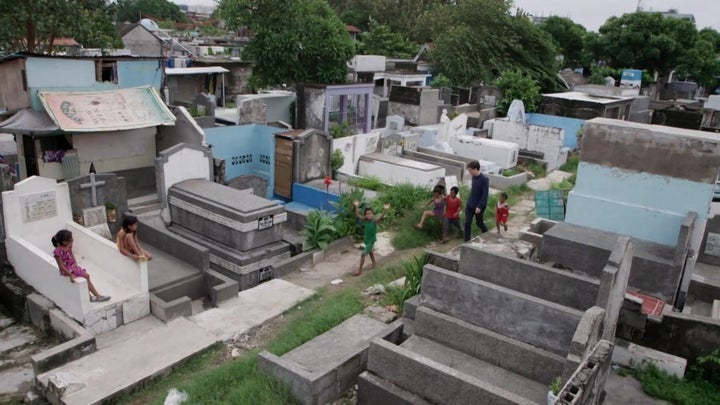 One of those boys is 10-year-old Eijee. He moved to this cemetery five years ago with his parents and two sisters from a small rural province outside of Manila. His youngest sister, Alexandra, was born in the cemetery. His family hoped that a city life would bring more work opportunities -- but with no money for a home they made a life here at Pasay.
Eijee leads me to his home, where his mother is cooking rice on a small campfire. He shows me inside the small living room and an upper level where the entire family sleeps side by side. On the walls, made out of scrap metals and wood, are Eijee's drawings of manga characters. They're the same cartoon characters I watched when I was a kid.
I ask him what he thinks about living here.
"Jumping from one place to another," he says. "There are no enemies and I have many play mates here."
But quickly, his smile disappears.
"Now, we're going back to the province, my mum told me. I'll be sad [to leave here]," he says, looking across at his mum, Joan Abellar.
Most families earn a small wage -- around $2 per week, per grave -- cleaning and looking after the graves they live on. Joan's husband sells soft drinks along the streets that surround the cemetery, but it isn't enough money to survive.
"In a day, sometimes we only eat once. That's why life is really difficult," she tells me. She has decided to move the family back to the province, to try and make a living on a family farm and make sure the kids study.
It's a decision that will make the administrators of Pasay City Cemetery happy.
"We can't stop 300 families who steal electricity and water from us. We cannot do anything about that," Christina Tuason, an employee of the cemetery, tells me from her office that sits above the crematorium.
"The truth is we don't like them living here. Not because we don't like them, but because it's not fair. The ones staying here should be the dead ones, not the living."
To make a life here you need to be resourceful. Residents tap electricity into their home illegally -- wires twist up from their home and connect to nearby meters. Water is collected from a nearby well. Many of the residents say they've been kicked out of the cemetery by the local government but, as one resident tells me, "like rats", they find a way back in.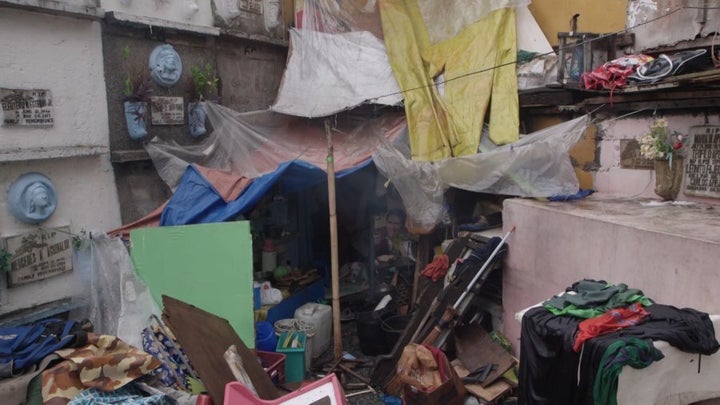 As the sun begins to set, many of the children run home before it gets dark. Most of the homes don't have lights at night. At the entrance to the cemetery, some adults are celebrating a birthday on top of a tomb, drinking beers and laughing. Beside them is a row of gambling machines. The man behind them asks us not to film them -- gambling in public spaces isn't legal.
We hear about a family home that's notorious for a favourite Filipino past-time. Making our way through the dark pathways is a little unsettling, but when we finally reach Daniel Pangilinan's home, we are welcomed inside a massive living area. His wife and three grandchildren are watching TV, using a tomb as a couch.
Daniel is an elder of the cemetery -- he's lived here for 55 years. As a 12 year old, he found a way to make a living digging graves and carving tombstones. He tells me he knew the people that are buried inside his home. He buried them himself.
I can't help but ask him if he feels like his home is haunted.
His face lights up, telling me endless stories about "lost spirits just hovering around. They live in the big trees... if you are weak, you will be possessed". It's something that fascinates him, rather than spooks him.
But Daniel's home isn't just filled with spirits; it's also full of unexpected stories of life. He lives with his daughter, Carmela, who is seven months pregnant with her third child. He tells me about delivering her second child himself, right on top of a tomb.
"I was the one who delivered her before she was brought to the hospital. I already cut the umbilical cord. I dressed her up".
Before we leave, Daniel shows me just what makes his home famous in this area. He plugs a microphone into the TV; connecting to two large speakers he bought from a local scrap market. He switches on a karaoke song that made him win countless local competitions -- Tom Jones' 'I Know'.
As his surprisingly smooth voice echoes around the cemetery, I think about how different life here is to how I imagined. I thought life among the dead would be macabre and sad, but the people here have built a warm, welcoming community.
Daniel wouldn't have it any other way. He says one day he will be buried in this cemetery and knows that many other families will keep his grave company.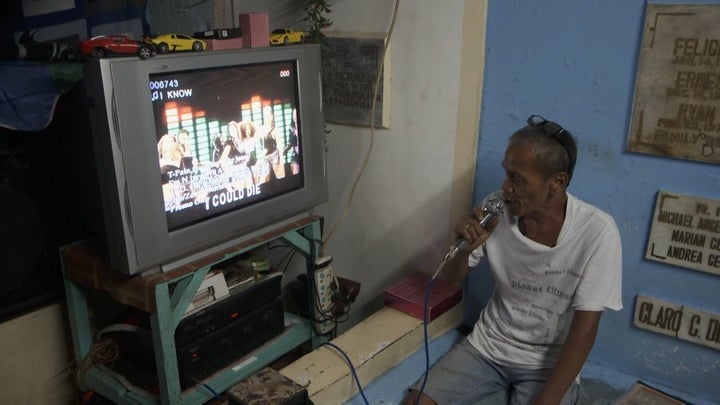 _____________________________
Watch the full report 'Living with the Dead' on Dateline tonight, Tuesday 31 October at 9.30pm on SBS. The episode will be available after broadcast via SBS On Demand.