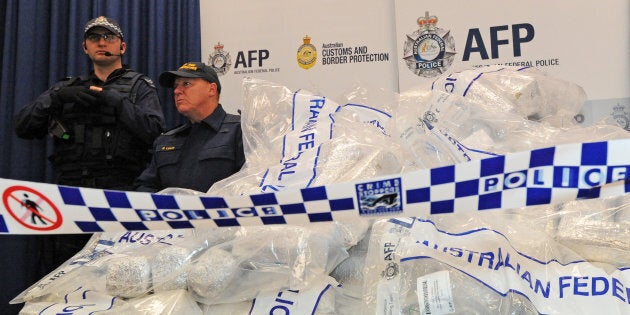 Police forces in Australia are achieving record high drug seizures and arrests. That's the key finding from Thursday's Australian Criminal Intelligence Commission's Illicit Drug Data Report that pulls together information from a range of sources to provide our only comprehensive analysis of drug seizures and user trends.
It's an amazing story of new enforcement records. But hidden away in the report's 228 pages are oblique references that suggest there are cracks in the effectiveness of current law enforcement supply reduction strategies.
The new report is a key product for the recently formed Australian Criminal Intelligence Commission and its predecessor, the Australian Crime Commission. For police commissioners, it plays a key marketing and public relations role for their illicit drug supply reduction efforts.
The results contained within the report are breathtaking. Over the last year, Australia's cops and border officials have achieved a 13.7 percent increase in the number of illicit drug seizures, a 13.9 percent increase in the overall weight of illicit drug seizures and a whopping 19.5 percent increase in drug arrests. These figures demonstrate that the Australian Border Force, along with our cops, are doing a great job.
But there's one small problem. The intent of the enforcement regime of Australia's national drug strategy shouldn't be to arrest more people, nor seize more drugs. Rather, the intent behind our illicit drug enforcement strategy should be to reduce the supply of these harmful drugs in our communities.
In the depths of this year's edition of the drug data report are a couple of telling statements that suggest that, in Australia, drugs are actually becoming easier to obtain.
When it comes to regular users of methamphetamine or 'ice', 91 percent of respondents reported that the drug is easy or very easy to obtain, up from 88 percent in 2013. Other analysis reveals that this figure may have increased to 95 percent. The story is no better when it comes to heroin in Australia. The latest figures show 89 percent of respondents "able to comment on the availability of heroin" reported it as being easy or very easy to obtain: an increase of 4 percent from 2013. Similarly, the average price for one gram of crystal methylamphetamine has decreased from $300-1600 in 2013-2014 to between $250-1200 in 2014-2015. In other words, the figures suggest that despite record seizures, illicit drug supply in Australia is increasing.
Fearing criticism for weak performance, enforcement decision-makers continue to focus on achieving higher seizure rates and arrests. But the dogged pursuit of such performance measures comes at the cost of other, more innovative strategies and measures, which may include interventions by agencies not involved in law enforcement.
Border security and law enforcement policymakers face a conundrum: whether to continue to pursue politically sensitive increases in seizures and arrests or to pursue less tangible but more complex and difficult outcomes, such as cooperating internationally to reduce illicit drug supply.
In the face of the latest data results on illicit drugs, the Australian government should consider reducing the pressure on border security and law enforcement agencies to increase seizure and arrest rates.
This doesn't mean we should discourage our cops and border force officers from seizing drugs, nor arresting criminals. This important work needs to continue.
But what we need is to focus efforts on supporting new and innovative ways to disrupt these illicit markets. Much of Australia's ice originates from China. Working out how to disrupt this supply network would be a good place to start.