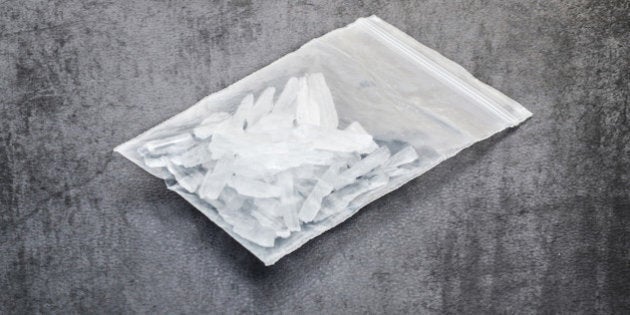 Last week we met with a young police sergeant who said the number one question he gets asked on and off duty from members of the public is what are we going to do about Ice.
In the coming weeks Ken Lay and Senator Fiona Nash's National Ice Task Force will present their recommendations to government. And from these recommendations, newly minted Prime Minister Malcolm Turnbull will deliver Australia's new ice strategy.
In the vacuum of the moment many Australians are asking questions about what path the Australian government will take in response to the ice epidemic.
In the absence of both the recommendations and strategy there are many differing opinions being presented to the public. These opinions fall into two broad camps: those who would increase mandatory minimum sentences and those who argue that Australia should decriminalise or legalise drugs.
Mandatory minimum sentences for drug offences give the community and its leaders a sense of getting tough on drugs. But put bluntly, there is no evidence that they have any impact on the availability of drugs in our streets. They will of course quickly and dramatically add to the already overflowing detention facilities across Australia: which is hardly a good outcome socially or economically.
You could of course argue that if a dealer is in jail they are no longer selling ice. But 30 years of policing and 25 years of intelligence experience reveals that there is always someone ready to replace the dealer and take care of their clients.
Some experts have been arguing vehemently for decriminalisation or legalisation of drugs, referring to the Portugal experience to support this position. Yes, Portugal has decriminalised drug possession, but the dealing, production or growing of drugs remains a criminal offence.
In this approach the possession of drugs for personal use is no longer a crime but rather an administrative breach. Drug addicts who are caught with drugs appear before the Commission for the Dissuasion of Drug Addiction. The commission is comprised of a social worker, a psychiatrist and a lawyer who can impose a number of sanctions ranging from removal of social benefits to significant fines, with many other sanctions in between.
Although this is different than the criminal process found in Australia it is still an administratively costly exercise focused on punitive punishment.
When the Portuguese government decriminalised drug possession it also made substantive investments in social and health programs: including minimum income supplements and addiction treatment. And we argue that it is this which has made the difference.
Drug addicts still need money to feed their addictions, so decriminalisation does not address the crimes committed to get drugs and those committed whilst on drugs.
In the next month the Australian Strategic Policy Institute will release its own report with recommendations for a strategy to address the harms caused by ice in our communities. A report that calls for neither mandatory sentences nor decriminalisation, but a strategic approach to harm minimisation.
The foundation of this work is a three-legged stool model. The three legs are supply, demand and harm reduction. This stool's three legs combine to make one strategy focused solely on reducing the harmful effects of ice on our communities, as opposed to locking up crooks and seizing drugs.
Supply reduction efforts are focused on disrupting the availability of drugs in our communities through arrests and seizures targeted at having strategic impacts.
Demand reduction has at its core a focus on reducing the desire or need for illegal/illicit drugs in our communities. This has many shapes and includes early intervention, education, demand for treatment and measures designed to remove the user's need from the equation of drug trafficking.
The third area is harm reduction and has at its core an attempt to reduce the drug-related harm felt by individuals and communities. Typically seen as the safety net to the other two policies it is recognition that the other two approaches will never completely attain success. Included in this approach are such initiatives as needle exchange programs and other health care focused on the health and safety of drug users.
The stark reality is that none of these strategies, including decriminalisation or mandatory sentencing, will totally solve our problem. But drug strategies have a better chance of being successful when all of these initiatives are integrated into a strategically focused harm reduction strategy.
We need an innovative made-in-Australia solution that focuses on reducing the harm to our communities. Simplistic policy solutions such as decriminalisation and mandatory sentencing will cause more harm than good in our communities. Our national strategy must engage with the complex problem in a focused manner with equally sophisticated strategies.
Vernon White, a sitting Canadian Senator, is visiting fellow with the Australian Strategic Policy Institute and a Canadian senator with over 30 years of policing experience.
John Coyne is Director of the border security program at the Australian Strategic Policy Institute.