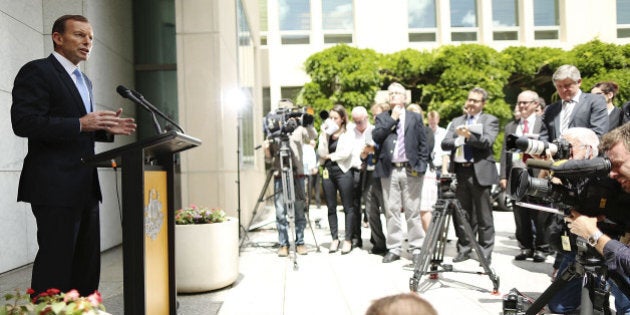 Australia -- Enjoy the Italian Solution -- Five PMs in five years.
So, how much of all this is due to the media?
Tony Abbott -- absolutely shattered, of course, by his loss -- claimed in his concession speech that an important contributor to the toxicity of the Australian political landscape is the "febrile" media that "rewards treachery".
He encouraged the media to "refuse to connive at dishonour by acting as the assassin's knife."
"If there's one piece of advice I can give to the media, it's this: refuse to print self-serving claims that the person making them won't put his or her name to," he said.
Of course, he wasn't complaining about the almost obscenely biased media in his favour -- the Murdoch papers, Ch.9, Alan Jones and his Sydney 2GB mates, and the like.
But, rather, his target was the rest of the mostly critical, traditional media.
You can hardly blame Abbott for his objection to what he sees as cowardly behaviour, both by the media and his colleagues -- the reporting of unsourced quotes from colleagues who are on about little else but their self-importance, potential advancement, and destabilisation.
This is a point that has been lamented by many in politics and public life, and it has become a widespread practice. Just watch FOX, where it is often claimed in commentary, or in questioning, "People say", etc.
Or, recall that now famous exchange between Margaret Thatcher and a journalist where she demanded the names of those who had reportedly been making such statements, before she would respond to the question.
Of course, the standard journalistic defence is that if all was OK, colleagues wouldn't be making such statements, and the journalists wouldn't be looking for them. True! So Abbott should have been able to avoid it by lifting his game.
Yet, journalists always know who to go to to initiate such comments. There are always some wallowing around potential leaders, seeking to ingratiate themselves, trying desperately to look "useful", in the hope that they will be rewarded with "an appointment, to the Ministry, or elsewhere", if they can force a change of leadership.
Really, who needs "friends" like these? Fickle? Flighty? Mostly without any real substance?
In Abbott's demise, they could all be named. To begin, I suggest that you look at the group that clung around Turnbull as he strode to the Party room for the Leadership Ballot. A motley crew, at best! Poor ministerial quality, for sure!
Yet, the issue of the media, and its involvement in such ballots, is much bigger than all this.
It is not just recognition that certain print/radio/TV media run various agendas, often against the government. Many in the media now see themselves as, indeed act as if they are, players in the game.
Increasingly, you see them on TV, or hear them on radio, not just reporting the news, but expressing their personal views, attempting to run agendas, reinterpreting what they would like us to believe what others have said, indeed, acting as if they actually believe that they are driving political events, determining electoral outcomes, all with significant effect.
At a most basic level, media reporting standards have changed significantly. Straight news reporting has almost disappeared in the print media, as all "reports" are now mostly "comments", as they now carry bi-lines naming the journalist, often with email contact details. So, too, with TV "reports" which carry the reporter's hashtag.
There is also the increasingly significant role of the social media -- that can be far more pervasive, influential, subversive, vindictive, and negative, than the traditional media.
Clearly, political leaders need to raise the sophistication and professionalism of their media team and strategy. Equally, the media need to think about the standards to which they operate.
Both are fundamentally important to the quality of our democracy.