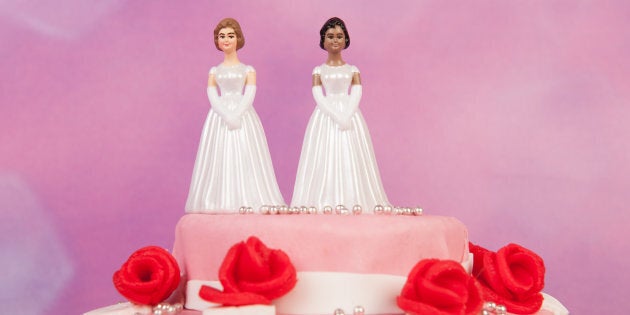 The prospects of marriage equality in Australia, which seemed to have fizzled out in recent months as the government sidelined the issue, have reignited this week as a band of renegade moderate Liberals revive the idea of a vote on the issue in parliament. As those opposed to marriage equality -- or at least wedded to the government's policy of a plebiscite on the issue -- spread rumours that Malcolm Turnbull's prime ministership would be under threat of a spill if he allowed a parliamentary vote to happen, some have revived the idea of a postal plebiscite.
This would be a supremely bad idea, disproportionately locking out young people and vulnerable populations from the process, as well as all but ensuring a small voter turnout and therefore a low-worth barometer of public opinion. It would be just as damaging and wasteful as a regular plebiscite would be, but with even more added drawbacks.
After the marriage equality plebiscite was voted down by the Senate, some Liberals floated the idea of a postal plebiscite; that is, a public vote held via mail and postal ballots, rather than at the sort of polling booths used at a normal election. This method, supporters spruiked, would allow the government to hold a plebiscite -- a policy they took to the last election, which Turnbull said he would not move on marriage equality before fulfilling -- without needing the approval of the parliament.
It has been suggested by some as a kind of circuit breaker, allowing Turnbull to keep his election promise and assuage the conservative members of his party who now hold it up as an untouchable and immutable measure, while at the same time sparking some forward momentum on the marriage equality reforms which the PM himself strongly supports.
However, a postal plebiscite would be bad policy, for several reasons. For one, it would have exactly the same downsides as a normal plebiscite, such as setting the stage for a divisive national public debate on LGBTQ rights. As outlined by Australian Marriage Equality, "a plebiscite would give anti-gay campaigners the biggest stage they have ever had". AME cite research that LGBTQ communities worldwide had "suffered significantly during referenda debates on marriage equality", including one U.S. state where mood disorders, alcohol-use disorders and anxiety disorders dramatically jumped during a referendum on marriage.
A postal plebiscite would also remain non-binding. The result would not compel our politicians to vote one way or another. Labor leader Bill Shorten called the plebiscite policy an "expensive, divisive opinion poll", as it does not bind MPs to follow the national result, or the result in their local electorate. Indeed, conservative senator Eric Abetz admitted "the simple fact is that, in legal terms, that no plebiscite can be binding" this week.
It would also remain non-compulsory, with citizens not compelled to lodge their vote as they are in general elections, which would distort the result -- a consideration which will be even more pronounced during a postal plebiscite than it would be in a normal plebiscite held at voting booths.
Because for a postal plebiscite, citizens would have their paperwork mailed to the address listed on their profile with the Australian Electoral Commission. This would be fine for many people, who have lived in the same place for years or regularly update their details -- however, this logistical step would disproportionately affect young people who may move often for study or work opportunities, as well as homeless people or others who may not have a fixed postal address for voting forms to be sent to.
Young people already represent a big chunk of those who don't vote at the compulsory elections. Ahead of the 2016 election, of the 980,000 Australians who were not on the electoral roll one month out from the July poll, 380,000 of them were in the 18-25 age bracket; almost 18 percent of all people in that age group, compared to around six percent of the general population. The AEC ran a big registration campaign ahead of the poll to encourage people to enroll, which was successful in getting many more young people on the rolls, but it is unclear whether such a campaign would be mounted ahead of a plebiscite.
This is important, as young people represent the demographic most supportive of marriage equality. A recent Essential poll found more than four-fifths of people aged 18-24 supported same sex marriage, compared to 61 percent of the total population. A postal plebiscite would, therefore, over-estimate the opposition and under-estimate the support for marriage equality, experts say.
And, lastly, Turnbull knows the postal plebiscite would be a bad idea because... well, he himself said so. In 1997, the future PM penned a piece in The Australian newspaper (which was uncovered by Crikey today) where he rubbished the idea.
"A postal ballot of necessity will only reach voters who are living at the address recorded on the electoral roll," Turnbull wrote.
"[Voters not at their enrolled address] will not get their ballot papers. Not unless they ring up and make a special request, and who will get around to doing that? This will particularly hurt young people, many of them students, who move more often than older people settled in families. It will also disfranchise Aborigines from remote communities who are often highly mobile."
Turnbull also wrote of the impacts a postal plebiscite, instead of one held at polling booths, would have on those with limited English skills.
"What will voters do when confronted with a package of material they cannot understand and there is nobody around to explain it? They will throw it in the bin and their vote will be lost," he wrote.
"Postal votes are notoriously insecure."
It is unclear what will happen next week when parliament returns. The support of a small band of Liberal MPs for swift action on marriage equality will see the issue come up in the government's party room meeting, where the counter-proposal for a postal plebiscite will surely also be raised. Next week seems set to hold some movement, one way or another, on the marriage equality question.