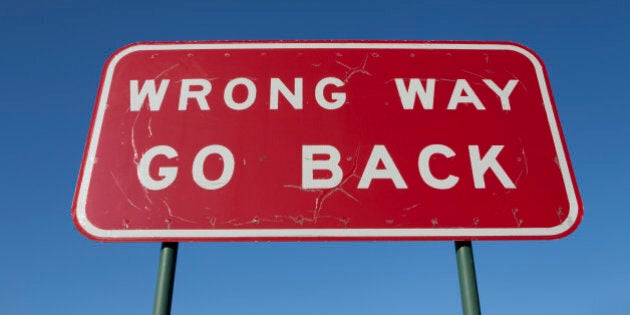 Like most city residents I was certain my days of dodgy taxi rides were over when UberX came along. Affordable fares! Drivers who know the roads! CLEAN INTERIORS! And sometimes even free bottled water.
But recently my love affair with the ride-sharing service took a punch to the heart -- though it had nothing to do with cost or my driver's map-reading ability.
You see, my driver was a domestic violence denier. Well, not exactly -- he did think domestic violence existed -- only that the media spent far too much time reporting on female victims.
"You never see the male victims in the news -- do you?" he said.
"Well, they are reported on too, but the victims are overwhelmingly female," I replied, my insides curling up.
Suddenly I wanted a taxi again. I wouldn't even care if my driver spent the whole time on hands-free. Or if the cab reeked of body odour mixed with Maccas breakfast. Anything but this.
The same day I learnt a newspaper columnist shared a similar view and thought it'd be a good idea to include in his column that domestic violence assaults against women had barely increased in the past 12 months -- a statement that hardly stands up, given that we know less than half of assaults are actually reported.
I wondered if my driver had read the same column and cringingly thought about how many others might have read it, too.
But instead of telling my driver how I really felt (outrage!) I ignored him -- opting to Google pregnancy rumours of Ryan Gosling and Eva Mendes -- nothing like envisaging a baby feminist to remind you there's still good in the world.
Truth is, ignoring these attitudes isn't the answer, but calling them out when you hear them and shutting them down is.
It's an issue that last week saw the Victorian government commit more than half a billion dollars over the next two years to tackle the crisis (yep, one woman killed a week by her partner is crisis territory) and comes only weeks after the state's Royal Commission into Family Violence which made more than 200 recommendations.
Minister for Women and Prevention of Family Violence, Fiona Richardson, said the $572 billion commitment was "the first step in the long-term process to fix our broken system and change attitudes toward women."
We're only 18 weeks into 2016 and already the lives of 24 Australian women have been taken by violence, the vast majority killed by their partner or a man known to them. You can read more about these women at the Counting Dead Women initiative run by Destroy the Joint here.
The system that was meant to protect these women is broken. The system failed them. And it will continue to fail many more women -- mothers, daughters and sisters -- if attitudes around victim-blaming and ignorance prevail.
Reporting on these victims is a start, talking about these victims -- and listening to them -- is even better, but denying it's happening is a step backwards.
As I got out of my driver's immaculately kept car I so badly wanted to give him a bad rating -- a one star with a few rage-y sentences summing up my thoughts. A censored version: "Great with directions. Super clean car. Major shame about his weird and sexist views about the world."
I chose not to though and instead made the silent promise that the next time someone unloaded this kind of warped view, I'd take them on a ride of my own. If only for the women who weren't given the chance of another day to tell their story.