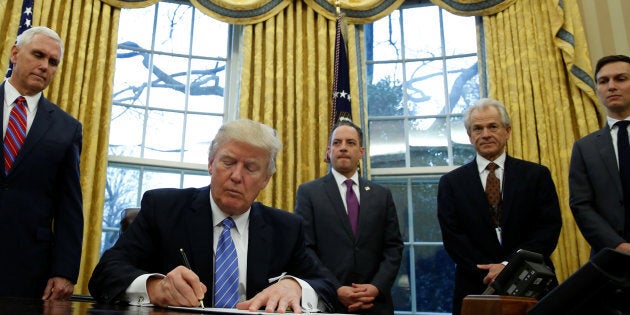 Trump's executive order barring foreign aid from going to any organisation that even discusses abortion, or family planning, hurts women. In fact, it kills them.
Any thinking person knows that it's not just the lives of women in developing countries whose world got a little darker yesterday, but women everywhere.
As the image of men stripping away a woman's right to her own body made the rounds on social media it was met with an overwhelming sense of outrage followed by deep sadness. In 2017, the world's most vulnerable women are losing rights, not gaining them.
It was my own friends who shared it, here in Australia, that got me thinking about the difference this vital procedure has made to so many people's lives.
These women don't hate babies. Many of them cannot wait to become a mother. But they make this tough decision because they know that right now, they cannot be the best mother. Or that their partner, if he is around, is not ready to become a Dad.
There are so many reasons for an abortion. Nobody is saying you have to agree with them. Don't believe in it, don't get one. What needs to be said, though, screamed in fact, by women and men, is that every woman deserves the choice. For millions of women, that choice has now been taken.
Abortion is not a woman's issue. It is a health issue. And while it's easy to sit back and be outraged by one of Trump's many backward decisions, it's worth looking at our own backyard where abortion is still technically illegal in two states.
As long as abortion remains in the criminal code, medical practitioners are forced to operate in a legal 'grey zone' which not only allows for stigma to thrive, but it means access suffers.
Perhaps the worst part, as with Trump's reinstatement of the 'global gag rule' is that this decision has been made for women, by men, who have probably never touched a tampon in their lives.
The world can do better. And Australia can do better.