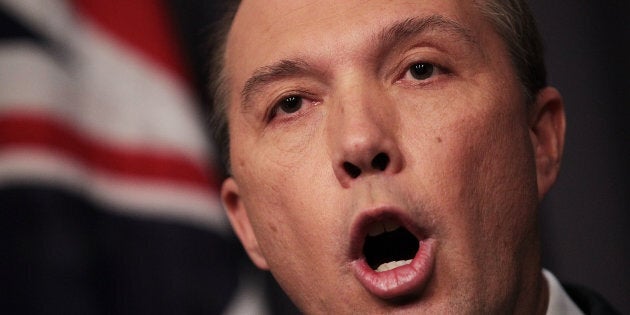 To understand the significance of the press release, it is important to know a few background facts.
People facing war or persecution often flee their homes and look for safety. They are called asylum seekers. If it turns out that the reason for seeking asylum is genuine, they are re-badged as refugees. An asylum seeker with a valid claim for asylum was a refugee from the start.
After the Second World War, the Refugees Convention was created. The central obligation is called "non-refoulement": that is, you don't send a refugee, directly or indirectly, back to a place where they face persecution. The idea was that the nations of the world would share the load of refugee movement.
It is time for Australians, whatever their political allegiance, to stand back and consider whether we can do better.
Australia used to be generous to asylum seekers. That changed in 2001 when the Howard government took a very aggressive stand. When the Norwegian cargo ship MV Tampa rescued a boat-load of asylum seekers (at Australia's request) it tried to put them ashore at Christmas Island. Christmas Island is part of Australia, although it is closer to Indonesia than to the Australian mainland. When the Tampa entered Australian territorial waters off Christmas Island, the Howard government sent out the SAS. They took control of the bridge at gunpoint.
There was a stand-off. A group of us went to the Federal Court to try and resolve the stand-off. The judge handed down his decision at 2.15 pm (Melbourne time) on 11 September 2001. Eight hours later the attack on America happened.
During the Tampa case, the Howard government put together the "Pacific Solution". It lasted a few years, but ended in about 2006.
In 2012 the Gillard Labor government revived the "Pacific Solution". In 2013, the Rudd Labor government made the "Pacific Solution" even tougher.
Rudd's new Pacific Solution meant that every asylum seeker who arrived in Australia after 19 July 2013 would be sent to offshore detention. That meant that refugees from the same family who arrived in Australia just a few days apart suffered completely different fates. There are refugees living in the community in Australia whose close relatives arrived just days later and who are still, four years later, in offshore detention. There are mothers held in Nauru whose children are living in the community in Australia; there are men held on Manus whose families are living in the community in Australia.
In 2016, the government did a deal with America under which they would take some people from offshore detention. The UNHCR helped broker the deal, and understood "clearly" that refugees in offshore detention who had close family links in Australia would be resettled in Australia.
Now Peter Dutton says that won't happen.
The UNHCR press release says:
...last November UNHCR exceptionally agreed to help with the relocation of refugees to the United States following a bilateral agreement between Australia and the US. We agreed to do so on the clear understanding that vulnerable refugees with close family ties in Australia would ultimately be allowed to settle there ... UNHCR has recently been informed by Australia that it refuses to accept even these refugees
Peter Dutton's decision means that families will be deliberately, knowingly broken apart.
The UN High Commissioner for Refugees has made clear what he thinks of Australia's position. His press release includes the following:
There is no doubt these vulnerable people, already subject to four years of punishing conditions, should be reunited with their families in Australia. This is the humane and reasonable thing to do.

The Australian government's decision to deny them this possibility is contrary to the fundamental principles of family unity and refugee protection, and to common decency.

UNHCR fully endorses the need to save lives at sea and to provide alternatives to dangerous journeys and exploitation by smugglers. But the practice of offshore processing has had a hugely detrimental impact. There is a fundamental contradiction in saving people at sea, only to mistreat and neglect them on land.
It is unusual for an international body such as UNHCR to be so plain in its criticism: Peter Duttons' decision is "contrary...to common decency". This is the same Peter Dutton who wants a Statement of Australian Values to be an element in all citizenship applications! I wonder if Australian Values include intentional cruelty and deliberately breaking families.
Australians need to understand that our treatment of people seeking asylum has attracted such sharp criticism. We have caused great harm to people who have not committed any offence by seeking our help.
The UNHCR press release also says:
Australia's policy of offshore processing in Papua New Guinea and Nauru, which denies access to asylum in Australia for refugees arriving by sea without a valid visa, has caused extensive, avoidable suffering for far too long.

Now, having harmed innocent people, we are responding in a way which is "contrary to the fundamental principles of family unity ... and to common decency...
To add an extra twist of cruelty, we will betray the UNHCR's trust and keep refugee families permanently broken.
It is time for Australians, whatever their political allegiance, to stand back and consider whether we can do better.
First, we should stop falling for the great political lie that people seeking asylum are "illegal". They are not.
And while it may seem reasonable that we do not want people drowning in their attempt to reach safety, we should remember that if they stay home and are killed by their persecutors, they are still dead -- just as if they had drowned. If they flee in a different direction and perish, they are still dead --just as if they had drowned.
And if our concern about them drowning is genuine, we should not punish them for not drowning. But that is precisely what we do.
ALSO ON HUFFPOST AUSTRALIA