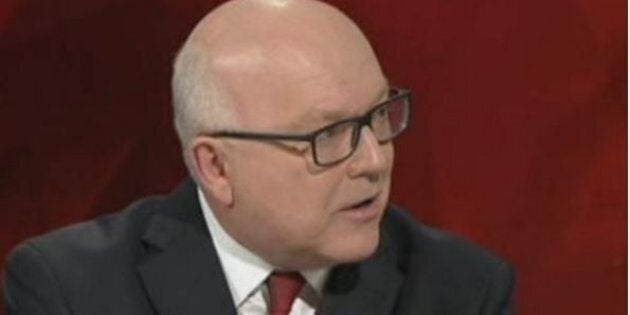 On Q&A on Monday night, Attorney-General George Brandis QC sought to justify enormous and extravagant expense allowances for Federal parliamentarians while justifying the meanness of NDIS funding, disability allowances, Community Legal Centre funding and the harshness of automated Centrelink debt recovery.
On robo-debt, he seemed mildly concerned that a man had committed suicide after being chased for an alleged debt of $18,000 (this was later revised down to $10,000, without explanation). The way the system "works", the burden is on the recipient of the debt notice to prove the demand is wrong. Most lawyers respond instinctively against civil claims in which the Defendant has to prove that they do not owe the money claimed: the usual situation is that the person who makes a claim must prove it.
Brandis urged that anyone who received a robo-debt demand should ring Centrelink and discuss the claim, without seeming to understand that getting Centrelink to answer a phone call is extraordinarily difficult.
Several people in the audience with practical experience of the matter told the Attorney General how difficult it is to get Centrelink to answer a call, but Brandis continued urging the same course, cruising calmly on like a Spanish galleon untroubled by any facts.
When tackled about the reduced funding for Community Legal Centres, he tried to blame Labor. It seemed not to occur to him that he, as Attorney-General, could arrange increased funding for community Legal Centres and for Legal Aid. After all, Community Legal Centres deal with about 200,000 clients each year. Their total funding is about $40 million a year, and is about to fall to about $30 million a year. But he did not seem to notice this as a problem, just as he didn't notice the grotesque difference between his position on welfare payments and his position on parliamentary entitlements.
And then we got to refugee policy.
Confronted with the awkward fact that several thousand men, women and children have been locked up on Nauru and Manus for over 3 years, Brandis again tried to blame it on Labor. It is true that Kevin Rudd's government put them there, but Brandis overlooked the detail that his government could have removed them, instead of leaving them to swelter for years on end, suffering torment and abuse which include hundreds of reported cases of child sex abuse and at least 5 deaths that we know of.
But the most surprising development was when I asked Brandis directly whether boat people commit any offence by arriving in Australia seeking protection from persecution. He said 'yes', they do. He is wrong about that. I asked him to identify the provision in any legislation which makes it an offence. He protested that he could not be expected to identify a particular statute and a particular provision. He is wrong about that, too.
The first Law Officer of the country should pause to wonder whether his own party's marketing is honest or not, and why no boat people are ever prosecuted because of their means of arrival.
The Coalition government has, for the past 15 years, called boat people "illegal". Under the Abbott government, the Department of Immigration and Citizenship was renamed "Immigration and Border Protection". Scott Morrison, when he was Immigration Minister, directed that the group officially known as "irregular maritime arrivals" (that is, boat people) must thereafter be called "illegal maritime arrivals".
Senator Brandis can hardly have missed the fact that men, women and children who had fled persecution were being branded as "illegal", and were being locked up in shocking conditions for years, and that the whole exercise was called "Border Protection". The inescapable inference was that they were criminals from whom we were being protected.
The first Law Officer of the country should pause to wonder whether his own party's marketing is honest or not, and why no boat people are ever prosecuted because of their means of arrival.
If you would like to submit a blog to HuffPost Australia, send a 500-800-word post through to blogteam@huffingtonpost.com.au
ALSO ON HUFFPOST AUSTRALIA