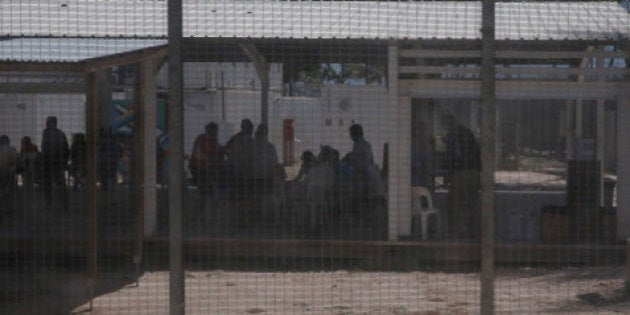 On 26 April, 2015, the Papua New Guinea Supreme Court handed down a 5:0 ruling that the detention of asylum seekers on Manus Island is illegal. The Court ruled that detention in Manus breaches section 42 of PNG's Constitution.
Section 42 of the PNG Constitution provides (in part):
"42. Liberty of the person.

(1) No person shall be deprived of his personal liberty except-

(a) in consequence of his unfitness to plead to a criminal charge; or

(b) in the execution of the sentence or order of a court in respect of an offence of which he has been found guilty, or in the execution of the order of a court of record punishing him for contempt of itself or another court or tribunal; ..."
The Supreme Court ruling includes the following passages:
"68. ... on 4th February 2013, the UNHCR published a detailed report on the MIPC and concluded overall:

"Assessed as a whole, UNHCR is of the view that the facilities on Manus Island lack some of the basic conditions and standards required. In particular, the closed detention setting and the lack of freedom of movement, along with the absence of an appropriate legal framework and capacitated system to assess refugee claims, are particularly concerning."

69. In the circumstances, I agree with the contention of the Applicant that treating those required to remain in the relocation centre as prisoners irrespective of their circumstances or their status save only as asylum seekers, is to offend against their rights and freedoms as guaranteed by the various conventions on human rights at international law and under the PNG Constitution. ..."
More than 800 people are held on Manus, in shocking conditions. They were taken there, by Australia, after they had landed in Australia seeking asylum. Most of them have been there for several years; many of them have been assessed as genuine refugees.
On 27 April, the Prime Minister of PNG, Mr Peter O'Neil, said that he would ask Australia to make arrangements to move the detainees. The question now is whether Australia will respect the Constitutional ruling of a 5-member bench of the Supreme Court, or whether it will try to find a way around it. Mr O'Neil may use the Supreme Court decision as a device to negotiate more money out of Australia, in exchange for some form of modified processing arrangements.
The people held on Manus are innocent of any offence;
They were taken to PNG by force, and against their will;
They are being detained in breach of the PNG constitutional guarantee of freedom;
Two of them have died there: Reza Berati was murdered by a person whose wages were paid, indirectly, by Australia. Hamid Khazaie died of septicaemia because of criminal neglect, in particular because of the stupidity or carelessness of an officer in the Australian Immigration Departmen;
Most of them have been held on Manus for years and, according to most accounts, they are held in appalling conditions, apparently calculated to break their spirit so they will choose to return to face persecution rather than continue to endure the misery and uncertainty they face in Manus.
Here are portions of a statement by an Australian doctor who worked on Manus. He has spent most of his professional life working in the prison system in Australia:
I am a Medical Doctor, formerly employed at an Offshore Processing Centre (the "Manus Island OPC") for some months. Whilst employed at the Manus Island OPC, my duties were mainly the supervision of the provision of medical care as provided by other doctors employed there, as well as the provision of medical care myself.

My professional experience includes the provision of health care services in maximum-security prisons in Australia.

On the whole, the conditions of detention at the Manus Island OPC are extremely poor. When I first arrived at the Manus Island OPC I was considerably distressed at what I saw, and I recall thinking that this must be similar to a concentration camp.

The detainees at the Manus Island OPC are detained behind razor wire fences, in conditions below the standard of Australian maximum-security prison.

My professional opinion is that the minimum medical requirements of the detained population were not being met. I have no reason to believe that the conditions of detention have improved since I ceased employment at the Manus Island OPC.

The conditions of detention at the Manus Island OPC appeared to be calculated to break the spirit of those detained in the Manus Island OPC. On a number of occasions the extreme conditions of detention resulted in detainees abandoning their claims for asylum and returning to their country of origin.

At the Manus Island OPC, bathroom facilities are rarely cleaned. There was a lot of mould, poor ventilation, and the structural integrity of the facilities is concerning.

Formal requests for medical attention are available to the detainees. The forms are only available in English. Many of the detainees do not have a workable understanding of English and the guards will not provide assistance.

The medical request forms are collected in a box throughout the week, and then on the weekend the box (together with its contents) is disposed of in a waste bin without having been reviewed. I witnessed this on a number of occasions, and understood it to be common practice.

I often expressed my concern about the lack of medical treatment provided to the detainees. Never were my concerns addressed.
Australia's Immigration Minister, Peter Dutton, has made it clear that the people held on Manus will not be allowed to settle in Australia. The Shadow Immigration spokesman, Richard Marles, made it clear that the Labor party shares the Liberals' policy settings in relation to refugees.
Both Liberal and Labor overlook a few basic points:
The number of boat people arriving in Australia has always been small, relative to our population, relative to our migration intake, and relative to our vast size and great wealth as a country;
Most people who are willing to risk their lives to reach safety in Australia turn out to be refugees genuinely fleeing persecution and looking for somewhere safe to live;
PNG and Nauru are, by comparison with Australia, small, crowded and impoverished. This makes them unlikely places for permanent resettlement of refugees;
Locals in PNG and Nauru are deeply hostile to the asylum seekers we send there, so resettlement in either of those countries is not practicable;
Mistreatment of people looking for a safe place to live is irreconcilable with Australia's view of its own values.
So: how did it come to this?
It came to this because both major political parties in Australia have spent the last 15 years using refugees as a political football. They have damaged Australia's international reputation to win popularity at home. They have done it by the simple, if dishonest, device of calling boat people "illegal".
Then it became "Border Protection". These days, many Australians have been deceived into thinking that the tough treatment of boat people is an exercise in protecting us from criminals. If it was true, it might make sense. But it is a lie.
It is the great lie on which John Howard, Philip Ruddock, Tony Abbott, Scott Morrison and Peter Dutton have built their political popularity. But it is still a lie.
Now the Supreme Court of PNG has shown us that what we are doing falls short of the dictates of ordinary human decency.