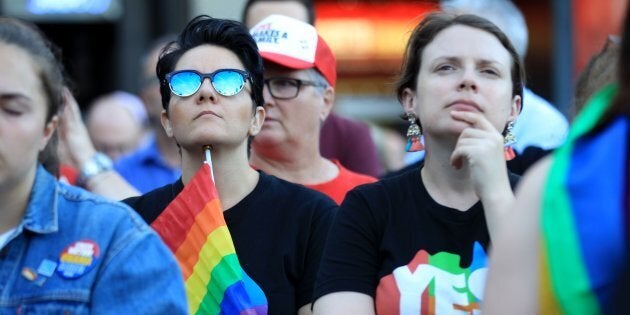 There is widespread acceptance that our political debate has become more divisive with the advent of social media and significant advances in the way news is disseminated.
But the postal survey has also provided a clear illustration of the way public policy debates can directly impact on communities who may be the topic of these discussions. This is particularly the case in groups where people are already predisposed to poor mental health outcomes.
The facts are that LGBTQ Australians are twice as likely to have a high to very high level of psychological distress compared to their heterosexual peers.
The figures released by ReachOut showed a 40 percent increase in young people accessing help during the divisive and unnecessary $122 million postal survey.
In August, it was reported beyondblue registered a 40 percent increase in call volume following the announcement of the postal survey.
LGBTQ phone-counselling service QLife has also recorded more than a 20 percent increase in the amount of calls since the postal survey was announced.
Quite clearly these figures are disturbing and underscore the terrible impact the postal survey has had on an already vulnerable group in our community.
As Parliament begins to consider legislation to act on the result of the postal vote it is more important than ever that we get this debate right.
But these concerning figures should also act as a clear warning.
In the aftermath of the postal survey result it is incumbent on all of us to reflect on the way we conduct ourselves in the course of public debates. With new evidence showing the very serious impact these debates can have on marginalised people, we must commit to do better.
This is especially true for elected representatives whose commentary is amplified across news and social media. It is tempting in any debate to make outlandish or extreme comments in the hope they will be 'picked up' up by the media. This can often lead to a race to the bottom where representatives try to outdo each other with more and more extreme commentary.
Sadly, I have been repeatedly disappointed throughout this debate by the lack of care from representatives who should know better.
Some will no doubt argue that in a country that prizes freedom of speech, we should not limit the extent to which people can partake in this kind of commentary. But our country also values respect. Nothing demonstrates this better than the resounding YES vote in the postal survey.
And apart from a few notable incidences, Australians who voted and participated in this debate did so respectfully.
As Parliament begins to consider legislation to act on the result of the postal vote it is more important than ever that we get this debate right.
If the 12,691,234 Australians who voted in the postal survey could do this, surely the comparatively tiny number of representative who will decide this issue can do it too.
We must move forward in this debate with respect for the people whose lives we are debating. And we should do this in the course of every debate we undertake as elected representatives.
For 24/7 crisis support and suicide prevention services call Lifeline on 13 11 14. Other services include Suicide Call Back Service: 1300 659 467, Beyondblue: 1300 22 4636, Kids Helpline: 1800 551 800, MensLine Australia: 1300 789 978