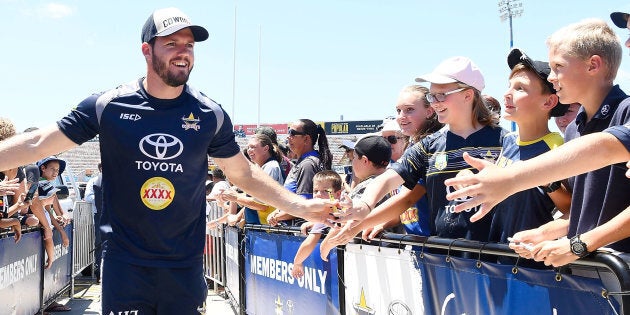 The build up for this weekend's Rugby League Grand Final between the Melbourne Storm and North Queensland Cowboys has reached fever pitch and, as much as there will be a clash on the field, there will be a clash between brands vying to get your attention -- none more so than the big alcohol brands.
Australia prides itself on being a sporting nation, a small population that punches above its weight on the world stage and supporting some of the best national competitions around the world. It's hardly surprising our sports men and women occupy a unique niche as cultural icons and role models, the embodiment of health and, when they're winning, the pinnacle of success.
It is this image that attracts advertisers, keen to associate their brands with sporting team success. And alcohol brands have always chased these marketing opportunities. The NRL boasts VB and Bundaberg Rum among its top corporate partners. The Cowboys have key sponsorship deals with XXXX and Bundy. Jim Beam and Bundy are sponsors and advertisers of Nine's coverage of NRL games.
Cricket Australia's 20-year sponsorship deal with VB/Carlton and United Breweries ended this year but it failed to fully seize the opportunity for a break with alcohol sponsors, entering a new deal with XXXX as their official beer partner.
I don't want the advertising rules gamed so children are watching alcohol ads on repeat between watching their sporting heroes wearing those same labels on the field.
The responsible advertising code strictly prohibits suggesting alcohol can create a significant change in mood or environment or help you achieve personal, social, sporting or sexual success, or help you relax.
It's a symptom of the uneasy tension between the promotion of a legal product and the community's expectations of how it is promoted, given what we know about alcohol's harm.
Hitching your brand to a successful sporting code or team allows a convenient sidestep of these advertising restrictions. Your brand can be emblazoned on jerseys, on on-field signage, feature on websites and apps, and be heavily promoted in the ad breaks. Your brand is at the centre of pre-match buildup and has the chance of a prime spot during post-match celebrations, basking in the glow of a team win.
Last year, then-Premier Mike Baird publicly criticised the arrangement between Cricket Australia and VB while speaking at a dinner for the Thomas Kelly Youth Foundation, a foundation named in honour of a young man killed in a one-punch attack in Kings Cross.
To paraphrase Mike, we all love our sporting heroes, but it is an incredible position to have them taking to the field emblazoned with alcohol brands.
I'm not a wowser, hell-bent on imposing temperance during the game -- but I don't want the advertising rules gamed so children are watching alcohol ads on repeat between watching their sporting heroes wearing those same labels on the field.
The NRL and AFL codes increasingly market themselves as family-friendly. This can all be undone when the experience of watching the game can't be untangled from exposing your child to alcohol ads.
Numerous studies have linked increased exposure by children to alcohol advertising and greater under-age consumption. With this in mind, you can't legally promote beer, spirits and other alcohol to children but there is also no control on their exposure to advertising at the ground, on or near scoreboards and during televised games.
The law also lags behind what school kids may be exposed to online when completing their homework or at play. There are currently no restrictions on alcohol advertising placement online despite ample parental concern and a complaint to the Alcohol Advertising Review Board in 2015-16 following a Bundaberg Rum ad being shown before a 'Dora the Explorer' Youtube video.
The NSW Legislative Council will soon begin an inquiry into alcohol advertising in NSW. This inquiry will continue an important conversation with the community about the prevalence of alcohol advertising and its role in the harm caused by high rates of drinking.
In recent years we have come a long way in restricting the advertising of harmful products such as tobacco, it's right that we now turn our attention to the promotion of alcohol and its associated risks.
It's not that you can't enjoy a drink in moderation during the game. It's that our children shouldn't grow up thinking that you have to have one in order to be part of it.