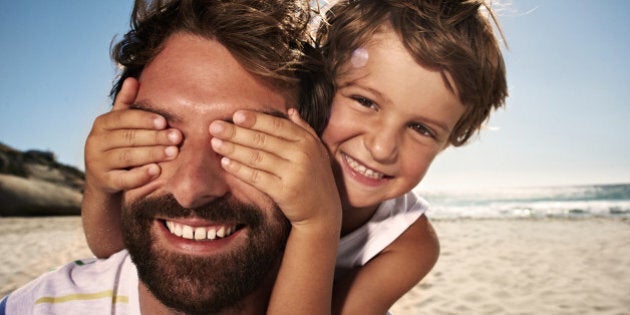 Being a dad is pretty awesome and there's always a lot of advice that people are willing to give a first-time daddy-to-be. But there are also quite a few things that nobody ever told me about being a dad which would have been handy to know in the beginning to properly prepare and psych myself for.
So here's a quick list of things nobody tells you about being a dad.
1. Baby fingernails are sharper than adamantium claws:
The only thing worse than hearing fingernails on a blackboard is having your cheeks, eyelids, lips and nostrils shredded to pieces by tiny Kruegeresque knives forged in the belly of a dragon at the bottom of a volcano.
2. The topic for today and every day, for seemingly the rest of your life... is POO!:
Never in the history of your life did you ever think you could possibly talk about anything in as much detail as poo. Donald Trump's run for President, Jarryd Hayne's NFL career, the finale of Game of Thrones Season 5: 'Is Jon Snow really dead?'... None of these will ever be talked about as much as the texture, consistency, colour, quantity, fragrance and coverage of your child's outer 'contribution to society'.
3. The arch of a child's back can support the weight of 10 men:
If you've ever tried to strap a toddler into a car seat when you're in a desperate hurry to get somewhere, or you need to quickly get them in to attend to the chilling screams of their younger sibling sobbing uncontrollably in the seat next to them with the volumetric capacity to set off every car alarm within a 10-block radius, or simply because they're wearing the wrong shoes, then you know the feeling. It can take the full weight of a State of Origin scrummage to push them back into the seat so you can get their seatbelt on.
4. Despite what you think, babies are not as vulnerable as they look:
Even though babies come into this world vulnerable and defenceless, it only takes a few months before their inherent self-defence ninja skills come to the fore. They may look incredibly cute and adorable lying in your arms as you gently rock them to sleep, but they can incapacitate an elephant simply by pinching the sh*t out of the skin on your neck with the strength and accuracy of a Vulcan warrior.
5. If your heart could get any bigger, it would be outside your chest:
Despite the above list, the immense joy, satisfaction, love and reward you feel in knowing that you've created these amazing beings and -- hopefully -- raising them to become incredible people one day is the greatest feeling you can possibly imagine. Especially when they're finally in their beds, fast asleep.
Justin P Bechtold blogs at The 40YrOldDad. Or you can follow him @40YrOldDad