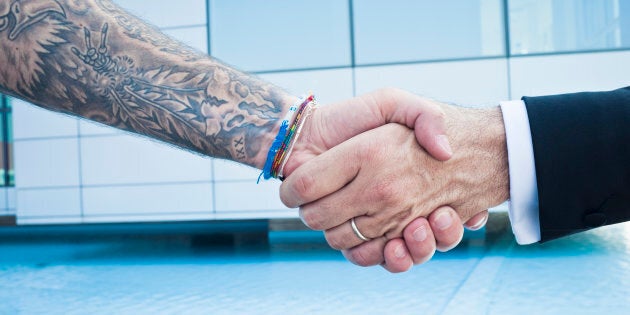 Whether you like it or not, the way you dress at work matters. The way you choose to present yourself, the personal image you portray, has the potential to influence your reputation, opportunities and ultimately career. As someone with purple hair, a nose ring and visible tattoos, I know too well the risks and benefits of honestly expressing who I am through these choices.
While some employers have documented dress codes, many others don't. Irrespective of whether or not the rules have been written down, all employers have attitudes about what is acceptable and what isn't. It's wise to understand what they are.
Among the most important things you can do to dress for success are these:
Know the unwritten rules.
Understand what's considered appropriate in your industry and organisation. Everyone draws the line differently so take the time to understand your manager's views. For example, you may be allowed to wear shorts, just not the type that allow your butt cheeks to be viewed by your colleagues.
Understand you're being judged.
The beliefs and expectations people hold, many of them unconscious, influence how they respond to your choices. The simple truth is we judge books by their covers all the time. Dirty shoes or unkempt clothes, for example, are for many people indications of a sloppy attitude.
Wear clothes that fit.
Clothes that are too small or too big are unlikely to look good, let alone professional. While those jeans hanging down around your hips might look cool when out clubbing, they just make everyone at work want to hike them up for you. Just as off-putting is the colleague who is bulging from their far-too-small outfit.
Have a degree of modesty.
Work isn't the place for plunging necklines, crop tops, short skirts or 'muscle tops'. No matter how fab you're looking, keep the detail for the beach. Kim Kardashian-inspired 'sheer' is a definite no go zone. While some colleagues may appreciate the view, many others won't.
Know the tattoo policy.
Many employers have policies in place regarding visible tattoos. Respect these policies while also understanding your rights. While these policies are lawful, employers need to be careful not to discriminate against certain groups. For example, a Maori worker who has a tattoo for reasons connected to his ethnic origin.
Keep your 'active wear' for the gym.
Unless you are a personal trainer, sports coach, PE teacher, exercise physiologist or similar, there is no excuse for 'active wear' at work. While we can all be grateful to Lorna Jane and others for making us look good at the gym, tracksuits and anything made out of Lycra just don't belong in the office.
Tone it down.
Radical haircuts, clothing, tattoos or piercings are likely to cause concern for many employers. Most people don't mind what I call a little 'subtle bling'. While it's important to be authentically who you are, be careful that your appearance doesn't make dealing with you uncomfortable or uneven confronting for some. Looking like a punk rocker, for example, could cause some people to avoid you. Many are unlikely to take you seriously.
In today's workplace, where casual wear is becoming increasingly common, it can be especially tricky to get it right. What matters most is that you maintain a standard that is reflective of someone with personal pride. The golden rule is to dress and groom in ways that reflect respect and consideration for your self, your employer, colleagues and customers.