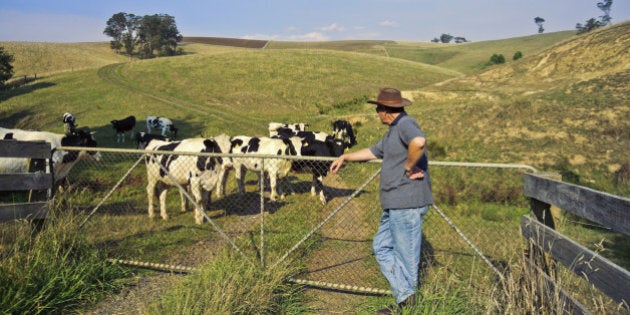 You won't see the benefits of the China-Australia Free Trade Agreement in the halls of Parliament House. Nor will you see it in noisy union rallies in the CBDs of big cities. Instead, you need to head out to regional towns, where hardy communities have battled nature and dwindling populations for decades.
Places like Mead in northern Victoria. That's where Dianne Bowles and her husband Gary work as dairy farmers with a small team, milking 200 cows each day. Australia's clean and green reputation means there is strong demand for our dairy products, particularly milk and infant formula, throughout Asia.
"China is obviously a very important market for Australia," Dianne says. But tariff barriers make it tough to get the product to Chinese consumers. Already New Zealand dairy farmers have a head start on their Australian counterparts, with their country's free trade deal helping them get their product on the shelves.
ChAFTA will wipe up to $60 million off tariffs imposed on Australian dairy products. It will be a lifeline for jobs in Mead, and has the potential to give kids a great reason to stay in town rather than head to regional cities.
"We've survived droughts, floods and locust plagues, but they were events beyond our control," Dianne says. "We now have an opportunity to take control and create something positive for dairy farmers and regional communities. Why wouldn't we jump at that chance?"
It's a fine question. And it's being asked not just in Mead but in countless towns across the country.
ChAFTA presents a jaw-dropping opportunity for Australia to build on its $140 billion annual trade with China, its largest trading partner.
Within 10 years of ChAFTA entering into force, tariffs on 95 percent of Australian goods exported to China will be completely eliminated. Tariffs on fruits, vegetables and nuts will be devoured. Tariffs on beef will be minced. Tariffs on many dairy products will be creamed. Tariffs on wine will be emptied. Tariffs on grains will be ground down to nothing.
The Chinese economy may be going through tough times at the moment, but the fundamentals remain strong. It has 1.4 billion people, including hundreds of millions in the middle class with the incomes to spend on imported products. Its growth rate of 7 percent remains beyond the rate of any developed country.
Australia remains strategically positioned to get products to market quickly and easily. But we are being held back by trade restrictions that hurt Australian companies seeking to tap into China.
It's not just those companies selling directly to China that benefit from improving market access. By growing Australian businesses, ChAFTA will create lots of spill-over benefits to other enterprises in Australia.
Take iSeekPlant, a Sunshine Coast-based services business that matches some of Australia's 30,000 earthmovers with construction and mining companies looking for contractors. Started by a pair of siblings and a friend four years ago, the company now employs 17 people. That number will grow if small Australian mining companies can get better access to the Chinese market, including by slashing the $600 million in extra costs tariffs impose on the bilateral minerals and energy trade each year.
"The mining industry is critical to so many businesses throughout the economy," co-founder Sally McPherson says. "Anything that makes them more competitive is good for thousands of Australian business owners like us."
There's a big price to pay for delaying the agreement. If it isn't locked in this year the schedule for tariff reductions will be held up. The delay will cost the agricultural export trade $300 million next year. The minerals trade will be $110 million worse off next year. This means slower growth for businesses, fewer job opportunities and more regional towns facing an uncertain future.
The community and politicians should not cower in the face of a scare campaign from the union movement. It's no surprise that the campaign against ChAFTA has been spearheaded by the CFMEU, a union desperate for a distraction from the Trade Union Royal Commission. The unions have latched onto this issue as a way for them to flex their muscles and put some heat on the Federal Government. But in doing this they are putting future job opportunities at risk.
The reality is that ChAFTA and associated agreements between China and Australia do not create the possibility of a large number of Chinese workers entering Australia. And those who do come will need to meet Australian skill standards, be paid Australian wages and enjoy Australian conditions.
Businesses operating here will continue to employ Australian workers wherever possible because there will be no benefit in importing labour. Only in circumstances where local workers are not available will it be sensible for firms to consider passing through the various checks required in order to bring in workers from China. And even on these projects the net effect will be more Australian jobs because it will allow projects to proceed that might otherwise have been halted or delayed.
If this deal is scrapped no-one will be better off. China might be disappointed in the short-term but will soon find other countries keen to get access to its large market. Australia, however, will long rue its missed opportunity. Small businesses, workers and regional towns will pay a big price if we let this chance slip.