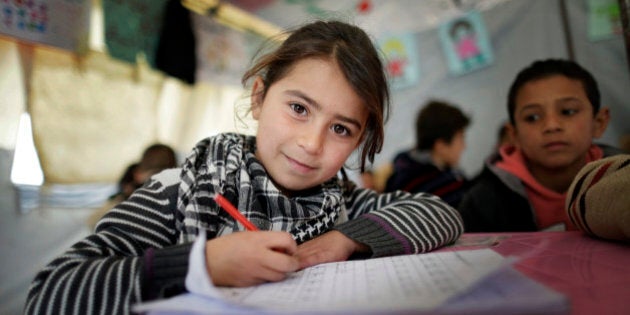 What do you want to be when you grow up?
It's a question I often ask the girls and young women I lead as a Girl Guide volunteer and I love the conversation it sparks. I love hearing about their ambitions, or digging deeper into the things they love to do, want to study and make a career of. Occasionally, just occasionally, I might despair at a lack of diversity among the gender roles they'll share with me, or muse that women still have a long way to go.
All in all, however, the young women and girls I volunteer to empower have a vast array of choices open to them and I'm old enough now to have seen a good many of them embark on, and excel at their chosen path.
Earlier this year, a world away from the usual Girl Guide halls or open-air camps, I asked the same question of teenage girls at a life skills program for victims of sexual violence in the Bekaa Valley of Lebanon, just a short drive away from the Syrian border. I had braced myself for meeting these girls. What could I possibly know of their all-too-young experiences? What, I pondered, does one say to teenage girls who have been raped, abused, or sold into early marriages with disastrous consequences? My expectations were of timid creatures who would avert their gaze and shun my ridiculously inane questions about their futures.
I was wrong -- so very wrong. Yet, in another way, so terribly, so disappointingly, right.
Rather than the shy, reticent girls I had imagined, these young women were very familiar to me. Beautifully dressed in head-to-toe colour that swum around them in a joyful chaotic cacophony of teenage womanhood, they embraced my questions. Upon asking: 'What do you want to be when you grow up?", the room --previously full of girls politely chatting away and offering translated small talk -- became the noisy, excited babble I was used to.
I smiled at the universality of it. Here were young women, all of them Syrian refugees, all of them carrying stories of violence and shame, but who wanted, and hoped for, a change in their fortunes. Their answers were so wild and varied. A doctor, said one. A lawyer, said another. A teacher. A scientist. A journalist. A writer...
We went around the circle, each girl rushing to have her dream translated, nodding enthusiastically as we interacted and mimed the chosen profession, giggling as they sat forward in chairs and straining to hear my enthusiastic endorsements among the twittering of their peers.
But as quickly as their excited chatter filled the room, it stopped. One young woman, just a little older and wiser than her peers -- at least in life experience -- said her piece and waited quietly for the translation. Her friends, now sobered, waited too.
The translation came: I have dreams, but what good are they without an education.
And, with a thud, there was the reality. This wasn't a Girl Guide hall, or open-air camp of gloriously naïve teenage girls. This was Lebanon. And just a 20-minute drive away, over a border these girls would likely never cross again, was home, and a lifetime of lost dreams.
This young woman was right. The awful truth for her, and her peers, rebuilding lives amid the safety of a temporary welfare program and against a backdrop of violence, of displacement and ongoing uncertainty, was that their education was now so disrupted they would have little chance of being the things they dreamed of. Already these girls were facing pressures to marry, if not married already, and some, carrying the shame of rape or sexual exploitation, were likely to never have the security a husband could perhaps have brought. The options were too, too few.
What they did have was each other -- and in that there was power. Already they were building a network of hope and learning the skills to confidently talk to their sisters, their peers, their mothers -- even their brothers and fathers -- about the risk they'd faced and the options their community needed to champion. School. Safety. Protection.
This colourful band of young women had hopes and dreams, and as they strived for them they were forging a path for their younger sisters and the generations to follow. What they wanted was an education, uninterrupted and equal to what their brothers would get. They wanted safe passage to school and to be safe in school, and they wanted their community to assure they would not be bartered, sold, exploited or abused.
Already grown, I thought for this generation of girls, it seemed not too much to ask.
Kate Moore is the UNICEF Australia media manager and deputy state commissioner of Girl Guides NSW & ACT