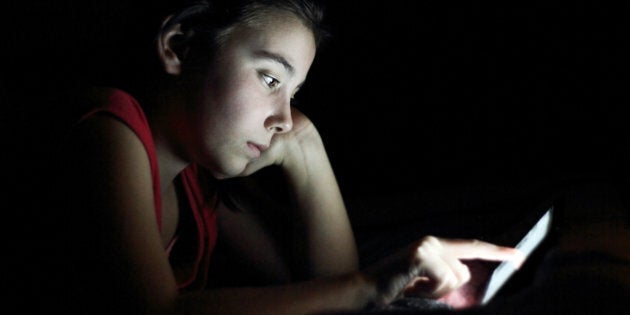 September. Spring has sprung, the sun is (occasionally) shining, it's time to feel a little more hopeful about life. Unless one brings to mind U.S. politics, Australian politics, the sheer waste of life in terror-related incidents globally, casual sexism in the media and in sport continuing to be seen as acceptable...
On another un-springlike subject, National Suicide Prevention Week started on Monday, with World Suicide Prevention Day on September 10. And we have to stare some frightening facts about our kids in the face, because the average age in Australia for someone suffering from depression and anxiety has gone down, in just 20 years, from 35-40 to 14-17.
In fact, according to the latest figures released by KidsMatter, nearly half of all adult mental health issues begin before the age of 14, with three in four emerging before age 24. Think in per capita terms and it's alarming as hell. 750,000 Australians (26.4 percent) aged between 16 and 24 years of age have experienced a mental health disorder in the past year, and 324 young hearts, minds and bodies said goodbye when they took their own lives in 2012.
Suicide is the biggest killer of Australians aged 15 to 24. Not cars, not drugs. Not terrorist incidents. No; it's a world of nothing. A long strip of anxiety-inducing grey. It is eternal, numbing and it leaves an inability to see any kind of hope or future. It is taking young, bright lives and, tragically, it's estimated that of the one in seven school-age children with anxiety, depression and behavioural problems, only one in four are getting the help they need.
2013's annual Mission Australia Youth Survey reported that just under 25 percent of those aged 15 to 24 were "sad, very sad or not happy" with their lives. A quarter of our future is sad.
Why are our kids so sad? What is happening to cause this vast jump downwards in the median age of mental health issues?
Try as I might, in a vastly hypocritical statement considering I am writing this on my laptop, and it will be read online, on various forms of tablets, smartphones and desktops, I can't help but see the answer has to lie in large part with a virtual world which holds nothing but further questions.
We are in a neo-Depression, rapidly becoming an empty society of flickering screens in dark bedrooms, of total isolation from reality. Of body dysmorphia and shaming by cowards hiding behind their 24/7 keyboard machine guns, boys learning how to be 'real men' from online porn, and girls learning what a boy apparently wants the same way. Boys learning about power, not sex, and girls learning about sex, not love -- and neither recognising the difference.
Increasing busyness of parents, younger and younger exposure to technology for longer hours, with little supervision; social skills are redundant, resulting in an inability for our kids to tell someone when they are hurting, because they can't interact with someone face-to-face.
To significantly reduce instances of drowning, we teach a child to swim, lock pools and watch them. We are vigilant in their safety.
To significantly reduce instances of choking, we teach a child to sit and eat carefully and slowly. To chew their food.
To significantly reduce instances of depression, anxiety and behavioural problems, we aren't teaching a child to see the inherent wrongness in casual violence, graphic sex, and constant vicious attacks on individual characteristics thrown out online. The duty of care we would show to any other threat is absent, and it doesn't make sense.
There's been a lot of discussion this week about the effect of digital devices on young brains. It shouldn't be discounted; it's evidently playing a large part. But it's more expansive than this. The increasing anxiety and depression in our bright young sparks also lies in an inability to communicate outwards. Express uncertainty online, and chances are some troll will smack you down for being weak. Pre-teens and adolescents already walk a thin, perpetual line of anxiety about body image, changing hormones, fitting in.
Put constant, taunting, anonymous voices, who, it seems, never have any recriminations thrown at them, into the mix and the darkness looks peaceful.
I don't profess to hold innate and extraordinary wisdom on this point. All I know is this: if adults are glued to every form of digital media there is, and we can't cope with being bullied and pressured online, what hope is there for a generation who struggle to say hello face to face, rather than texting it?
__________________________
If you need help in a crisis, call Lifeline on 131114. For further information about depression, contact beyondblue on 1300224636 or talk to your GP, local health professional or someone you trust.