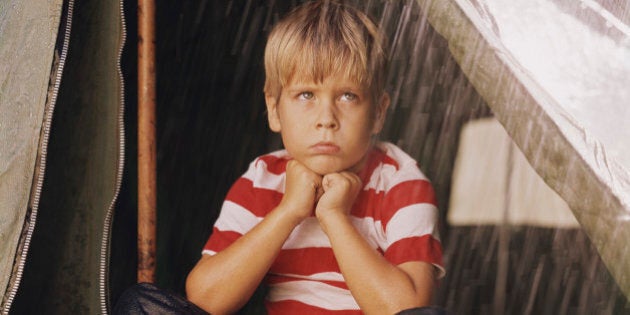 I've always been someone who makes plans. It started when I was 10 years old and I meandered into a paddock of dandelions, determined I would leave not one of them un-wished upon. That afternoon, as late spring sunshine warmed my scrawny limbs and the fragrance of pine needles created memories of innocence, I made wishes for the future. That I would be a writer one day. Travel to faraway places. Find someone who would love me -- really love me. A family of my own. A happier future than the childhood I endured at that time.
I didn't know it at the time, but I was making plans. With every breath that blew dandelion seeds into endless skies I was setting into motion plans for my future; plans I would strive toward in spite of all I had yet to overcome. Eventually, I took grasp of those plans in my hand and in my heart, and I have watched as they have taken root in my life.
Making plans has continued for me throughout my adult life. It's rare that I am without a plan, some kind of future vision that I strive toward, something I daydream about and anticipate and hope for. However, none of these plans are easily gratified. They are long-winded and seemingly without success or completion. I am too quick to assume my plans have failed, too quick to cast them aside.
But this week, something magical happened. I saw.
See, 14 years ago I held my first baby by the romantic light of an open fire in our quaint farm cottage and began to make equally romantic plans about what our family would be like. I imagined we would have many babies and our home would be filled with messy fingers and full hearts. We would be close, oh how we would be close.
There would be summers at the beach huddled in towels as we watched the sun set through salt-crusted eyes. Winters would be snuggled by the fire, the smell of soup and bread and warm towels as they tumbled around in the dryer. As for Autumn and Spring, they would be our camping trips, the times we would drive to mountains and rivers and hike and fish and toast marshmallows around campfires before we would fall asleep under breathless, star-filled skies.
And so as one baby turned into two, soon to become three and eventually four, my husband and I made plans.
We would be a camping family.
But what we didn't know back then was that romantic plans are often nothing more than the foolish notions of people who don't yet understand reality.
And so we suffered through camping trip after camping trip from hell. Trips where it rained three inches, where we set up tents in the dark and cold while hungry children cried and clung to our legs. Trips where the tent leaked and we had no dry socks, where we slept in beanies, scarves and jackets and it still wasn't enough to stop the cold. Trips where we endured dust storms and heat waves and being eaten alive by mosquitos. Trips where we carted six pushbikes halfway across the country only for our children to refuse to ride, or climbed mountains as we struggled to carry children in our weary arms when they would no longer walk. There were trips fraught with tension and arguments and silent treatments, where we couldn't stand the sight of each other and we swore we'd never do it again.
But we had made plans, dammit.
And so we persisted. We persisted when things got tough, when it all seemed too hard, when we wondered what the hell we were doing this for, when we were ready just to call it quits. Much of the time we didn't want to persist, it seemed too hard. It seemed like it was never going to stop being hard.
But we couldn't give up. Not when there were plans. Except, they weren't just plans. They were more than that. They were the cultivation of the dreams we shared. They were how we would fulfill the definition of what we believed our family should be. They were the longing we had to create moments, experiences, memories.
Our children had been an expression of our love, and the plans we made is how that expression was transformed into a verb, into something tangible, into something we have grasped and held tightly when the toughest of circumstances have threatened to overcome us.
And so this week, there was a moment when I saw. I saw a plan I had made unfold before me. I saw as life was breathed into it. We camped in the Grampians and I watched my four children, together, ahead of me. I watched them climb over steep rocks and through rugged valleys, hike over cliff faces and crawl through hollow gaps.
As a family we trekked hour after hour until our bones were weary and then we did it again the next day. We all loved it. It was no longer hard. It was exactly how I'd envisioned it. In the chaos of all our hellish camping experiences I hadn't seen it happen. I hadn't seen the hard work and persistence pay off. But there it was.
This plan of mine I had made 14 years ago had finally, finally come to fruition. And it was pure joy.
The reason we make plans is because we anticipate, we hope, we dream. Our plans aren't always easy to keep sight of. We long to give up, to give in, to walk away when the obstacles get too hard to overcome. But without vision, our hearts perish. Our plans are why we get out of bed in the morning, they are the essence of our hearts desire, of everything we are and everything we long to be.
Our plans are the seeds we plant because we believe in the promise of the harvest.