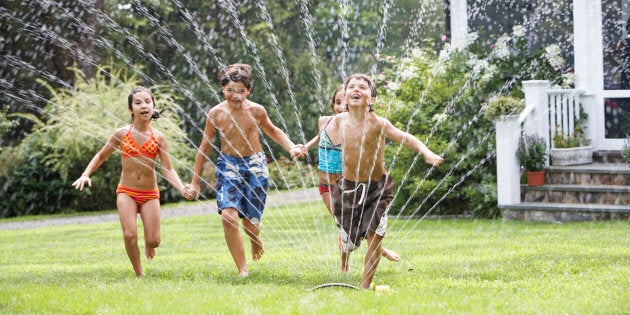 How many times did you hear that from your parents when you were growing up? I don't know about you but my childhood looked a lot different from what a 2016 childhood looks like.
I watched cartoons on a Saturday morning but never before school. We had one computer that everyone (occasionally) shared. On weekends in winter we would rug up and go out to collect firewood, run wild and finish with a picnic lunch. In summer we'd jump on the trampoline, ride bikes or swim.
It was simple fun but we entertained ourselves.
Lately my husband and I have been working really hard on simplifying our kids' lives. We've been cutting down on screen time, weekends filled with scheduled activities, and facilitated play time.
We're making an effort to go back to basics, playing outside, reading books or having a dance party in the lounge room instead of watching TV and playing on the iPad.
I have to admit, it's been an adjustment for all of us, especially our almost-five year old who had become really accustomed to TV morning and afternoon. And I know that in our technology-driven world our kids will need to be prepared for a life where a lot of time is spent in front of a screen.
But the evidence that free play is crucial to childhood development is strong –- numerous studies around the world agree that allowing children to play independently, preferably outdoors, increases both physical and mental wellness.
Aside from improved cardiovascular health and motor skills, free play also helps kids to develop problem solving skills, resilience, and social skills. They learn about their own bodies and what they are capable of, and develop higher self-esteem.
Being a working mum I do battle with myself and often feel super guilty if I'm not fully engaging with the kids every chance I get. That bitchy inner-voice tells me that if I'm not providing fun learning experiences constantly then I'm a terrible mum. And don't get me wrong, I still love playing with my kids; we read together, dance together, draw together, cook together, wrestle and play chasies together, I just don't think they need me to hover over them constantly.
Having said that, as a mum with anxiety, every nerve in my body screams at me to take hold of their little hand and never, ever let it go. Watching my toddler climb up and down the back stairs or my pre-schooler riding her bike by herself sends big red flashing alarm signals off in my mind.
But I do want my kids to get out there and make their own adventures, build their imaginations, resilience and independence. I want them to take risks, get bumps and scrapes and learn to get back up again. I want them to be able to enjoy the freedom that comes with being happy in their own company.
So I do what I can to foster their ability to make their own fun. Some days it might only be hustling them into the backyard to play for an hour while I do some washing and some days it's taking them on a bush walk and letting them get dirty collecting rocks and making mud puddles. Sometimes it's keeping a whole day free so they can veg out and make a tent under the dining table.
My parents often tell me they are glad they aren't raising kids these days. Technology has infiltrated almost every aspect of our lives. It is a distraction from real life interaction and raises a whole mountain of issues, from cyber bullying to kids accessing adult content.
On the other hand, when used in moderation, it can give children access to an entire world of knowledge and inspire them in directions that didn't even exist a generation ago. Coding, cloud management, and data architecture are some of the careers this generation will move into, and who knows what else will come up in the next decade.
Between all this technology and our over-structured, hectic lifestyles it's hard to find time to let kids be kids. How do we get the balance right? There's no one-size-fits-all approach and every family will have their own idea of what's acceptable and what fits in with their priorities.
But for my family, our emphasis for now will be on exploring the real world around them rather than the virtual version. I want to give my kids a childhood filled with adventure and I hope when they are all grown up, they remember it with the same joy that they experience it with now.