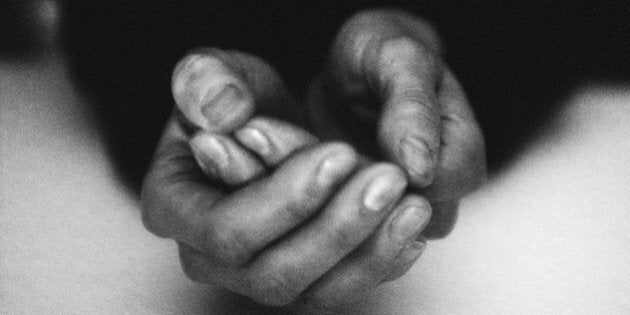 Ella*, 22, is gorgeous. As she chats away, shivering occasionally in the Melbourne chill, I can't help but notice her piercing hazel eyes. They are earnest, innocent despite the early wrinkles forming at their edges. She's explaining to me where she sleeps at night.
"Just there," she says, gesturing toward a few bunched-up blankets sitting in the entrance to the small inner-city church.
"Nah," she smiles. "It's usually fine... there's a bunch of my friends who sleep here too."
A pang of guilt hits me as I imagine my own stupidly-comfortable bed, as I think of how often I wish I had more money, more things. Ella senses my unease.
"It's seriously not that bad. I've stopped using the gear (heroin), so I just pick up my methadone to fix myself up in the morning, and then hang with my mates all day. It's better," she hesitates, "than before."
Ella is Indigenous. Her mother tried hard to look after her and her sisters, but ended up losing them to the State after an abusive relationship put the entire family in danger. Rebounding around the foster system, Ella felt empty and confused, eventually turning to heroin to soothe the burn of her agony. Her story is echoed, in alley ways, parks and street corners, all over inner-city Melbourne.
Homelessness is increasing in Melbourne. Reasons include higher rents, a stagnating economy, mental illness and decreased tolerance of violent relationships. But perhaps the most noticeable shift for people like you and me is the higher number of people sleeping rough in the CBD. In many cases, homeless people have been forced to seek sanctuary in the better-lit streets of the city, after a spate of assaults rendered popular camping spots, like the promenade close to the aquarium, too unsafe to chance.
Ella says she has always slept in the CBD but, in recent months, abuse has become more prevalent.
"Most people just ignore me," she tells me. "But some people call me names, or tell me I'm disgusting." Her nonchalance is heartbreaking as she recounts this constant ordeal.
So, how can we show more compassion for people like Ella? Aside from the obvious, like not glaring at or belittling those in her circumstance, Ella mentions something that she encounters often: Being told by an ostensibly well-meaning passer-by that they will not give her the money she has asked for, but would be happy to take her to buy some food. The implication, of course, is that the money could be misused, on drugs, cigarettes, or alcohol.
Why is this inappropriate? On face value, it seems like a kind-enough gesture. But if we unpack the sentiments behind this kind of behaviour-policing, the reasons for Ella's unease become clearer. The following list is drawn from insights provided to me by Ella, as well as several other homeless people who were kind enough to have a chat.
1. It assumes we are somehow above the homeless person.
The thought exercise I used was to imagine a friend had asked me for a small amount of money. Of course I wouldn't interrogate them about how they intended to spend it. I would accept that my friend has the right to make her own choices. To police the way a homeless person spends any money we have decided to give them is to place ourselves in a paternalistic role, overseeing their welfare and decisions. If they don't ask us to do this, there's no reason we should. Of course, we can always say no. The person has asked a yes/no question: "Can you spare some change?" They deserve the same yes/no answer we would give anyone else.
2. We have no idea what the person is going through
Maybe you are against drug abuse. So am I, in theory. But I am lucky enough to be a privileged white woman with access to all manner of financial, vocational, and social supports. I have no idea where I would be if I were brought up in a poor, abusive home and then surrendered to the state, like Ella. We don't know what it feels like to be on the streets and in turmoil, or what we would say if we were offered a small comfort in the form of drugs. No one chooses to become addicted, but for some people it's easier to avoid than for others.
3. The person may need tampons, condoms, or something else they are embarrassed to mention.
For people like Ella, it's probably a lot easier to simply say the money they are requesting is for food, than to detail what it is they may need at that time. I wouldn't want to tell a stranger if I had just gotten my period and desperately needed $8 for a box of tampons.
4. You're not going to stop them from buying drugs if that's what they intend to do.
A good friend of mine was addicted to heroin. I watched him many times as he writhed and sweated through withdrawals. In those instances, I would have done anything to stop his pain, and many times, I did. Drug and alcohol withdrawals are, by all accounts, nightmarish. No addicted person is going to stop taking drugs because they aren't immediately given the money. The truth is that they will just have to find another way to get it, and I would much rather give someone some change than see them turn to prostitution or crime.
My sister has been homeless. She has been addicted to drugs. But when she was a chubby, Vegemite-smeared five year old, she wanted to be a vet. She never planned on succumbing to a monster mental illness, on being bullied and assaulted, on running away from home. But it happened. And I like to think that if, in that dark time of her life, she had politely asked a stranger for some help, they would have smiled and given it to her.
No one ever plans on being homeless. But many vulnerable people end up that way. They are people like my sister, who are mentally ill. People who have been abused, or been born into poverty, or succumbed to financial ruin. They are people of colour, LGBTQ people, and indigenous people like Ella.
These are people who deserve more of our compassion, not less of it, than the fortunate.
If you would like to assist homeless people who are addicted to drugs, there are many amazing charities and organisations who would be ecstatic to have your help.
Youth Central: Has a great list of homeless and other worthy organisations seeking volunteers
Food Bank Victoria: A great organisation which provides emergency food relief to homeless and low-income Victorians
*Name has been changed at interviewee's request.