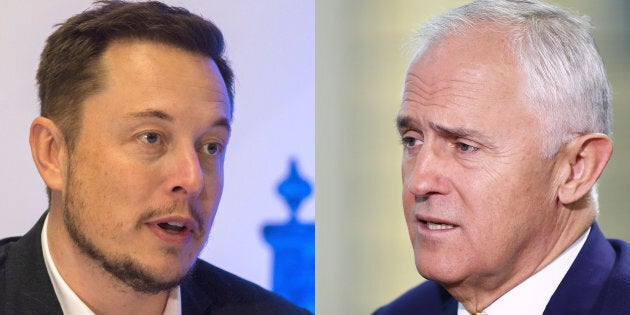 While claiming to be an energy agnostic, every solution he champions is a fossil fuel. First coal, now gas, even though these options are more polluting, more expensive and take longer to produce electricity compared with renewables and battery storage.
What has happened to the 'Innovation Prime Minister'?
While Mr Turnbull jumps into action on coal and gas, he and his government attack renewables. And somehow, perhaps only in the minds of the Coalition, this adds up to action on global warming. Polls tell us that the Australian public is not buying it, as we the people remain firmly committed to a clean energy future.
We know Australia doesn't need more coal, the existing coal plants are closing. So, does Australia really need more gas? We should be sure because it's very expensive and dirty.
There is no doubt that secure energy is essential but there are better ways of achieving this than gas.
We already have several gas plants that barely operate. Why? Because it's too expensive to run them and energy companies opt for other energy sources, including renewables. If existing gas plants are not being used to capacity, shouldn't that be a warning sign against building new ones? And given these plants take years to build, surely they cannot be considered a solution to an existing crisis.
A new report by RepuTex shows that a new gas plant is more expensive than solar thermal and renewable energy with battery storage for providing reliable 'firm' energy. There is no doubt that secure energy is essential but there are better ways of achieving this than gas.
And then there is the pollution problem.
Gas may be a bit less polluting than coal, but it still pumps millions of tonnes of planet-warming greenhouse gas into our climate. This is not the answer to achieving the net-zero climate pollution goal that is included in the Paris Agreement, which Australia has ratified. And if gas is fracked out of the earth, the damage to rivers, groundwater and farming land is immense.
Bruce Robertson of the Institute for Energy Economics and Financial Analysis (IEEFA) has stated that the government is "being pressured towards false solutions that include opening high-cost new coal seam gas wells, a move that would do nothing to lower prices."
The South Australian Government should be congratulated for backing a transition to renewable energy and taking steps to regain control of the state's energy security, including by supporting investment in battery storage.
But the real story behind this new SA energy plan is what it tells us about the severe lack of leadership and policy direction nationally.
When it comes to securing the future of Australia's energy market, Tony Abbott was disabled by ideology and an obsession with tearing down the previous government's policy. Now Mr Turnbull can't move but for his own back bench.
The Turnbull government has been sitting on its hands as Australia's energy supply has descended into crisis, leaving states like South Australia, which has been leading on the energy transformation, to clean up the mess and come up with crisis solutions, including polluting new gas capacity.
Thankfully, South Australia's newly released Energy Plan does not shy away from the state's renewable energy target. Nor should it. SA's 50 percent renewable energy target is well on its way to being achieved, and has brought with it not just clean, affordable energy but billions of dollars of investment.
South Australia has renewable energy in abundance. What the state lacks is the complementary technologies that turn it into a 24/7 supply of clean, reliable, affordable electricity. This is where storage comes in.
Not just South Australia, but all of Australia can be powered by 100 percent renewable energy. This has been proven over and over, with the most recent report by ANU showing that wind, solar and pumped hydro could power a zero-emissions grid that would eliminate Australia's need for coal and gas-fired power.
It's not too late. The Prime Minister can develop a national clean-energy transition plan that supports a fair, smooth transition that is good for business, jobs, our planet and our lives.
In the absence of federal leadership, South Australia is not the only state to take resolving its energy crisis into its own hands. Victoria has adopted 40 percent Renewable Energy Target (RET) by 2025 and Queensland is set to take a 50 percent by 2030 RET to its upcoming state election. Thank goodness for this leadership, as everyone from business to environmental groups agree that policy certainty will drive investment, innovation and jobs, and will cut Australia's pollution.
Elon Musk says he can solve South Australia's problem in 100 days. Whether this is true or not, we are smack bang in the middle of the energy transition. It's not 'yes we can', it's 'yes we are'.
Australia is adding more solar power every year than the combined capacity of South Australia's recently closed Northern and Playford coal-burning power stations. And in 2017 alone more than 20 new large-scale solar projects will come online, while a further 3700MW of large-scale solar is in the development pipeline. This is roughly equivalent to three coal-fired power stations.
Combine this amazing resource with a precipitous fall in prices for solar, wind and complementary technologies such as battery storage, pumped hydro and solar thermal and the result is the makings of a cheaper, cleaner, future-proofed energy package. One that is not in danger of becoming a stranded asset when the government wakes up to the fact that it has signed up to the Paris Agreement and will need to start bringing Australia's climate pollution down quickly, particularly from our biggest source of pollution, our energy sector.
It's not too late. Instead of being the pawn in an ideological war to protect fossil fuels, the Prime Minister can develop a national clean-energy transition plan that supports a fair, smooth transition that is good for business, jobs, our planet and our lives.
ALSO ON HUFFPOST AUSTRALIA
We Musk Remind Our PM Of The Paris Agreement And That Gas And Coal Are The Past Not The Future